Advantages
of installing
the granite countertops
are actually beyond how amazing they look. Kitchen granite is a natural stone that is originally created by nature and later fashioned by human. They are beautiful, durable as well as cost effective and when bought from a reliable dealer, they are absolutely worth the investment. Granite usually makes the first choice for
the kitchen countertops
because of its tough and resistant nature and much more beyond that.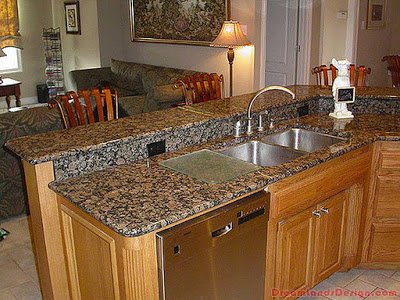 Baltic Brown Granite Countertops
Why Granite?
Granite is widely popular as a natural stone for the countertops that adds color as well as the relevant warmth into the room. Granite offers a benefit of being an attractive stone that is an extremely hard material. One can be sure that it will not scratch, blister or even crack. The hardness of the granite is such that it can be rivaled only with the hardness of the diamonds.
Diamonds are brought into use for cutting and polishing of the granite. Granite is stain resistant which means there is no requirement for a lot of maintenance to be carried out from time to time. It offers a polished surface that is not meant to easily wear off.
Where is Granite Imported From?
Granite is usually imported from Brazil, Europe, Africa and various other regions of the world. These countries are rich in natural stone and the experienced natural stone manufacturers will ensure that only the best reaches to you.
Granite Countertops: Special Choice for Upscale Homes
Granite countertops may be little more expensive but they make a perfect choice for the upscale homes. Since the upscale homes are used to keeping the value of their houses better than the other home improvements, nothing other than granite can make a suitable choice.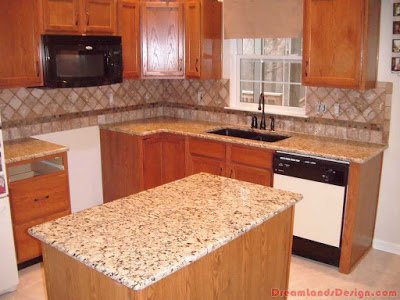 Napoleon Granite
Popularity of Granite
Over the last 10 years, granite has become a more popular choice for the countertops. They have also been popular among the designers from all over the world when it comes to making a choice in the natural stone for home improvement projects.
Granite: Color Choices
Granite is available in around hundreds of colors. They are available in various shades of brown and seem to be bringing the magic of outdoors to the countertops. They are also available in red, green, black, blue, white and more colors. However, brown and beige are some of the most popular tones.
Granite for Uniqueness
Granite for kitchen countertops or for bathroom assures uniqueness by also adding personality and character that remains unsurpassed. Since two pieces of granite can't be exactly the same hence one can be sure about granite offering an interesting design element. It not only adds the flavor of uniqueness but also adds texture and richness of a high value.
Granite is a great investment for the home since a house with granite installed in kitchen countertops has a value which gets double the value at which it was prepared. Buyers rate granite kitchen countertops high and are usually willing to pay more than the homes with plastic laminate or ceramic tile. Granite tones are neutral but as buyers, you can also come across a specific color that best suits the design of your kitchen by enhancing its aesthetic appeal.
How to Maintain Your Granite Kitchen Countertops With Utmost Care
These days a range of attractive stones remain available on market. So, you get the opportunity to use any one of these stones to make your kitchen look beautiful. Though the choice is entirely yours but in most of the cases, it is advisable to choose granite. This is because; this natural stone is not only eye-catching but is also durable. However, it has several other beneficial features.
It has been observed that while cleaning the kitchen we often use acids but these chemicals are often seen to damage the kitchen countertop but if you can use granite, it would never get damaged by the use of acids and the possibility of getting scratches will also get reduced. Another interesting thing about this natural stone is that it prevents liquids and food from staining. Since granite kitchen countertops are hard to be damaged, you have to put comparatively less effort to keep the surface look new.
Keeping the Granite Kitchen Countertop Clean

Some of the points that need to be followed for keeping the kitchen countertops clean and clear have been mentioned below:
As soon as you will see that dirt is accumulating, without delay you should clean up that area using a soft cloth or a sponge. While cleaning you should better use hot water.
Try to use coasters under cans, glasses and bottles for protecting the countertop surface.
You can also place hot pads under pans and pots. The hot pans do not damage the stone but often the materials attached with the pan may bring scratches on the countertop. In fact, the granite can also become extremely hot after the removal of the pan.
While cleaning always avoid using ammonia, glass cleaners, tile cleaners or bleach. This is because; most of these materials comprise abrasives that may make the granite countertops dull. So, buy only those products that are exclusively made for cleaning this natural stone.
Last but not least, while working with citrus food, never forget to use cutting boards. This will keep your knives as well as your kitchen countertop protected.
Author Bio: Emily Smith is a freelance architect and a home improvement
analyst. She has been writing for many online publications since 2007.
In her articles on natural stone countertops, kitchen counter tops and
more she shares some DIY tips and useful suggestions. Emily takes
inspirations from Gaba Stone Inc. while drafting her piece of articles.