Everyone wants a great looking bedroom, but not everyone has the money to be able to afford an expensive designer and all the things that go with it. Even if you don't have a lot to spend, getting a great bedroom interior design can be possible if you use a little bit of ingenuity and elbow grease.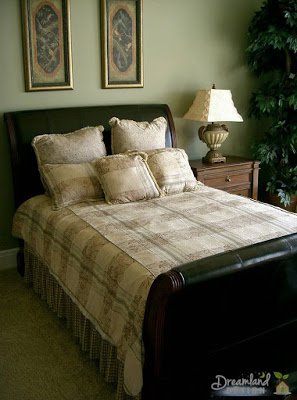 Bedroom Interior Design
Bedroom Interior Design Tips On A Budget
The first thing you want to do is consider your bedding. Most likely the bedding will be the biggest element in your room so you want to start with that in terms of your overall design. Are there certain colors you want in your room or a certain theme? Choose the bedding to match.
Now you don't have to buy expensive matching sets, you can mix and match from the discount or closeout bin and still get a great look for your bed. Shop around and bring color swatches so that you can match the bedding accordingly. Be sure to buy a lot of pillows in different shapes and patterns but that have your key colors in them – these can be purchased at a home goods or home decorating store and then piled up at the head of the bed for a designer look.
The furniture is another key aspect of bedroom interior design and usually the most expensive but this is where smart shoppers can save a bundle. Look around at yard sales and consignment stores for a good set – you can often find furniture that is like new but at a fraction of the cost if you are willing to put the shopping time in and wait it out. Another option is to paint your old set and get new knobs for it – this works very well if you are going for a shabby chic or cottage look.
A fresh coat of paint will really give your bedroom design a great look and it's a fairly inexpensive change that will make a huge difference. Don't be afraid to use bold colors if that is what will go with your chosen theme. If you really want a unique look, there are many paint treatments and faux finishes you can use and you can usually learn how to apply them for free at your local home improvement store.
Getting the right accent pieces for your bedroom will really give it that finished look and this is another area where you can save a lot of money by scouring flea markets, yard sales and consignment stores. They key here is you have to know what you are looking for ahead of time so you don't end up buying stuff that looks good at the yard sale but doesn't really fit in your room.
Therefore, it's a good idea to map out what you want to put in the room for accessories and also note the size and color you want the piece to be. Then you can go shopping armed with your list and be sure to come home only with what you really need!
Bedroom interior design does not have to be difficult or expensive if you plan out a clear picture of what it is you want and then shop in the appropriate places. Be sure to always keep an eye out for a good sale and your sure to save a bundle. It might take you a bit longer to put the room together this way, but you'll end up with a gorgeous bedroom and still have money in your bank account!