If you feel as if you are constantly dealing with various repair issues in your home, fear not. You are not in the twilight zone. You have simply failed to provide your house with proper maintenance. Under proper, we mean regular and preventive. If you wait for a problem to reach massive proportions to address it, you risk dealing with emergency house maintenance situations on a regular basis.
Experts have even estimated that the average property repair cost per year in the UK should amount to a little over £1,600. So, if don't invest even half of that price into the upkeep of your house, you will probably find yourself in big trouble at some point in the future.
But this is just one of the many home maintenance mistakes that almost all of us make. It is important to avoid them. That is if you want to live in a safe and comfortable house. Also, knowing how to properly take care of your property will help you to preserve and maybe to even increase its market value.
Common Home Maintenance Mistakes You May Be Making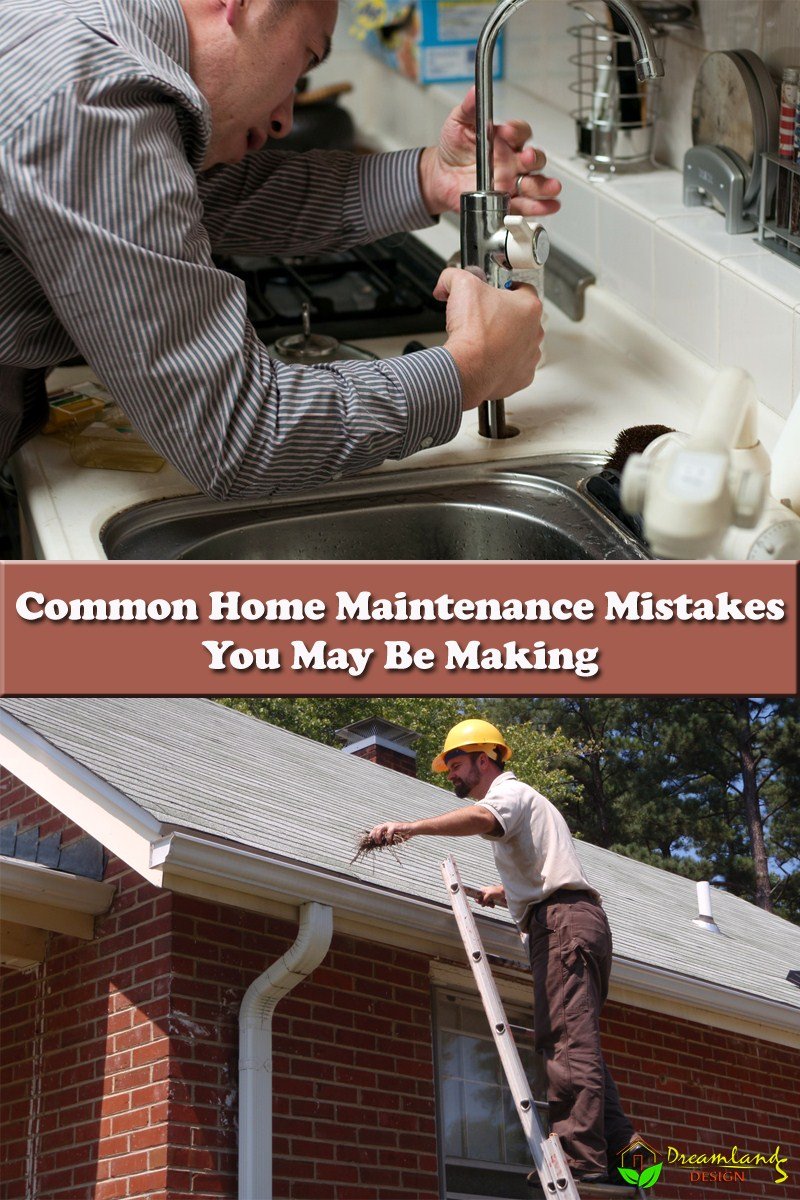 ---
Must Read:
---
Start with the Basics
In order for your home to be in a picture-perfect condition throughout the whole year, you will need to plan seasonal maintenance tasks. Make a checklist of jobs that you need to do and stick to it. If you have no idea on what you should add to that list, just search the web for some examples and suggestions.
Remember that most house maintenance tasks in the spring are related to fixing damages done by the cold weather and the snow. In the summer, you need to test your smoke detection systems and fire extinguishers since hot temperatures increase the threat of fires.
In the autumn, you must prepare your home for the winter and store away certain things like your BBQ or your lawn equipment. Lastly, in the winter, you must regularly change and clean all air filters and to inspect the property for water leaks.
Maintenance Checklist:
Check roof for leaks and damage;
See whether the house fire alarm system needs new batteries;
Clean drains and gutter;
Inspect the house for any signs of pest infestations;
Check chimney for damages and cracks;
Clean all air filters;
Inspect home for water leaks;
Clean the coils of the fridge;
Test the lighting in every room;
To successfully complete all tasks on your checklist, you should also invest in some tools. Borrowing them from your neighbours is not a good idea since you will need to use them regularly. You don't need to buy a big toolbox full of professional equipment but only a few handy items.
Tools Every Household Needs to Have:
Screwdrivers – flat-head and cross-head
Utility knife
Clawhammer
Adjustable wrench
Tape measure
Stepladder
Extension ladder
Pliers – combination and locking
Putty knife
Flashlight
Cordless drill
How to Avoid Such Mistakes
If you are guilty of committing one or more of the above-listed home maintenance crimes, do not worry. You are not a trained expert and you should not feel bad if you are not capable of fixing a leaky tap or unclogging your gutter.
However, if you do not have the skills, equipment and time to properly maintain your house in a good condition it would be a huge mistake if you surrender and just do nothing to fix the problems in the property.
No, we are not pushing you to take up a course in DIY home repairs or to binge watch on house improvement TV shows. We have a better solution – get a little help from vetted professionals. Call your local handyman company whenever you feel that something on your home is not working properly.
The incredible thing about services of this type is that they are often available for booking on the same day or even at the last minute. That is because some home repair emergencies require a timely approach.
The professional handyman that you hire will also be fully equipped which is why even if you do not have basic tools like pliers, screwdrivers, a hammer or a wrench, you will still be able to get access to this kind of convenient services.
Properly qualified handymen are able various repair and maintenance jobs, including some odd jobs such as babyproofing a home, hanging a painting, minor electrical and plumbing work, installing a shelf and more.
Also, you can use licensed home repair services not only when a problem has already occurred. Aside from one-off jobs, you can opt for regular handyman visitations so that you can keep your home in a perfect state throughout the entire year.
In addition, you can use the flexible services of a reliable handyman company if you are planning a house renovation or some other major property improvement project. Aside from competent handymen, firms in this industry also employ certified plumbers, carpenters, electricians, painters and many other dedicated pros.
Which are the Top Home Maintenance Crimes
We won't judge you for your house maintenance offences. Instead, we will only point them out to you so that you can stop making them. In most of the cases, homeowners are not even aware of the consequences of some these crimes.
Overlooking a Leak
Sooner or later, a leak will turn into a problem. Even the smallest and most harmless ones can spiral out of control when they are ignored for a long time. Therefore, next time you see the tap in your kitchen leaking, fix it.
Forgetting to Unclog the Gutters
This is a task which is usually done in the autumn and in the spring. If you don't clean your gutters every few months, they may cause great damage to the roof. Plus, when they remain clogged for a long time, they will eventually need to be fully replaced.
Ignoring Chipped Paint and Grout Gaps
Cosmetic problems like chipped paint and small gaps in the grout spoil more than the appearance of your home. Grout gaps can lead to the formation of mould and mildew in the property. Cracked paint, on the other hand, does not protect the surface underneath it well and that can cause more damage to the house.
Taking zero care of your appliances and failing to prepare your home for the winter are two other common home maintenance mistakes you should avoid making. If you don't, the upkeep of your property will become harder and more expensive with every year.
Video on Home Maintenance Checklist