Miter saw is an essential tool in a woodworker's shop. The versatility of cuts made with a miter saw is convenient for an artisan.
The situation gets even better when you have a compound miter saw that further increases the versatility and variations of the cuts.
The sliding ability of the miter saw further enhances the possibility of working with bigger pieces.
DeWalt DW718 is one of the best compound miter saws on the market. Like all other compound miter saws, it is an exceptional choice when working on finishing and non-finishing projects.
You can make double bevel, miter, and compound cuts with this miter saw. Today we will look at all the ins and outs of DeWalt DW718 and see if it really lives up to its reputation, as people claim.
Features
Below you will find an unbiased overview of all the features of DeWalt DW718. The Features list both positives and no so good qualities of the tool.
Motor
We are starting with the motor that basically runs your miter saw. The motor produces 3600 rpm, which is less than what you might see in similar other models such as Milwaukee 6955-20.
But the miter saw perfectly gets through hardwood and PVC, and the likes to fulfill its jobs as a miter saw. Besides, the bigger size of the saw also impacts the number of rpm produced.
This DeWalt miter saw runs on a 15 amp motor which is standard for 12 inch miter saws. To run this big blade, you need real punch and power.
So, the motor perfectly synchronizes with the power needs of this compound miter saw.
---
Read Also:
---
Portability
The miter saw is portable and comes with a carry handle to move it from site to site. The weight of the miter saw at 53 pounds is standard for such big-size machines.
You can stow the saw with the carry handle that is sturdy enough to withstand the weight of the saw.
Value for money
This miter saw comes with a three-year limited warranty and one year of free service. Thus, if you encounter any problem, you can promptly contact the customer service and launch your complaint.
When it comes to price, it definitely won't break your wallet and we have put it amongst our list of best budget miter saws.
Angle Adjustment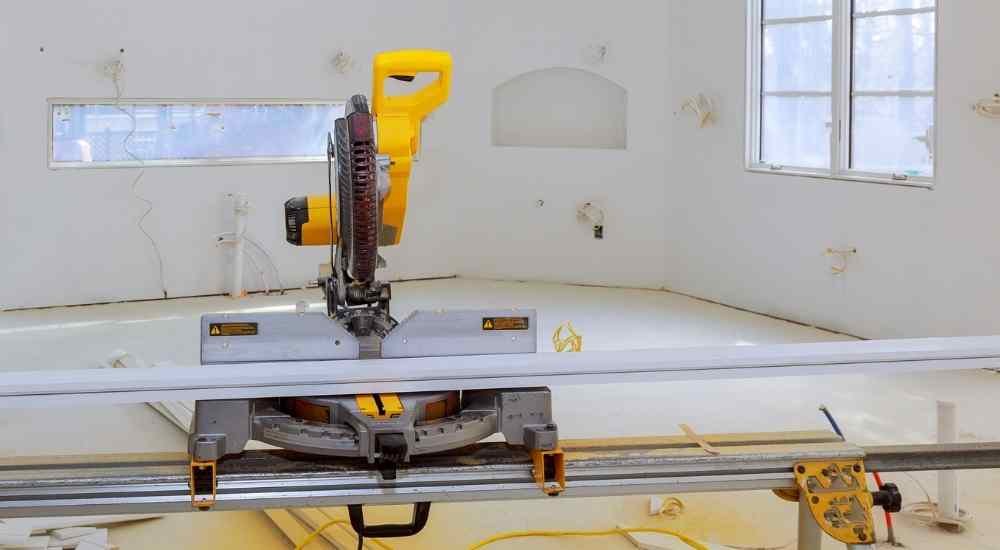 This is a compound miter saw, implying that it can make both miter and bevel cuts. But you will make angle adjustments for such cuts.
If you are a homeowner starting to hone your abilities as a woodworker in your pastime, this can be a suitable machine for you.
The presence of an extensive range of miter and bevel angles makes it a better power tool for homeowners as you get to have various cutting options.
You can set the angle at different stops and satisfy your DIYing spirit. This miter saw can move 60 degrees to the left and 50 degrees to the right to make miter angles.
There is an additional factory setting for positive stops to make cuts at various angles at 0, 15, 22.5, and 31.6 (crown molding) and 45 on both sides of the blade.
Additionally, a miter détente override helps you quickly choose the angles between the miter stops.
As for bevel angles, you get pre-set settings at various angles, including 0, 33.9, 45, and 48. Being a double bevel miter saw, you can tilt the blade head on both sides.
The durable selector allows for easy calibration and angle setting. Unlike many dual bevel miter saws present in the market, this miter saw comes with a crown bevel preset that makes it really convenient to use.
Fencing system
The DeWalt DW718 comes with a fencing system that allows for securing the stock in place. The best feature of this fence is its machined construction with the base.
This allows for the perfect placement of the stock against the fence. Additionally, the miter saw really delivers at the fencing capacity section.
The fence can slide out to allow more support for longer stock. You can make deeper bevels and nested crown up to 6 5/8″ and accommodate vertical stock up to 6 1/2″.
Dust collection
The saw comes with a dust collection bag that collects the dust coming out when the blade cuts through the stock. Some of the customers reported issues about dust collection.
A feasible option that can significantly enhance the dust collection efficiency is connecting the shop vac at the dust collection port. This way, your shop vac extracts all the sawdust leaving the work area clean.
Why we like it
The saw performs accurate right out of the box
The saw is capable of making a variety of cuts and offers ease of use
Adjusting bevel angle and miter angle stops do not pose any threat and happen effortlessly
The blade protects the user from accidental injuries as it retracts and covers the blade when not in use
You can cut everything from trim to framing and lightweight aluminum window screen, causing no harm to the blade
Carry handle makes it reasonably portable. You can use it at various job sites
A more extended slide-out fence allows you to work with longer and bigger panels and logs
The saw is perfect for a DIYer and homeowner trying new things to a professional wanting to look quality in work
Take a note
The accompanying dust bag does not work perfectly
You may require to connect your shop vac to manage the sawdust
Though standard to such machines, the saw is a little heavy
You need to buy a better blade
Conclusion
A miter saw is a multipurpose tool that allows for making fine carpentry and woodworking jobs. With a wide range of miter and bevel angles, you can fulfill various project needs.
With the sliding function, the saw slides out and cuts through bigger boards.
The slide-out machined fence is perfectly squared and supports more extended wooden panels. You might face a problem with the dust collection bag.
You can easily remove this hurdle by attaching a shop vac that helps you keep the workshop clean. Overall, the machine garners extensive support from its user with its accurate cutting ability and reliable performance.