French Country Decorating Ideas on a Budget. – Redesigning your living area? Need cheap ideas for French country decorating? It can be done on a budget. The key is to know which French country-inspired items to look for in garage sales, thrift shops, and second-hand stores.
French Country Interior Design, French Country Decorating Ideas on a Budget
French country style, which originated in the sunny fields and vineyards of France, is a popular house style design because of its splash of color accents, emphasis on nature, use of rustic accessories, casual elegance and warmth, and comfortable feeling.
Adapting this certain house style can be done on a budget –most accessories used to achieve this design are available at flea markets, thrift shops, and garage sales. As the saying goes, "one man's trash is another one's treasure".
Here are 10 cheap ideas for French country decorating you can easily do yourself and within a budget:
Bring in the Farm
Bring in the farm –from farm folks to farm animals to farm scenes, these are familiar images to include in a French country room. Don't be shy bout using roosters, pigs, and chicken theme items whenever you can.
Incorporate Copper Items
Copper items, such as pots and pans, are always seen hanging from an iron rack in a French country kitchen. You can also gather vintage gelatin molds, measuring cups, bowls, and any copper accessories for the kitchen and put the collection on display.
Read Also:
Use French Pottery to Create a Statement
Look for French potteries in distinct French colors (deep red, saturated green, French blue, and golden yellow) and patterns –these can be used as flowerpots or just grouped together for a strong French decorating statement.
You can also recycle old white ceramic food jars and add hand-painted labels for an endearing homey appeal. Display terra cotta pots and fill them with flowers and herbs. Set these by the windowsill to add a whimsy and a French garden feel to your home.
Do Not Underestimate Shabby Chic
Use bold touches of shabby chic. Paint walls with crackled finishes, use weathered whitewash mismatched chairs, rusted wrought iron accessories, old garden tables, distressed woven baskets, and ragged carpet to infuse a lived-in and comfortable allure.
Remember that French country style does not say, " I'm shiny and new " but " I've been loved and lived with ".
Use Fabrics like Toile de Jouy
Toile de Jouy is a fabric that has been popularly used in French country design since it was first produced in 1760. Toile means cloth and Jouy is the name of the town where the fabric was made. Today, replicas of these monochromatic prints (on cream-colored or white cotton) can be bought anywhere.
Toile prints are usually vivid, busy, and elaborate – be careful when using these fabrics as over-decorating is very easy to do.
---
Read Also:
---
Pay Attention to the Details
Details in French design are very important. It is all about the contrast – pairing the old with the new, the tattered with the stylish, and the worn with the expensive.
Attach trim to draperies, enhance distressed tables with elegant table runners, and dress up throw pillows with beads, buttons, ribbons, or even jewelry. Remember though that even amidst all the details and elegance, the French country style is famous for its comfort.
Make the Most of Wrought Iron Items
Put in wrought iron items such as stools, lamps, end tables, and candle holders for a more elegant and old-world touch. Be creative and recycle. A rusty iron garden gate can be converted into a great headboard; vintage wrought iron towel racks and fruit bowls can be used to hold anything from wash clothes to keys, and a second-hand metal garden bench can be an interesting indoor sitting area.
Install an iron weather vane accent on your roof or just use a weather vane for the tabletop – this will make a nice accessory to your home and stay true to the traditional French country house design.
What About French Wines and Wine Corks?
Wines and wine corks. Show off your wine collection, or just your local wine, by displaying it on countertops or on the bar. After consuming the wine, collect the corks and gather them in a bowl for a charming and sentimental display.
Be Liberal with Fruit and Flowers
Fruits and flowers everywhere! Look for fruit and flower patterns to stencil on the walls or utilized on china dishes, curtains, carpets, table runners, sofas, and bed linens.
The use of fresh flowers and fruits flaunted as centerpieces brings color and French country appeal into your home. This designer touch brings charm and elegance to a room and certainly makes your guests feel most welcome.
The French Love Lavender and Sunflowers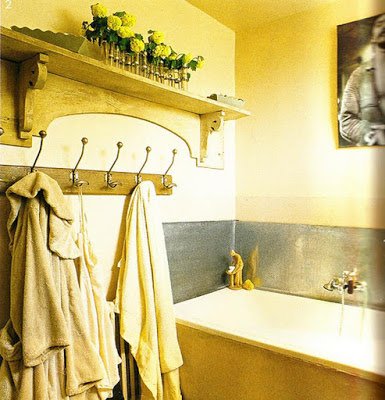 French lavender and sunflowers are unique to the French style. A sunflower motif or hue is great for adding the color of the sun in any living area; the splash of color certainly makes you and your guests feel cheery and happy. Lavender motifs or shades are perfect for adding a feminine and softer French look to any bedroom and bathroom.
Infusing French country design into existing home décor brings that sense of comfortable elegance and shabby chic to your residence. Remember to be adventurous and forage for treasures in thrift shops, garage sales, and flea markets.
Make use of these french country decorating ideas on a budget / cheap ideas for French country decorating and achieve a fun, casual, charming, yet sophisticated appeal. Enjoy sharing your warm and rich French country-style rooms with your family and friend, and be sure to serve good food and good wine!
Image Credits
Decorating diary: http://farm4.static.flickr.com/3064/3047400911_773a046868.jpg
The kitchen at the Stellenbosch Museum, mister-E: https://www.flickr.com/photos/mister-e/393077388/
French Country Style Kitchen (French Country Decorating Ideas on a Budget): https://commons.wikimedia.org/wiki/File%3AFrench_Country_Styled_Kitchen.jpg , By PriscillaCrother (Own work) [CC BY-SA 3.0 (http://creativecommons.org/licenses/by-sa/3.0)], via Wikimedia Commons
French Country Kitchen: https://commons.wikimedia.org/wiki/File%3AFrench_Country_Kitchen.jpg, By PriscillaCrother (Own work) [CC BY-SA 3.0 (http://creativecommons.org/licenses/by-sa/3.0)], via Wikimedia Commons