Furniture casters are cheap and easy to install, but they can also be dangerous if you don't choose the right caster or install it properly.
If you're planning to add a set of wheels and furniture casters to your favorite piece of furniture, keep reading for six great tips that will keep you safe and save you time and money.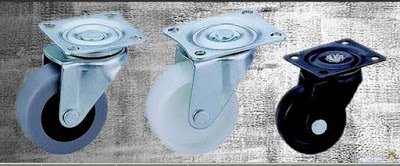 Check the Capacity
Before you purchase furniture casters, check their load capacities. These are based on the load per caster and you should always leave some room for error and estimates. For example, a 200-pound bookcase should have four casters each capable of handling 60 to 70 pounds.
---
Read Also:
---
Consider the Rolling Resistance
You may be able to get away with a smaller caster, but if you have a hard time pushing or moving an object then it's not worth it. A general rule of thumb is the larger the wheel, the lower the rolling resistance.
Also, some furniture casters are designed for particular surfaces like concrete or carpet. You'll also find that bearing caster wheels will offer lower resistance.
Look at Your Floors
It's going to be cheaper to replace your casters than the floors they'll run across. Cast iron wheels can damage concrete and other surfaces. Meanwhile, nylon wheels won't cause scratches right away, but they can cause scuffs and marks over time.
Finally, rubber wheels offer good floor protection, but they're not capable of carrying really heavy loads.
So, if you have beautiful hardwood in your home, you'll want to invest in higher quality polyurethane tyred wheels, which won't damage or mark your floors.
Think about Noise Levels
If noise is a consideration, you'll want to choose furniture casters that are quieter. Nylon and cast iron casters tend to be noisy, particularly when operating on a higher floor. For lower noise levels, choose polyurethane tyred or rubber wheels.
Measure Twice
Before you buy a big caster with massive load capacity, make sure you actually have room to attach it to your piece of furniture.
There should be enough mounting space to comfortably screw in a furniture caster without worrying about splitting the wood because it's too close to the edge.
Price Often Makes a Difference
When you're dealing in small furniture casters designed to carry lighter loads like couches, tables or bookcases, the price can make a big difference when it comes to quality.
When comparing furniture casters, you'll find the cheaper models have a lightweight feel and plastic construction that's not only unlikely to hold up over time, but also difficult to roll or move. Instead, invest a little extra for casters that are high quality.