It's coming and there isn't much I can do other than prepare for it. Winter is no longer one of my favourite seasons, unless I'm on the inside looking out. We have only had a couple of frost but I'm already putting more blankets on the bed and have my woolly socks out already.
We have harvested everything that was left in the vegetable garden so now all that left to do is get the garden ready for a nice long winter's nap.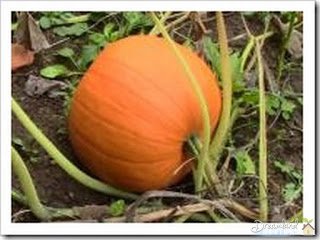 Frost on the pumpkins
Weather Guy Says It's A Great Day For Some Yard Work
The first one up in our house always turns the TV on to the weather channel. This morning it shows that we will have a sunny day and this afternoon should hit about 12 degrees. That's the kind of weather I like when working in the yard as it's not too hot. The heat saps my energy levels pretty quickly.
The nights are getting colder and right now it's still –1 degree so it takes a little longer to heat things up. Actually yesterday was a great day for being outside cleaning and I was able to get the raspberry canes cut back to about a foot tall. I'll have to remember to pick up some burlap so I can protect them from the winter winds.
Today I want to get the squash and pumpkin vines pulled from the garden and put next to the compost bin, which I plan to turn over today. It will be great to use the new compost to top up the raised bed gardens we have.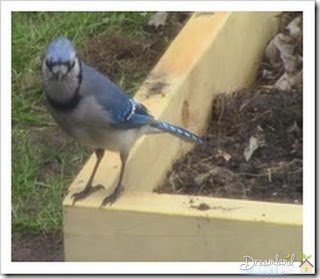 Blue jay on raised bed
I'd like to add the compost to the raised bed that holds our strawberry patch. The old raised bed had seen better days and fell apart last spring so we built a new one that's bigger than the old one.
It's twice as wide as the old one but is only filled about half way to the top so I would like to add the compost now and maybe some more in the spring to help the strawberries grow closer to the top of the bed.