Living room is the first place in the house that guests tend to see, this is the reason we give this area utmost attention while decorating the house. Since this is the place where family and friends get together, it is important that it has a great décor, particularly contemporary in today's urban life. If a stylish and sleek look is what you prefer for your living room, then a contemporary home décor is the right way to go. Based on your taste, this style can be used for a masculine or sheer light look.
Here Are 4 Tips to Choose Contemporary Home Decor for Your Living Room.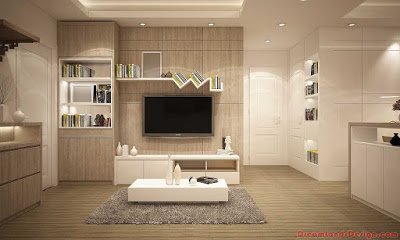 Contemporary Modern living Room Design Ideas
Contemporary Room and Furniture Hues
The décor of a modern living room should drift over a palette of modest hues. Get your walls painted in pale earth tones. Keep the floor molding and window casings in white. Get the ceiling painted in a little darker shade when compared to the walls as this will present a stylish like against your modern décor.
As for the furniture, set them against the room's pale palette. Opt for contemporary furniture pieces. You can go for your favorite color for the furniture's palette, but don't mix hues. Select all the furniture in the same color for the living room and use the ceiling or wall colors for the pillows. Spreading apart the furniture gives a feel of spaciousness.
Add Decorative Accessories
Small accessories can be used to decorate the room as they create visual interest points. It may look like decorative knickknacks and contemporary decorating is not compatible, but they are. However, they have to be chosen carefully. You need to keep them simple and minimalistic. Avoid going overboard with accessories as this can detract from the look. For instance, a contemporarily-styled vase with light or a simple flower arrangement can do wonders.
Lighting Effects
Lighting is a very important aspect to be considered for any room. When you are decorating your living room with a contemporary look, it appears the best in transient lighting. Fix up contemporary light fixtures on ceiling and you can also add a dimmer to the switch. This can help the light in your house to change to match the natural outdoor light, without overpowering it. However, during the daytime, you can pull away the curtains to let the natural light brighten up the space.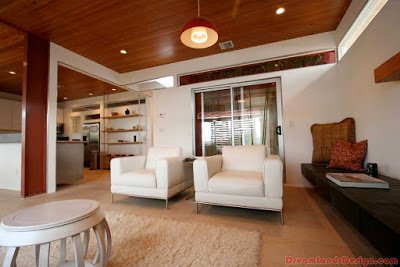 Living Room With Modern Atmosphere
Modern Atmosphere
To add to the beauty of your modern living room décor, get them designed with water fountains, which can fill the surroundings with the relaxing sound of falling water. While designing water fountains, use earthy components like slate, rocks, and pebbles or add a quirky element to the décor with the statues of mythical beings or carved animals.
You can also decorate the living area with some indoor potted plants. The greeneries around the place can give a fresh and natural feeling that is soothing to the mind. If the kitchen is directly connected with the living/dining area, then it may not be a bad idea to revamp the kitchen too. If you are one of those who cook looking at recipe books, why not display them on a neat shelf somewhere in the kitchen. Similarly, you can show off something like copper pans, making them hang overhead and illuminate them with a spotlight. If you own some nice china, do not hesitate to display all of them on the open dresser in your kitchen.
Contemporary Living Room
Make use of these tips to decorate your living room and get that feeling of contemporariness. Plan ahead and ensure what you need before settling down with everything. Enjoy with family and friends in the nice cozy and alluring atmosphere.
Rich is a passionate homemaker and interior designing expert who loves to experiment with the latest designs and interior furnishings in her villa every now and then. She has written dozens of articles on Show Home Interior Design and bathroom modifications over last few years.