Some of us are
"Do It Yourselfers"
– and some of us aren't. And not everyone has the money to spend on home furnishings. However, with a little imagination and a dash of panache, we can all find a way to make home living fun and enjoyable. So what you really need to do is think creatively. Learn to take advantage of the resources available to you. Be on the lookout for unique decor items that add personality and charm to your home.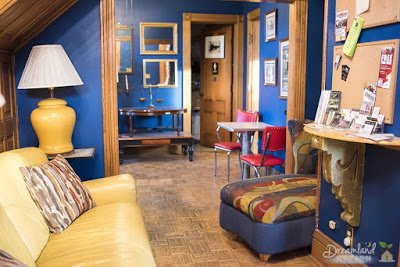 Home Living Tips
Home Living Tips With A Dash Of Panache
Here are some tips to help you transform your house into a home you'll be proud of:
First things first… let's do a really good clean up. This is a quick and affordable way to have an immediate impact. Lets start with the lighting. Poor lighting can really detract from your home interior (even if your home furnishings are top notch).
Splashes of color can certainly help make rooms more interesting. They don't always have to match your household furnishings, but watch your color combinations for the best effect.
Paint can work wonders changing the look of your home interior. You can apply paint on every wall in the house. Paint also works great on flooring to hide imperfections, scratches and the like. Don't underestimate the amazing effect that new paint can have in your home.
Here's a little trick that not everyone is aware of: Wallpaper, (not the vinyl type), can actually be used on your floor? Paste it on with wallpaper glue and coat it with around 5 layers of polyurethane. It looks fantastic and will hold up well for years.
Paint isn't just for walls either. It also works well on metal and wood furniture. You should keep in mind, however, that a plan to balance painted walls and floors with your household items is important. To accomplish this, limit your choice of color to 2 or 3 palettes.
Now, get out there and find some treasures! Garage sales, flea markets and thrift shops are great places to find unique and affordable home decor items. For pennies on the dollar you'll find all sorts of interesting home decor items at these places. There's nothing quite like "thrifting" for treasures.
A great way to add character to your home interior decorating scheme is with fabrics. You can create a theme with your bedsheets that extends to the walls. You may prefer choosing a variety of different fabrics to create unique designs. Keep in mind that at times, less is more. Nonetheless, your over-all fabric concept can have a dramatic effect.
Also, a selection of house plants coordinated with your home decor arrangement can enhance the beauty in virtually any room.
Remember, your home decorating choices don't depend solely on your budget. Your ability to be creative, coupled with your desire to add a personal touch, is what home living is all about.