There is no reason to sacrifice all of your hard work and beautiful plants when you go away for a few days in the hot summer. Here are four simple ways to keep your plants well watered while you are away.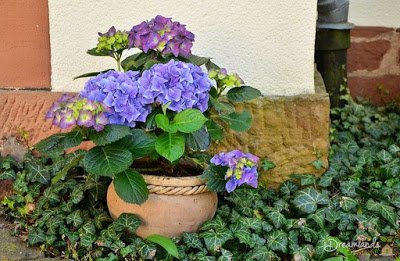 How can I water my patio plants while on vacation?
Automatic Patio Potted Plants Watering System
When vacation preparations are under way, the question, "How can I water my patio plants while on vacation?" always seems to come up. The answer is a varied one. There are several ways you can go about this. Here are four distinct ways to keep your plants alive and watered.
Add water crystals or sodium Polyacrylate crystals to the soil. These magical beads soak up water to be used for later in the pot. When the plant needs water these crystals pop and release the much needed moisture to the thirsty plant.
Watering trays, filled with rocks and water are great bottom watering devices.
You can always place a drip system fully equipped with a timer and connected to your external tap to get the job done.
A sturdy jug and a cotton string make a good and inexpensive watering system for any plant.
Sodium Polyacrylate Crystals
This is a very easy way to take the situation into your hands. Just add a scoop or two of these water absorbing beads, no more than a 1/1 ratio to the potting soil when you pot the plant.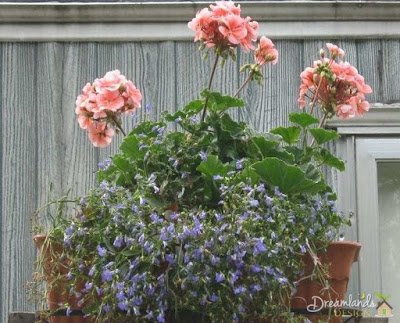 Happy Flower
If you wish to add them to an existing plant you may need to re-pot the plant and add the crystals into the new soil at that time. It would be very difficult to get any crystals mixed into an existing pot without damaging something. It is just about impossible. So, re-pot and have the success you always wanted.
Watering Trays
This also is very easy to do. Find a waterproof tray that can hold all of your plants with extra room around the plants. It should be twice as big as all of your plants combined if you are using a big tray to place many plants on. In the case of one pot, it just needs to be deep enough to hold a significant amount of water after setting the existing pot inside of it.
You can place pebbles all in the bottom of the tray if the plants do not like their roots soggy.
Another way to achieve this is to place your plants in the bathtub if there is a window nearby with significant light. The only other option you have is to securely place a grow light above the bathtub to shine down fake sunshine on your plants while you are away. You fill the tub with several inches of water, and voila!
Drip Systems

You can always install a drip system with a timer to your outdoor plants. If paying the price goes against every fiber in your body, you can always drill holes where you want it to drip on your plants, but you still will need to purchase a timer. You can find these at any hardware, or department store in the spring and summer.
Jug and String System

This system is easy to make and here are some step-by-step directions to get you on your way.
Step #1:
To add to the moisture retaining ability of the pot, it is a good idea to add some rocks to the bottom. There are two main reasons. It ensures the dirt has a better chance of staying put, and rocks by nature absorb moisture, saving it for later. This is always a good thing to do. Some modern gardeners have said it is not necessary but it seems like a good inexpensive way to add moisture to your pots.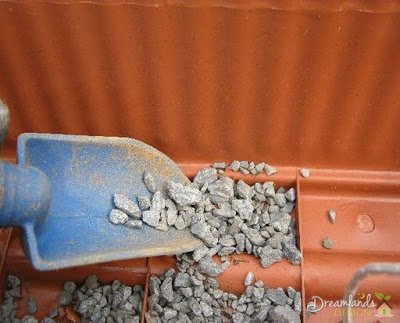 Line the pot with rocks
Step #2:
Drill a hole into the top of the lid of your jug. This needs to be big enough to allow the string to go through but tight enough to keep bugs out. It needs to be a very snug fit.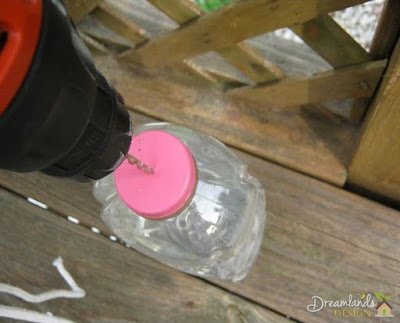 Drill a hole into top of jug
Step #3:
Thread a rope through the cap. This needs to be a cotton type rope. Pull enough through so the string can reach the bottom of the jug. Leave enough left over to reach your pot and go down and under the plants.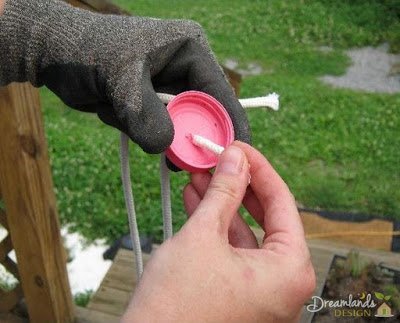 Thread a string through the cap
Step #4:
Secure the lid tightly to prevent evaporation. You will have to open it to refill it so be sure to not secure it so tight it is impossible to remove later.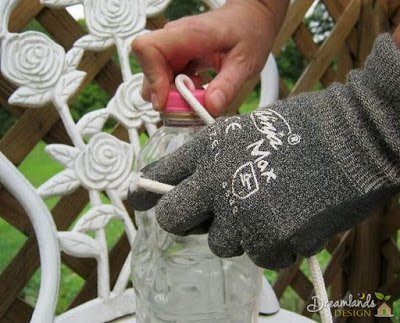 Secure the lid tightly to prevent evaportion
Step #5:
Position the jug near the plant. This jug was hug from the lattice with plastic coated heavy duty twist ties. This will allow the jug to remain in the shade and for the rope to reach the plant without having to travel great distances. The longer the distance the more room for evaporation of the water out of the string.
Position the jug near the plant
Step #6:
Now you will want to run the string up and into the planter. Be sure to run the string down and along the bottom of the pot. This will allow the plant to drink when it gets thirsty.
Run the string up and into the pot and along the bottom
Step #7:
Step # 8:

Top the soil with pond pebbles to further keep in moisture and prevent the soil from washing away in heavy rains. Water the plant thoroughly and also soak the string to get the whole process started.
Enjoying Your Creation
Learning how you can water your patio plants while on vacation will give you hours of enjoyment out of them when you get home. You can always hire a neighbor kid to come water your plants but there is just something about doing things yourself that is an achievement all its own.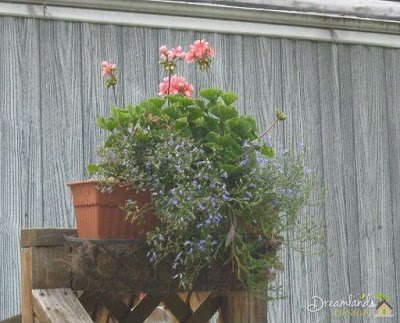 Stand back and enjoy your creation!
Stand back and enjoy your creation knowing that they will still be here come rain or shine.
How-To Projects for Your Yard and Garden – Make Life More Fun!

Why live with boring when you can spice life up just a little bit with your own creations in the yard and garden. These easy, step-by-step visually enticing articles are sure to get your creative juices flowing in no time! If you can dream it, you can do-it-yourself. Go on, make life more fun!

Keep the Greenery on Your Patio Green, Even When You are Away