It's easy to feel overwhelmed at work. It's a well-reported fact that while businesses are down-scaling their head count, the physical workload often does not diminish. The remaining, fewer employees are left to pick up the slack. It's little wonder that so many people feel stressed or in some extreme cases,; making themselves ill.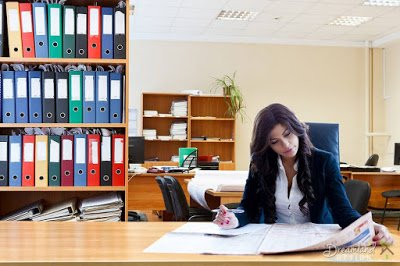 Make your working day a little easier
Feel More in Control at Work
However, there are some things you can do to make your working day a little easier and to give you back some control. The first involves organizing your working environment. We spend so many hours at our desks, but tidying up a little can really enhance productivity and others' perception of you. A messy desk is an obvious sign of disorganization and can make you feel more stressed.
Clear through your drawers, throw out old papers, put away the abundance of fluffy toys – you'll be amazed at not only how therapeutic it can be but also how much more in control you'll feel over your work.
Another way to get on top of your workload is to use simple organizational techniques, so that you know exactly what needs to be done each day/week/month. To-do lists are great too, as it's highly satisfying to cross items off.
Alternatively, add your tasks into Outlook and let the system remind you. Another tip is to organize work into Coloured folders depending on importance, red for urgent, etc. Otherwise, use a concertina file to date sort all future tasks. Just don't forget to look in it!
One that is very difficult but could make all the difference is to say no – or not now – once in a while. Senior managers and chief executives frequently have to say no, so you should do the same if you cannot take anything further on at the moment. Why take on another task, stretching yourself even thinner and produce work in a slapdash way?
There are ways of saying no, naturally. An apology and a truthful explanation should be sufficient.
Lastly, take a break! Walking away from your desk can do you the world of good, whether you feel you have time or not. Even ten minutes away to catch your breath can help you see a problem far more clearly and besides, taking a break is good for your health. Meet up with a friend, eat and have a laugh. It'll make the afternoon that much more bearable.