"A couple of days ago I was making some beef stew. When I reached over to grab a couple of onions and garlic cloves I saw that the cloves had sprouted about an inch or so. "
Planted A Sprouting Clove Of Garlic In Some Soil
Planted A Sprouting Clove Of Garlic In Some Soil
I made the best beef stew I've ever made this week. While I was making it I grabbed some garlic cloves when I saw that three of them had started sprouting.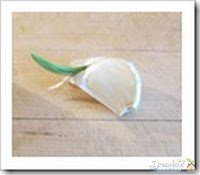 Garlic Clove
"A couple of days ago I did an experiment with growing celery using the root end of the celery which would normally be tossed in the compost bin. I figured I might as well continue the experiment to see if I could grow an entire garlic plant."
I had just started an experiment with growing celery from the root end
of the store bought celery we had in the fridge. So while I was still in
the experimenting mood and decided to try growing an entire garlic
plant from that one clove.
Repurposing Yogurt Containers
"I had used a couple of yogurt containers for the celery experiment and we still have more so I used another one for the garlic experiment as well."
Started With A Yogurt Container
I still had a few yogurt containers we have repurposed as seed starters
so I used one of them for this experiment. If and when the garlic clove
roots I will transplant it into a bigger pot and see what happens. The container is small but if the garlic actually starts growing I will just transplant it into a bigger container at that time.
The first thing I planned to do was put four or five holes in the bottom of the container for excess water to drain out. I forgot to do that so I had to dump everything out and start over. Once I had the holes I then put a few small stones in the bottom to keep the holes from being plugged with dirt.
Once I had good drainage I added starter soil with some perlite in it. I filled the container about half way then added the clove. I then added more soil until the clove was covered all the way up to the sprout. I put the contain in a saucer of water to allow water to come in from the bottom.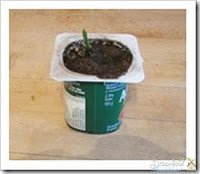 Garlic Planted
After a couple of hours in the water I dumped the excess water from the saucer and then put in a south facing window to see what it will do.
" Now it's sitting in our south facing window waiting for the sun to come out again. "
It's not spring yet and it's still snowing here in Moncton, New Brunswick but once it's nice enough outdoors I'll transplant it to the vegetable garden.