For a house with a terrace or a patio, it is normal for the owners to choose the right patio door that would connect the outside area with the rest of the indoors. There are so many types of patio doors to choose from. In selecting the right type of patio door, it is would be better to consider the weather conditions and climate of your place.
Those who experience severe winters will have a need of thermally insulated glass. It is of great consequence to pick on the best quality sealing material that can safeguard your home from the elements. In comparing to a traditional porch, a sun deck or a patio is part of the main area of the house that affects the design and functionality of the interior of one's home.
Patio doors show the way from one room to the patio area, improve on the lighting of the room thus saving on the consumption of electricity. Aside from its aesthetic benefits, house security is a vital factor in choosing a patio door with a heavy-duty locking system.
French-style Patio Doors
French-style patio doors are considered one of the most popular because of its design and function. The size of the room plays a vital role in choosing what type of French door to install. For spacious patios, a door that swings inward is a good choice. There are those, however, who prefer a sliding French-style patio door for a change.
For patio with limited space, a bi-fold patio door is recommended. For French patio doors, a high rating will be given based on its beautiful design. Ornamental patters can be etched on the glass that can create an elegant touch which is pleasing to the eyes.
This type may be appealing to many but one should be aware that it is hard to repair this type of door when it became out of alignment. With latches that are not properly secure, one cannot rely on its efficiency to block off harsh wind.
яндекс
Sliding Patio Doors
Sliding patio doors
are being preferred by most because it is less expensive than the French door type. One good thing about this type is its easy adjustable feature which is necessary in repairing misaligned doors.Patio doors made of vinyl have good quality of insulating your house from harmful elements. One concern is that the materials of the door crack easily and a replacement or repair would mean additional expense on you.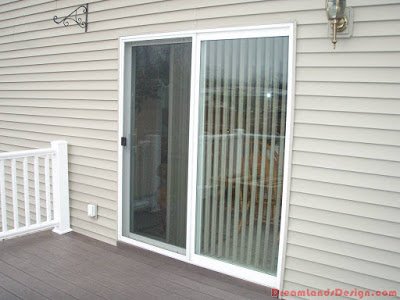 Sliding Patio Doors
For an Aluminum patio door, reviews on its insulating feature and painting design are not highly favored.
Next to French-style patio door, the wooden patio door receives a big nod from the consumers. Wooden patio doors are effective in insulating the room or the house. They can also be maintained easily and can preserve its great looking feature for a long time.
There are many companies in the market that sell patio doors. Every feature has been thought about in each design of patio door. From steel hinges, to locks and handles, every manufacturing firm put emphasis on its high quality look and feel.