I woke up yesterday morning and looked out my bedroom window. The house behind us had white frost covered roof and the first thought was about my vegetable garden. Had it survived the night.
It was still kind of dark to head out to the garden but once it was light enough I was out to see if the frost was on the pumpkins, as my dad used to say.
Well everything looked fine and I didn't see any frost on anything but still felt it was time to harvest the remaining tomatoes and peppers. I also cut the pumpkins and squash free from the vines and will let them harden their skins before bringing them in for storage.
Last of the produce
Going To Cook Up A Winter Squash
We have never eaten winter squash as far as we know so I suggested we cook up the smallest winter squash and see if we like them. If not I know some who do and maybe we will be able to make a trade with friends for some of their varieties of squash. However I've never had a squash I didn't like.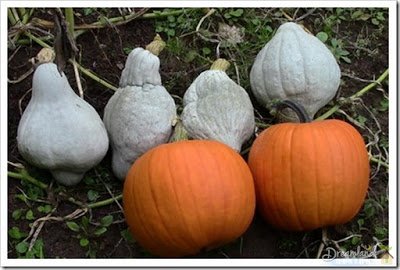 Winter Squash And Pumpkins
A couple of weeks ago I picked all the tomatoes and put the plants in the compost bin. Well all except the yellow pear tomatoes. We had so many this year I thought I would just leave them and if they survived great and if not, well we sure enjoyed what we had.
Since harvesting all the red tomatoes the yellow pear tomatoes have kept on producing day after day and I have been able to make two batches of chutney. Yesterday I picked all the remaining tomatoes and plan to make salsa with them and the rest of the peppers.
As I finished picking the tomatoes from a plant I pulled it from the garden, cleaned the dirt off the roots and tossed the plants into the compost bin.
Fresh Yellow Pear Tomato And Hot Pepper Salsa
It was such a great experience having enough produce for the table as well as preserves. I harvested the remaining banana peppers, bell peppers and cayenne peppers which will be perfect for making salsa, nice hot spicy yellow pear tomato salsa.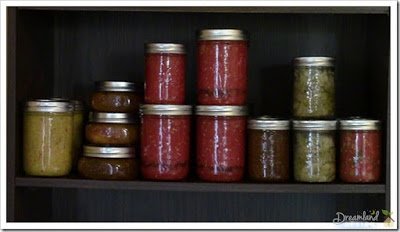 Fresh Yellow Pear Tomato And Hot Pepper Salsa
Once it stops raining and dries a little I will pull the remaining weeds and turn the vegetable garden over so it will be easy to prepare next spring.
An Indoor Herb Kitchen Garden
I grew the herbs we used in our preserves and started an indoor kitchen garden with a variety of herbs we can use throughout the winter months, until we can start growing an herb garden outdoors again.
I have already started making plans for a few new raised bed gardens so we can grow the vegetables that spread over the ground, like the squash and pumpkins, leaving more room in our vegetable garden for more varieties of vegetables.