Piano benches are obviously a necessity for anybody who plays the piano. Benches or stools aren't the only thing that a pianist needs to be comfortable, though. There are also a few other things that help make playing the piano more comfortable and help care for your piano.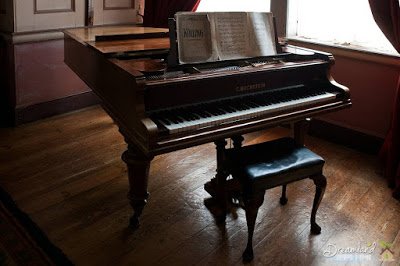 Benches & Stools
Benches & Stools
Whether it's piano benches or stools that you ultimately select as your piano seating is really up to personal preference. One isn't really better than the other.
The one main difference is that piano benches aren't as adjustable as piano stools. You are pretty much stuck with the height you choose.
But, conversely, piano benches have more room, so if you want to seat two people at your piano, they might make more sense unless you want to buy more than one stool.
Cushions
Whether you decide you like piano benches or piano stools, if you spend a lot of time at your keyboard, you are going to want a cushion of your seat. That way you'll always get to play in the key of "C" – Comfort!
There are many different materials and styles of cushions, and if you really don't want to spend a bunch of money getting something tailored for your specific seat, you could just get any old throw pillow and use that as a cushion.
Lamps
Piano benches aren't the only important piano accessory. It's also important that you have good lighting where ever your piano is. This way you can play night and day with no problem.
There are a lot of lovely piano lamps on the market. There are both floor lamps and desk lamps that are good for use with pianos.
What you are looking for is something with a long head that will give good, even light to an open book of sheet music.
Piano Covers
If you are a piano enthusiast, you are going to want to make sure that your pianos and piano benches are well maintained and taken care of. Whether you have a grand piano or an upright piano, you should keep it clean and safe.
To help keep dust off or your piano, you can get a piano cover. This will also help protect your piano from getting dings or scratches and give protection from fading from exposure to UV rays if you have it near a window.
Standard piano covers don't cover piano benches or legs, but you can buy covers that are specifically made for those parts of your instrument.