A beautiful window treatment can make a home magnificent and appealing. Just look at two different homes: one with any type of window treatment and one without a window treatment and you will understand the difference.
Apart from beautifying your home, window treatments can also give you proper light and privacy control, keep insects and flies away from home and work as insulation to keep your energy bills down.
From plantation shutters to blinds to retractable fly screens to drapes and sheer curtains, you can choose any of them for your home as per your alteration budget and personal preferences.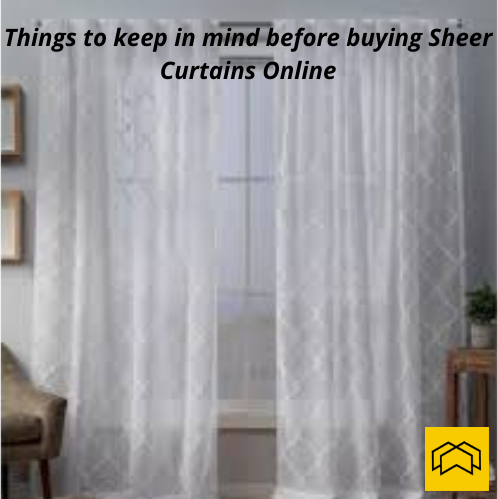 In this post, we will discuss some of the tips to buy sheer curtains for your home. These tips will ensure that you end up choosing the best sheer curtains with the finest materials, colour,s and patterns. Stay tuned!
---
Read Also:
---
Fabric
When you want to buy sheer curtains, the first thing that you need to look up to is the color and fabric of the curtains. When you browse sheer curtains online, you will come up with a wide range of fabrics and colors.
Fabric is a very essential part of the curtains as it will decide the functionality and overall performing life of the curtains.
Fabric is an essential part of choosing curtains since the material will dictate how well your curtains function and hold up over time. Don't go for too heavy or too light sheer curtains as they might become difficult to handle.
If you choose too heavy curtains, you might not able to fold crispy when drawn. When you choose too light, they may not fall well.
There are many types of materials available such as linen, silk, and velvet for sheer curtains in Australia. These are good materials to choose from as they hang the best. If you are looking for the highest durability, you can go for faux silk.
In addition to that, some fabrics can keep the cold out such as suede, velvet, and tapestry. They are heavy and the weight can block light and keep heat in.
Length and Lining
Measuring the windows is one of the most vital things to do when you want to install curtains. If you end up measuring with poor accuracy, your customized sheer curtains might not fit well.
First of all, you need to decide how high above the window you would like curtains to begin. When you hang panels higher than the window, it will make the room look taller.
The ideal length is six inches above the window frame. However, you can choose the height as per your preferences.
From the top of the window to the floor, measure the length. You can add another two or three inches if you want to keep the curtain slightly puddled on the floor.
Most of modern homeowners want to have that crisp look by having the panel fall flush with the floor. However, you can decide as per your interest.
When it comes to measuring the width of the window, you need to add four to eight inches on both sides. To achieve curtain fullness, you need to double the total number.
It will have the best magnificent look and when your curtains are open, they will not block a lot of window glass.
Also, when you add some more inches in the width, it will help you to block out the sun. It will keep the creeping light away from your room.
Off-The-Shelf and Custom Window Treatments
You need to decide whether you want to go for off-the-shelf curtains or buy sheer curtains as per your customized needs.
There are plenty of advantages of custom curtains that you need to know. For example, you can create a tailored look of your window by customizing the dimensions to your window size.
From material to color to designs, you can choose as per your personal preferences. However, it might prove to be a costly affair compared to off-the-shelf curtain panels.
There is nothing wrong with buying off-the-shelf curtain panels if you like something instantly. They will also beautify your room like a customized curtain panel.
It will also be a cost-effective affair. If you cannot afford customized curtains, you can always go for retail, off-the-shelf window treatments to make your room beautiful and appealing.
Washer Machine Friendly Vs. Dry Clean Only
There are two types of sheer curtains available in the market for cleaning purposes: washer machine-friendly curtains and dry-clean only curtains.
Consumer reports suggest that you might shorten the functioning life of curtains if you try to wash them by yourself. You need to consider this angle before placing your order.
In-Home Vs. Online Consultations
You can go for a home consultation as most of these curtain suppliers offer free home consultations to discuss colors, fabrics, textures, and finishes.
A representative will visit your home and discuss in detail about your personal preferences and other key things to have the best sheer curtains as per your home design and décor.
Conclusion
Buying sheer curtains online in hurry is not an option. Take your time, learn about fabrics, patterns, colors, and how these elements affect the functionality of the curtains.
You can read some online blogs, articles and watch videos before you start hunting.
Many companies offer a free consultation to help you decide the best curtains that offer an aesthetic appeal and a remarkable view to your home. Choose wisely and beautify your home.