Choosing
a pool for your
backyard
is one of the most exciting decisions you can take for your home. The good thing is that this is one of the few decisions in which the whole family takes part, as everyone looks forward to some kind of activity around that pool! For kids, it is the fun in the water that counts. For young adults, the parties around the pool are what make it exciting. And for adults, the barbecues and family
get-togethers
do it.
Tips on Choosing a Pool for Your Backyard
There are different kinds of pools one can choose from depending on the actual reason for installation.
If a pool is being installed primarily as an option for exercise, it should have parallel ends and long, straight channels to swim laps. Unlike an Olympic pool, it need not be all that wide or have many lanes – even two or three would do depending on the number of people who will use it simultaneously. Also, if there are no kids at home, you probably won't need a shallow end. You can keep the whole pool open for diving.
If the primary purpose of the pool for your backyard is recreational, you can build it in any shape. If you have a backyard that won't allow for a proper shaped pool, build it in any shape! And for recreational pools, make sure that you have a large shallow area. For kids, either you can add a partition within the shallow area and add a little fountain or something, or you can build a separate pool for them – if space permits.
For regular swimmers who don't have space in their backyard, consider one of the modern innovations – a swim spa, where there is a machine generating a current against which you will swim. That will give a nice tone to your muscle even if you keep swimming in the same place. A small area will do for a pool of this kind.
If you host constant parties at home and if you have kids, you may consider a wave pool right in your backyard. There can be unlimited fun had in these pools!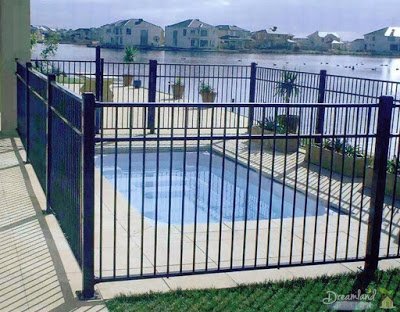 A backyard tubular steel pool fence
These are just the tip of the iceberg. Choosing a pool for your backyard is truly exciting. With the kinds of technologies in use today, anything you conceptualize can be added to your pool, allowing you to customize it according to the needs of your family. So what kind of a pool would you like in your backyard?