At a time when many people would like to move house but simply are unable to, it's little wonder that so many home accessories are being bought instead in order to transform a room from drab to fab.
The turbulent house market has left thousands of people pulling their properties off the market; unable to find a buyer or to secure enough funds for the next move themselves. However giving the house a bit of a revamp can do wonders for the soul and needn't cost the earth.
Lounge, contemporary design, yellow sofa, chairs, lamps, striped carpet
Take the lounge, for example – a room that we not only spend considerable time in, but also the one in which we tend to entertain. A miserable room makes for a miserable evening, so why not perk it up with a lick of paint? Keep the colour neutral, as this will help sell the property; acting as a blank canvas against which viewers will be more easily able to imagine their own belongings. Plus it'll freshen the room up no end.
For instant style and atmosphere, place a couple of designer floor lamps (real or imitation) in the corners of the room. These not only look great but the subdued lighting makes a room seem more welcoming and cosy. Using low-energy bulbs will mean that you can save money in the long run on electricity bills, compared with having the main lights on constantly.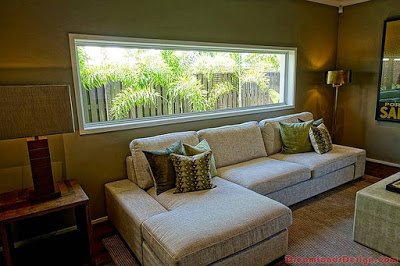 Lounge, Room, Contemporary, Furniture, Design, Interior
Look around the room and be honest, is there too much clutter in it? Clear some of the unnecessary items away for a much more modern look. If you have to have stuff, then replace chintzy accessories with colour-coordinated cushions, vases and pictures. The room should be relaxing, not an assault on the eyes!
Don't forget the windows. Replace tatty net curtains with window blinds or shutters, for a classy look. These preserve privacy while looking good. If you are so inclined, why not try and make some new curtains? It's a lot easier than you think and so much cheaper than buying ready-made. Again, make sure they coordinate with the accessories in the room for a chic finish.