If you love the look of traditional leather furniture, but balk at the high prices charged by antique dealers or big-name designers, then read on for a list of quality manufacturers of reasonably priced traditional leather products and a guide to buying a quality sofa at a discount price.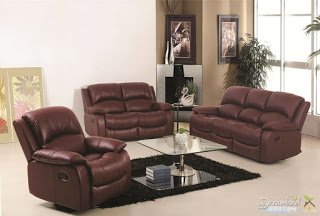 Traditional Leather Furniture
Pottery Barn
Pottery Barn (http://www.potterybarn.com) – Known for its classic lines, antique styles and high quality, the Pottery Barn is one of the best known furniture manufacturers and retailers in the United States. The prices are relatively high, when compared to factory direct stores or discount retailers, but fairly low if compared to designer lines.
If you're looking for traditional leather furniture, the Pottery Barn offers a range of leather couches and chairs that remind one of an old law library, study or chamber and they're all available in classic, rich, dark colors and stains. Most of the Pottery Barn leather sofas range in price from $2200 to $3200.
Bradington Young Furniture
Bradington Young Furniture (http://www.bradington-young.com) – Though Bradington Young was only founded in 1978, the company manufacturers some of the best historic furniture reproductions available today. The company sells a complete line of leather furniture with a focus on high-quality leather and traditional design.
Like many American furniture manufacturers, they're based in North Carolina. Traditional leather sofas by Bradington Young typically range in price from $2000 to $5000 depending on the style and leather grade.
Thomas Lloyd
Thomas Lloyd (https://www.thomaslloyd.com) – If you're looking for ultra-traditional leather furniture, Thomas Lloyd is the place to go. This British company manufactures models that boast hand studded front facings, natural hardwood feet and leather that has been treated and antiqued. Their styles include Georgian, Victorian, Canterbury, Queen Anne and more.
Their prices are reasonable, ranging from about $1000 to $3000 for a leather sofa. However, shipping to the U.S. is significant and should be factored into your price comparisons.
How to Determine Leather Quality When Buying Furniture
While it's sometimes hard to pass up a deal, you shouldn't always jump on every bargain you see – particularly with leather. Because leather comes from all over the world and furniture leathers are produced by tanneries in South America, Germany and Italy, the quality and grade of the leather can vary wildly. However, all 100 percent cowhide leather is generally good leather.
Basically, every piece of traditional leather furniture is assessed for its quality individually and then given a grade and a corresponding price. Typically, the better the leather, the softer it is and the warmer it is to the touch. High quality leather will also be slightly heavier and more pliable.