Area rugs have become a mainstay in our homes – and for good reason.
They add color, texture, and style while still serving the functional purpose of providing a warm surface for you to step on if you have tiled or wooden floors.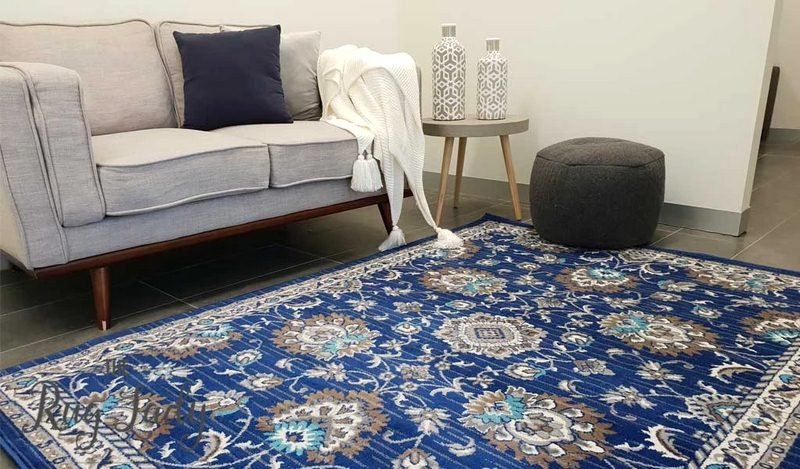 There are plenty of upsides you get from investing in an area rug. However, you can only accrue these benefits when you buy the right area rug for you.
The Best Tips for Home Decorating Using Area Rugs
As far as tips for decorating a room using an area rug goes, you should remember the following:
Choose the right sized rug
Buy a rug for your room first
Area rugs can add texture
Use area rug patterns to add texture to your room, consider matching the shape of the rug with the room of furniture, and
Consider the pile height of the rug.
---
Read Also:
---
Choose the Right Sized Rug
As you might appreciate, the larger a rug is, the more expensive it will be.
Many people tend to invest in a smaller-sized rug in an effort to reduce the amount they spend on a rug.
However, this is isn't necessarily the best approach, at least from an interior design point of view.
Installing a small-sized rug makes your room appear and feel smaller.
Typically, your rug will set the furniture boundaries in your living room; it defines the sitting areas. So the smaller the rug, the smaller the sitting area.
Ideally, you should invest in a rug with ample size for you to place the front leg of your furniture.
The same case applies to bedroom rugs. You should invest in a rug that extends at least 2 to 3 feet from the boundaries of your bed.
When you wake up, you want to step on the rug, rather than the cold hard floor.
Invest In a Rug First
If you are designing your room from scratch, it is far easier and better to shop for Mackay floor rugs first.
The idea behind this tip is to get a piece of your décor with the most impact right.
Thereafter, you can design around the rug, buying pillows and curtains that ensure you end up balanced and complete design.
Additionally, it is important to note that finding the perfect rug that will go with your already existing pieces is a daunting task.
As such, it is much easier to invest in décor from the bottom-up as it reduces the chances of ending up with a mixed-matched interior décor.
Use Your Area Rug to Add Texture
Many of the décor pieces we usually buy tend to have a smooth texture.
From a smooth glass table to a silky smooth sofa, you end up with a space that feels unnatural and incredibly artificial.
If you want all your furniture pieces to be smooth, consider using your area rug to add some texture.
For instance, you can use an area rug with a rough construction to add some texture to the space.
Use Rug Pattern to Add Texture
Much like you can use a rough area rug to add texture to space, you can use an area rug pattern to add texture.
The pattern of an area rug will yield a general feeling. For instance, a rug may have a subtle pattern, yielding a feeling of plainness.
Conversely, an area rug may have an interesting pattern that yields texture or even excitement.
As such, if all your other furniture pieces are plain, you can use an area rug with an interesting pattern to give the space a more lively feel.
Match the Shape of the Area Rug with the Shape of the Room or Furniture
When investing in your area rug, you need to have shape considerations in mind.
If you are designing a new room or you are redesigning a room, you should consider buying an area rug of similar shape to the overall shape of the room.
Buy a square shape rug for a square-shaped room, a rectangle-shaped rug for a rectangle-shaped room, etc.
Alternatively, if you are redesigning a room, you can consider buying an area rug with the shape of the center-piece furniture, say the coffee table.
If your coffee table is square, consider buying a square area rug. If the furniture is circle-shaped, a circle area rug will complement the furniture well.
Keep Pile Height of the Rug in Mind
While lush and fluffy rugs and more comfortable to the feet, they are also very difficult to clean and they also get dirty easier and faster.
As such, if you are decorating a space that will receive high traffic and or is inherently susceptible to getting dirty such as the kitchen, buy a rug with a low to medium pile height.
By following these tips, you will be heading in the right direction when it comes to making the right decision as far as using an area rug to decorate your home goes.
In fact, by combining as many of these tips as possible, you increase the chances of getting your area rug decorations right the first time around.
If you are looking to purchase an affordable, top quality rug, then look no further than The Rug Lady
The Rug Lady is one of the most trusted online rug stores in Australia and has rugs of all shapes and sizes to fit any room of the house.
For your perfect area rug, please call us today on (03) 9408 6090 or contact us through our website www.theruglady.com.au./pages/contact-us