Do you have an unending quest for discovering creative storage ideas that can make your home look more dreamy and bring a spacious vibe?
Like always, storage hacks have been the most practical way of preventing clutter and making your space look more organized, welcoming, and peaceful.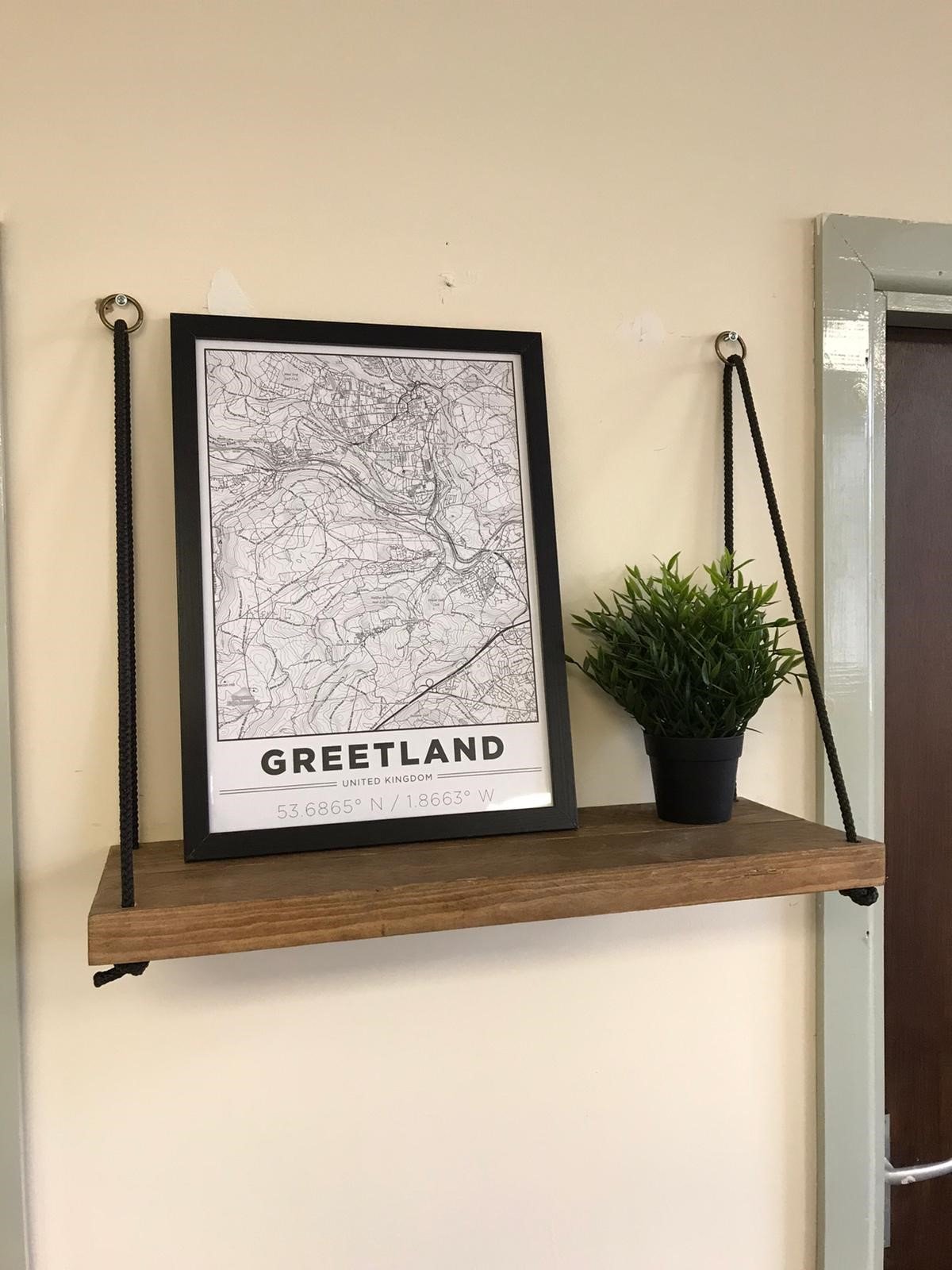 The trend of hanging shelves has been booming as they take no floor space and give you an opportunity to display or store anything you like – be it photographs, books or framed certificates.
Here we'll be unearthing some insanely cool hanging shelf ideas to refresh your space.
1. Black Shelves with Contrasting Black Threads
Plain wood shelf with black rope with little rings on the wall will look chic. Put an artificial succulent or your favourite books to make it more attention-grabbing.
Maintain proper distance between shelves to have a consistent look.
2. Hanging Shelves with Macramé Cords
You need to be a pro to create this detailed and elegant DIY project. However, if you have basic carpeting skills, then this can become a cinch.
All you need is small equally sized cut wooden boards, rope and tassels to create this masterpiece. It will bring a decorative value if you put it in your hallway and hold mini planters.
3. Elegant Country Crates
Do you have a blank wall in your room that begs you to decorate it? Why don't you give country crates a try to embellish the place and make it look dreamier?
Such shelves can be hung on any wall – they can fit state of the art, modern, industrial, or minimalist space. And you can put anything you like, be it books, artwork, succulent, or framed certificates.
4. Contemporary Shelving Unit with Multiple Layers
Hanging shelves have many great benefits: they don't take floor space like sideboards or dressers. They bring a cosy vibe and look super lightweight and hold stuff no less than a usual shelf.
You can hang them creatively to make these units more eye-catchy and useful. Have a look at this modern shelving unit that has multiple layers.
Get some neutral wood and rope and place small planters to have a minimalist vertical garden for the little place.
5. Simple Suspending Shelf to Store Your Makeup Accessories
Hanging shelves can be your next home improvement project as it does not require much technical knowledge. All you need is a rope, wood, and creative DIY idea that will bring breezy delights.
Simple Shelves like this are great for preventing home cluttered and giving your place a peaceful and cosy vibe.
The versatile design is chic and easily executable with a piece of wood, rope. two screws, and two leather straps.
6. Big Shelving Unit with Multiple Tiers
How about having a console table that does not require any floor space? Doesn't it sound and feel pretty amazing?
The big shelving unit with multiple tiers and one thick rope can be diyed for any place in your home. It will conveniently take on any traditional console table.
Moreover, they can be functional in storing anything you like from pictures to books, to artwork, and more.
7. Beautiful and Practical Corner Shelves
Have something beautiful to display and a corner space too? Great!! How about these practical and beautiful corner shelves that bring art with function?
You can create a simple shelving unit or a modern L-shaped art display space. Staining the wood can improve the durability and make it look more refreshing.
8. Unique Entryway Display and Storage Solution
No matter how big your house is, it would be best if you always had some creative storage hacks to put your favourite things at your sight.
The entryway designs hold more significance because they create a very first impression about home.
To make the first impression more impactful, think out of the box and create a unique entryway display like this one to attract the eyeballs.
9. An Industrial Style Rope Hanging Shelf Unit
Do you have more things to store? Why not try something big and extremely useful!! This industrial-style rope hanging shelf going down to the floor looks so perfect and functional too.
You can put big baskets on the lowest piece and can store quite a great number of things.
10. Refreshing Floating Shelves for Your Space
Floating shelves are what you need to get the job done. They take minimal space and look super modern. All you need is a well-stained pine wood that appears to float.
These shelves do not require a bracket or support, therefore, you can give any place of your home a clutter-free appearance.
Handcrafted Shelves is an emerging site to buy the best and competitively priced rustic pine floating shelves.
Final Verdict
Shelves are essential as they not only provide you storage but give your place a decorative value.
Simple hanging or suspended shelves can fit every home from a spacious to a minimalist apartment. And allow us to display anything we want, from framed certificates and books to photos and succulent.
You can hang them in an interesting way to refresh your home and bring colour to any place you like, including the bedroom, living area, kitchen, or bathroom.
FAQs
How to Create Hanging Shelves?
Hanging shelves are inexpensive and can be made using simple materials like a wooden board, metal rings, a drill, and a rope cord. Each shelf requires one ring and one board.
Now use the drill to create four corners in each of the corners. The last step is to run the rope cord through holes utilizing the metal ring.
Can You Stick Shelves to the Wall with Glue?
Typically, it would help if you had mounting brackets to attach a shelf to the wall. It will be durable and more robust. Using glue to stick shelves to the wall has been a less traditional method, but you still can use it for both wood and plastic shelves.
How Much Space Should be Maintained Between Two Shelves?
Equal spacing between shelves is vital to create a streamlined and consistent look. Ideally, the distance should be between 8 to 12 inches. If you have bulkier items to store, you can consider increasing the distance by 14 or 15 inches.
What Screws are Suitable to Hang Shelves?
Right screws are important to increase the durability and lifespan of a hanging shelf. One ¼-inch flathead screws are considered best for attaching any wood shelf.