If you love flowers and want a fun and creative way to display them, the Flower Vase Challenge may be just what you need. This challenge has become increasingly popular among gardeners and flower enthusiasts, and it involves finding or creating an unexpected or repurposed vessel to arrange flowers in.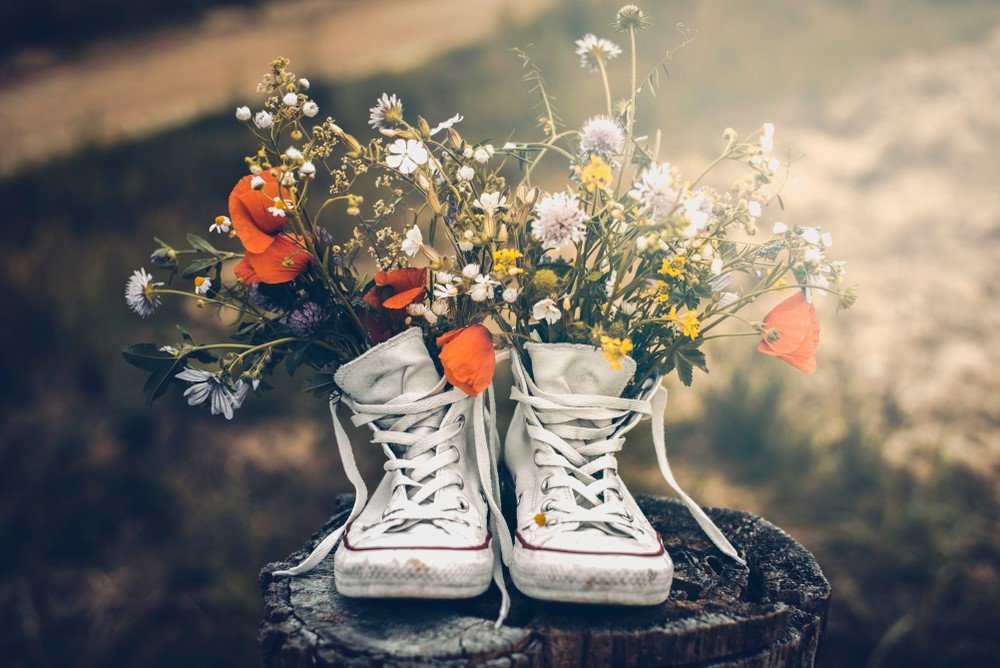 A survey by Trees.com found that 88% of Americans believe keeping plants has improved their mental health, so it makes sense that creating beautiful bouquets would have a similar effect. That leads us to the #FlowerVaseChallenge.
What Is the Flower Vase Challenge?
Essentially, the Flower Vase Challenge is a way to showcase your creativity and gardening skills by arranging flowers in unexpected vessels. People who participate are getting creative with what they use to arrange their cut blooms.
Some are scouring thrift stores for second-hand finds, while others are repurposing old bottles or buckets. The possibilities are pretty much endless.
---
---
How to Participate in the Flower Vase Challenge
To participate, all you need is a container and some flowers. The container can be any shape or size — it doesn't have to be a traditional vase. You can use anything from a teapot to a watering can to an old tin can. The key is to get creative and think outside the box.
Once you have your vase, it's time to choose your flowers. You can use any type of flower, but it's a good idea to choose blooms that are in season and complement the vessel you've selected. You can also mix and match different types of flowers and foliage to create a unique and eye-catching arrangement.
Grow Your Own Flowers
Using flowers from your own garden can add a special personal touch to your Flower Vase Challenge entry. Not only does it save you money, but it also allows you to showcase the fruits of your labor in your own backyard.
You can also experiment with different color combinations and textures to create a striking display. And if you're feeling adventurous, consider adding some unexpected elements from your garden, like twigs, berries, or herbs, to add an extra touch of interest and texture to your arrangement.
According to a 2021 survey by the National Gardening Association, an estimated 18 million people started gardening for the first time in 2021.
The COVID-19 pandemic and resulting lockdowns likely contributed to this surge in interest in gardening, and the Flower Vase Challenge is a great way to keep up the gardening momentum. So get your garden products ready to grow some gorgeous gladioli.
Tips for Creating a Winning Flower Vase Challenge Entry
If you want to create a winning Flower Vase Challenge entry, here are some tips to keep in mind:
Choose the right vessel: The vessel you choose will be the foundation for your flower arrangement, so make sure it's the right size and shape for the flowers you plan to use. Consider the color and texture of the vessel, as well as the style and overall aesthetic.
Pick the right flowers: The flowers you choose should complement the vessel you've selected. Consider the colors, shapes, and textures of the blooms, and choose flowers that will fit the theme or mood you're going for. It's also important to choose flowers that are in season and will last several days.
Consider foliage: Don't forget about foliage! Adding greenery to your arrangement can help balance out the colors and shapes of the flowers. Consider using different types of leaves, vines, or grasses to add texture and interest to your arrangement.
Get creative: The Flower Vase Challenge is all about creativity, so don't be afraid to think outside the box. Consider using unconventional vessels like teapots, mason jars, or even shoes! You can also experiment with different flower arrangements, like asymmetrical designs or bouquets that spill out of the vessel.
Take a great photo: Once you've created your Flower Vase Challenge entry, make sure to take a great photo to share on social media. Choose a well-lit area with a plain background to showcase your arrangement, and consider taking multiple pictures from different angles to capture all the details. (Of course, you don't have to post your blooms online; you can appreciate their beauty all to yourself — you'll be winning the challenge either way!).
A Flowering Display for Every Season
Your botanical exhibition doesn't have to be a one-off; you can make different arrangements over the seasons with your garden flowers. In fact, many gardeners enjoy creating seasonal arrangements to reflect each season's changing colors and moods.
During the spring and summer months, you can create arrangements with bright and colorful flowers like daisies, zinnias, and sunflowers. These flowers thrive in warmer weather and are perfect for creating cheerful and vibrant displays.
As autumn approaches, you can switch to deeper, warmer colors like oranges, yellows, and deep reds. Flowers like marigolds, chrysanthemums, and dahlias are perfect for creating arrangements that reflect the changing shades of the leaves outside.
During the winter months, you can create arrangements with evergreens, holly, and other winter foliage. You can also incorporate flowers like amaryllis, paperwhites, and poinsettias to create a festive and cozy atmosphere.
By switching up the flowers and foliage in your arrangements throughout the year, you can create a beautiful and ever-changing display that reflects the natural rhythms of the seasons. It's a fun and creative way to express your love of gardening and bring a touch of nature into your home all year round.
Dig Out Your Old Wellies
The Flower Vase Challenge is a fun and creative way to showcase your love of flowers and gardening. Whether you're an experienced florist or a novice gardener, this challenge is a great way to hone your skills and get creative with your arrangements.
So why not give it a try? You never know what unexpected treasures you might find in your quest to create the perfect flower arrangement.