Having a nice deck is a great way to spend time outside without direct exposure to elements.
Not only does it provide a great space for family and friends to spend time together, but it also provides a great space to entertain guests and relax after a long day.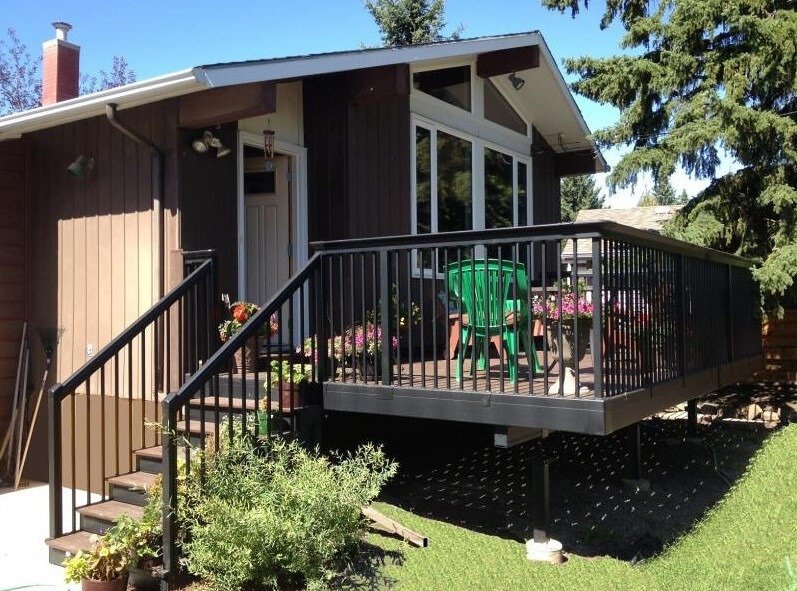 A beautiful, functional porch can also boost the value of your house. You can enhance this area with different plants and comfy furniture, or even build a fire pit and grill to add even more ambiance. You can even set up a table for dining or lounging. Find some inspiring ideas on the link below:
https://www.familyhandyman.com/list/10-inspiring-deck-designs/
Whether you want a wood-framed, natural, or artificial, having a nice deck will make your home look more appealing.
It's not a complicated project if you find reputable builders to work on it. Many contractors will even work all year round to prepare your deck for warmer days.
Know What You Need
Before you start searching for builders, you should have at least a rough idea of what your deck will look like.
For example, if you think of multiple levels, make sure you have enough space for stairs and passageways.
If you have a garden, consider materials that complement your landscaping. These are all things you'll discuss with deck builders, so arm yourself with some prior knowledge.
Get Recommendations
Your first step is to research and find the right contractors to build your patio. If you know anyone who has recently built or renovated a deck, ask them for recommendations. Word of mouth is often the best and easiest way to find a good builder.
---
Read Also:
---
Online Research
After getting some contractor names, go online. The Internet offers a lot of information in one place.
You can find more recommendations for builders in your area and read their reviews and client feedback. Also, you can visit a couple of websites just to compare their services and rates.
Before hiring deck builders, make sure you read reviews on the web. You can find them on unbiased websites and reputable resources like Better Business Bureau.
Check their ratings and find out what previous customers have to tell about them. If particular contractors have many poor reviews and claims, just skip them.
Check Credentials
After making a shortlist of contractors with good reviews and solid feedback, it's time to check their credentials. Always ensure that they are licensed and insured.
If these builders don't have any of these documents, they probably don't have valid working permits. So working with them can be risky.
Certified contractors have excellent work ethics and are familiar with building codes and regulations in your area. On this source, you can find a list of things to consider before building a porch.
Reputable builders offer warranties so you can have peace of mind once their work is done. If you don't want to waste time, look for contractors offering custom deck building services during winter. So you won't lose a day of relaxing on your patio during spring and summer.
Have Interviews
It's important to remember that a deck can add thousands of dollars to the value of your home. It's a major part of your house's exterior, and you want it to last.
So it's good to have an idea of what you want to accomplish before committing to a specific contractor.
Once you've decided on the design and style, you should sit down and discuss it with your prospective contractor.
Besides aesthetics, discuss the deck's features and functionality before the work begins. A good contractor will try to meet your wishes and work with your budget and terrain conditions.
If you plan to have your deck ready for spring, you can hire J.Murphy Construction, LLC to work on your project during the winter.
These experts will gladly come to you and build a custom patio for your house during the cold days. So you will be able to enjoy your porch with the first rays of the sun.
Ask for References
When hiring a deck contractor, be sure to ask for references and check their portfolio to see examples of their previous projects.
Also, you can check their previous works that resemble yours. These samples might be an excellent source of ideas if you don't have them.
Use the contractor's references to ask their previous clients about their experiences. Feel free to ask previous customers if they'd recommend the particular deck builder.
That can give you a wealth of information, from how well contractors communicate to whether they're trustworthy.
Get Several Quotes
When selecting a contractor, you'll need to know your deck's rough dimensions and design. Then you'll be able to ask them to quote you a price quote accordingly.
Before hiring, it's good to get cost estimates from several deck builders. But don't accept getting quotes over the phone. Instead, ask builders to come on the spot to make the most accurate estimate whenever possible.
You'll have information on how much you're going to spend, how long the project will take, which materials they will use, etc.
That's about enough to make a comparison and choose the best contractor. You'll be glad you took the time to do your due diligence and get quotes from several contractors.
On the following page, see the list of questions to ask your contractor before hiring:
https://www.decks.com/how-to/articles/questions-to-ask-your-deck-contractor
A good contractor will take care of all the details and go the extra mile to please clients. Many builders will gladly work during the cold days just to ensure you welcome warm, sunny days in a comfy and well-arranged deck.