Most people don't really spare much thought for their drainage system until it is blocked or damaged and they can't help but deal with it.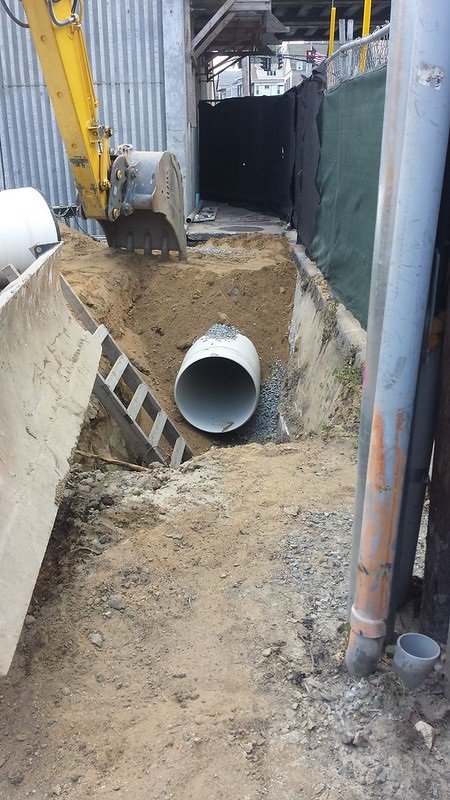 But the fact of the matter is that if you do pay a little bit of attention to your drainage system and keep it well-maintained you will be able to avoid having to carry out repairs.
To be perfectly honest maintaining a drainage system and keeping it healthy isn't all that difficult as long as you know what to do.
Use Drain Guards
Drain guards are small mesh covers typically made out of metal or plastic that can be placed on top of any drains. They are designed to allow water to go down the drain while preventing larger debris from getting through.
The debris that is blocked by the drain guard can then be removed and disposed of manually. Because it won't be allowed to go down the drain, it will reduce the odds of the drain becoming blocked.
If possible, you should try to use drain guards throughout your home and on every drain including sinks, showers, and so on. Just be sure to buy the right size of drain guard and check that it sits flush against the drain.
Keep in mind that although drain guards will block larger debris, smaller debris and certain liquids that can also cause blockages may end up going through.
---
Read Also:
---
Flush Drains with Hot Water Regularly
Get into the habit of washing your drains with hot water at least once a week. Hot water can help to dissolve oil and fat residue that may be stuck in your drains and ensure they don't get the chance to accumulate to the point that they cause a blockage.
Try to make sure that the water you use to flush your drains is hot – but not boiling. If the water is too hot it may damage any glue that is holding your pipes together or sealing them.
If you want, you can pour some hot water and then follow up by pouring in some non-chemical drain cleaner or simply a mix of vinegar and baking soda. When you do you should leave it to sit for 10 to 20 minutes, and then flush the drain again with hot water.
It should be noted that this method should only be used to prevent blockages. If your drain is already blocked, you should not try to remove the block with hot water as it is likely that it won't drain and will heat your pipes too much and potentially cause other issues.
Prevent Pet Hair from Going Down the Drain
Pet owners often end up having their drains blocked simply due to the pet hair that goes down the drain when they wash their pets. Pet hair is generally quite fine and can easily get through drain guards and into the drain.
If you're a pet owner, you should take additional care when washing your pets or areas as well as items that may contain pet hair. One of the best methods is to place a shower cloth over the drain so that it catches any pet hair while you're cleaning – and then dispose of it later.
Also always remember that you should never flush pet hair down your toilet either. Pet owners often make the mistake of cleaning their kitty litter and flushing dirt down the toilet and it normally contains quite a bit of hair and may cause a blockage.
Inspect Drains and Pipes Regularly
Every year or so you should make it a point to inspect your drains and pipes. During the inspection, your goal should be to determine whether there are any early signs of a blockage so that you can deal with them before they get any worse.
The first thing that you should pay attention to is whether water and waste are draining more slowly through the drains in your sink, shower, washing machine, and so on. If it is, odds are that the drain is starting to get blocked, and you can try clearing it yourself or contact a professional.
Aside from that, you should also look for any signs of leaks. That includes not just water drips, but also wet patches on the walls or flooring of your home. Assuming you do notice any leaks, you should ask yourself, "What is the closest service that provides drainage repair near me – and calls them immediately."
Empty Septic Tank
If your house has a septic tank system, you should empty it out at least once every three to five years. Septic tank systems can often get blocked either due to waste accumulation or roots and sprouts affecting the sewage pipes or septic tank itself.
Unfortunately emptying your septic tank is not something that you can do on your own and you'll need to get in touch with a professional. However, what you can do is keep an eye out for any signs that your tank is full such as a bad smell or sewage overflow near the septic tank, backflow from your drains, and so on.
Remember that even if there are no signs that your septic tank is full you should still hire a professional to empty it at least by the five-year mark so that you can avoid any major problems.
Conclusion
Following these five steps will let you maintain your drainage system and keep it in a healthy condition. As you can see none of these steps are particularly difficult, but some may require you to get a professional in to help you out.
While it may cost a little to hire a professional, in the long term it will definitely be worthwhile. The amount that you will have to end up spending if your pipes burst or septic tank overflows could end up being much, much higher than what it'll take to hire a professional to perform some relative maintenance. To put it simply – prevention is better than cure, especially when it comes to your drainage system.