The world of interior design continues to evolve with new trends and styles emerging. People have spent more time indoors, and the need for comfortable and functional living spaces has become a top priority.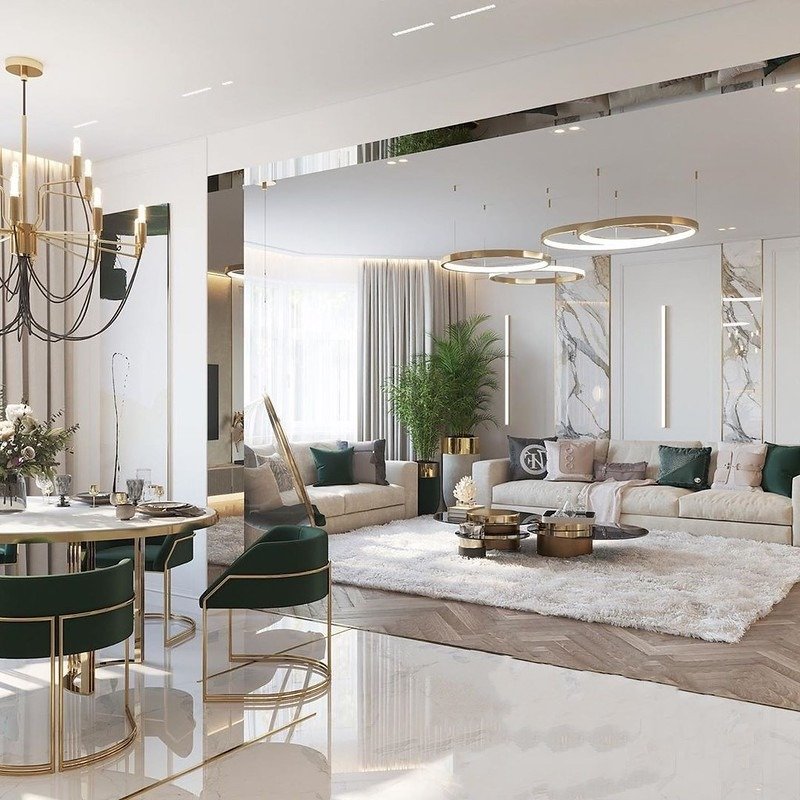 If you are planning to update your home interior this year, incorporating the latest design trends can give your space a fresh and modern look.
However, to achieve the best results, it's essential to collaborate with professionals who have the knowledge and expertise to bring your vision to life.
In this blog post, we will explore the interior design trends for 2023 and the role of a home builder in the process. We will also provide tips on how to include a home builder in your interior design project to ensure a successful outcome.
Overview of Interior Design Trends for 2023
The year 2023 brings a variety of exciting interior design trends that are gaining popularity among homeowners.
Here's a closer look at some of the most noteworthy trends:
Color schemes: The color palette for 2023 is all about nature inspired hues, such as muted greens, warm browns, and soft grays. These earthy colors create a calm and relaxing atmosphere, perfect for creating a peaceful living space.
Natural elements: The use of natural materials like wood, stone, and metals in interior design is on the rise. Bringing the outdoors inside by incorporating elements like plants and flowers can help create a connection to nature, further enhancing the calming effect.
Sustainable materials: As people become more environmentally conscious, sustainable and eco-friendly materials like bamboo, recycled glass, and salvaged wood are gaining popularity. Not only do these materials reduce the carbon footprint, but they also add a unique touch to any space.
Flexible spaces: With remote work becoming the norm, having a home office space is essential. Interior designers are now creating flexible spaces that can double as a workspace or entertainment area. This approach creates a more practical and functional living space.
Technology integration: Smart home technology has become a staple in many households. Incorporating tech features like voice-controlled lighting and sound systems is a great way to enhance convenience and improve the overall home experience.
As you can see, the interior design trends for 2023 are all about creating comfortable, functional, and eco-friendly living spaces. By keeping these trends in mind, and using a custom home design guide, you can create a stylish and practical space.
---
Read Also:
---
The Role of a Home Builder in Interior Design
Home builders play an essential role in the interior design process. They work closely with interior designers to ensure that the design vision is executed effectively, within budget, and on time.
Here's a closer look at the role of a home builder in interior design:
Collaboration with interior designers: Home builders collaborate with interior designers to understand the client's design vision and requirements. They work together to ensure that the design is practical, functional, and aesthetically pleasing.
Importance of communication: Communication is key in any interior design project. Homebuilders ensure that communication between the design team, contractors, and clients is clear, concise, and consistent. Due to everyone being on the same page, the project will go without a hitch.
Benefits of working with a home builder: Home builders bring a wealth of knowledge and experience to the interior design process. They have a deep understanding of construction materials, building codes, and local regulations, which allows them to make informed decisions throughout the project. They can also help identify potential issues before they arise and suggest solutions to resolve them.
Customization options: Working with a home builder offers a unique opportunity to customize your living space to fit your specific needs and style.
Home builders can provide suggestions and solutions to make the most of your space, whether it be an open floor plan, unique architectural details, or a custom-built feature.
In summary, home builders play a critical role in the interior design process, ensuring that the design is executed correctly, within budget, and on time. Their expertise and knowledge make them invaluable partners in creating the perfect living space.
Tips for Including a Home Builder in Your Interior Design Project
If you're considering including a home builder in your interior design project, here are some tips to ensure a successful partnership:
Research and vet potential home builders: Take the time to research and vet potential home builders to ensure that they are experienced, reliable, and have a good reputation. Check their portfolio of work, read customer reviews, and verify that they are licensed and insured.
Establish clear communication: Communication is crucial in any successful partnership. Ensure that you establish clear communication channels from the outset of the project. Discuss the preferred mode of communication and set expectations for response times and project updates.
Define roles and responsibilities:  Clearly define the roles and responsibilities of both the home builder and the interior designer to avoid any misunderstandings or miscommunications. Schedule frequent check-ins and progress updates.
Set a realistic budget: Setting a realistic budget is essential to ensure that the project stays within financial constraints. Work with the home builder and the interior designer to establish a budget that aligns with your goals and expectations.
Stay flexible: Despite the best planning, unexpected issues can arise during a home renovation project. Stay flexible and open-minded to suggestions from the home builder and interior designer.
Remember, the goal is to create a beautiful and functional living space that meets your needs and expectations.
In summary, including a home builder in your interior design project can be a smart move, but it's important to do your research, establish clear communication, define roles and responsibilities, set a realistic budget, and stay flexible throughout the project.
By following these tips, you can ensure a successful partnership and create the living space of your dreams.
Bottom Line
Incorporating a home builder into your interior design project can have numerous benefits, including ensuring that your design vision is executed effectively and efficiently.
A home builder can provide valuable insight into the construction process, help identify potential issues, and suggest solutions to create a functional and aesthetically pleasing living space.
By working closely with an interior designer and a home builder, you can create a home that reflects your style and meets your unique needs. Remember to establish clear communication channels, define roles and responsibilities, and set a realistic budget to ensure a successful partnership.
With these tips in mind, you can embark on your interior design project with confidence, knowing that you have a team of experts by your side. Whether you're building a new home or renovating an existing space, incorporating a home builder can help bring your design vision to life.