So you've decided to upgrade your kitchen but you're not sure where to begin and you might find yourself asking, "Is it worth upgrading your kitchen?" Veteran kitchen designer Jerome Buttrick definitely says so, "Kitchens are really the soul of the house and are for more than just cooking but also for congregating."
Traditional kitchens are often small and isolated, but modern kitchens are now built to function as a casual eating space, workspace, and even storage area.
So what are the benefits of upgrading your kitchen, aside from looking the best on the block?
Firstly, it increases functionality. Whether it's the drawers or the pantry, you can optimize the space for a functional kitchen, removing clutter.
Secondly, improved comfort and safety. Some kitchens can feel cramped and stifling from the poor layout or spatial planning. Consider if there are any potentially hazardous messes waiting due to a cluttered area.
Thirdly, upgrades can increase the value of your home. Homeowners found they recouped an average of 59% on major kitchen upgrades and 81.1% on minor upgrades.
You might think about some things you'll need to change like, what colors are you going for? Is there a theme? Should you change the cabinets? What about the drawers? How am I going to store everything? What is my budget?
It's okay, don't feel overwhelmed now. An upgrade doesn't always mean ripping up your old kitchen and starting from scratch.
---
Read Also:
---
A new look can be anything from replacing old cabinet doors, repainting the walls, to completely redesigning everything. The ball is in your court, or kitchen in this case.
A new kitchen design is something you'll have for years to come, so it's important to design it the way you like. From layout to hardware selections, here are some useful tips to consider in your kitchen project.
Check Your Kitchen Layout
Before starting, it's imperative to assess your kitchen floor plan. It'll make planning and budgeting flow smoother–it'd be terrible to buy new equipment only to realize it doesn't fit.
There are six layouts to choose from, depending on the size of your kitchen:
One-Wall
The one-wall kitchen is often used in lofts or studio spaces to save space. As the name implies, cabinets and appliances are fixed to an entire wall.
Gallery
Galley, also known as a walk-through kitchen, is ideal for small spaces and one-cook kitchens.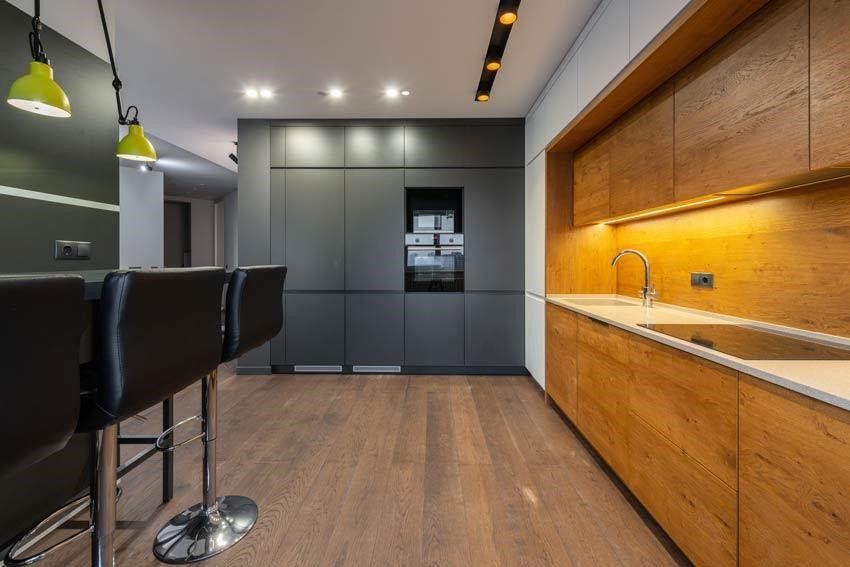 L-Shaped
L-Shaped kitchens are great for small and medium-sized kitchens for maximizing counter space. The legs of the "L" can range anywhere between 12 to 15 feet. An L-shaped kitchen can eliminate traffic, insert a dining space if you'd like, and expand into a work zone.
Horseshoe
The horseshoe layout acts much like the L-shaped, but with an extra wall to give it a "U" shape. It can provide smoother traffic flow in the area.
Kitchen Islands
Many kitchens, large and small incorporate a kitchen island if possible. It can turn an L-shape into a horseshoe, and a one-wall into a galley. Kitchen islands are versatile as they can add extra workspace, function as storage, a kitchen sink, and additional places to eat.
Peninsula
The peninsula kitchen connects the island to the rest of the kitchen layout, converting it into a horseshoe or G-shape. Peninsulas act like an island for kitchens that don't have the square footage for an actual island.
Cabinet Pulls
Deciding on the right layout, appliances, and hardware can occupy a large majority of the project, but it's important to keep your cabinet pulls and knobs in mind. They will compliment your overall design and pull everything together.
When selecting the right pull, it'll have to be ergonomic since you'll be using it every day. Test out several pulls to see how the size and to feel fit in your hand. Sticking to one style will give the kitchen a clean look. Alternatively, you can choose one pull style and a complimentary knob style.
When installing it in your kitchen, Meridian Homes advises that cabinet pulls be one-third of the cabinet length.
If you have a theme in mind but aren't sure what style to choose, Meridian Homes has also created a quick guide:
Contemporary
Contemporary kitchens follow a minimalist and neutral color palette. Linear or curved pulls with a stainless steel finish will match the theme and appliances.
Hardware design experts Bradford Hardware has an assortment of modern knobs and pulls to match your contemporary kitchen.
Transitional
Transitional kitchens are a blend of contemporary and traditional styles. Soft-edged and contemporary hardware will match well with clean-looking cabinets.
Knobs.co has hundreds of different designs to choose from to find the perfect balance between traditional and contemporary.
Traditional
Traditional kitchens are highly detail-oriented. You'll want knobs and pulls that are just as detailed to match the look. For a vintage look, consider knobs and pulls with a porcelain overlay.
Houzz has over 700 selections to choose from. Their handles range from Celtic designs to Victorian patterns, so the options are limitless.
Rustic
Rustic kitchens are meant to have a warm, inviting ambiance, and are characterized by wooden materials. Use oil-rubbed bronze, copper, or black finish for your hardware.
Wayfair has a beautiful assortment inspired by the natural world. You can easily browse their selections by finish, type, and size.
Eclectic
Eclectic kitchens help add personality to your kitchen through small things like customized knobs.
Anyone who is interested in having something like a sleeping fox knob or leather handles can consider purchasing them through indie artists on Etsy or retailers like Anthropologie.
Choose the Right Colour for Your Kitchen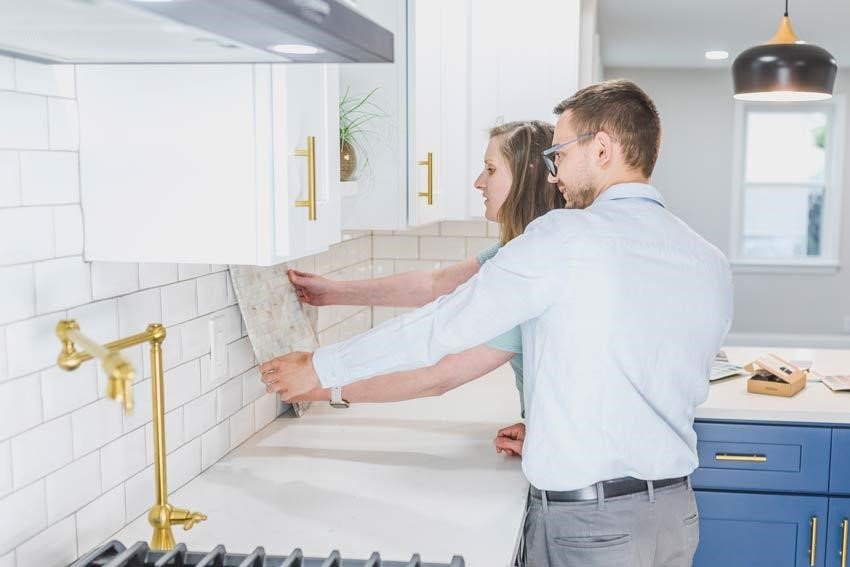 New York-based interior designer Jenny Wolf says lighter colors will make the kitchen feel larger. Wolf opts to bring in natural light and let it dictate her color palette whenever possible.
Light countertops, backsplashes, walls, and millwork help the area feel more open too. If you want to keep your budget small, replacing light-colored cooking utensils will have a similar effect.
If you don't find much natural light entering your work area, avoid dark colors. Neutral colors like white, light grey and tan are timeless and safe choices. They will brighten the area and give a visually larger feel.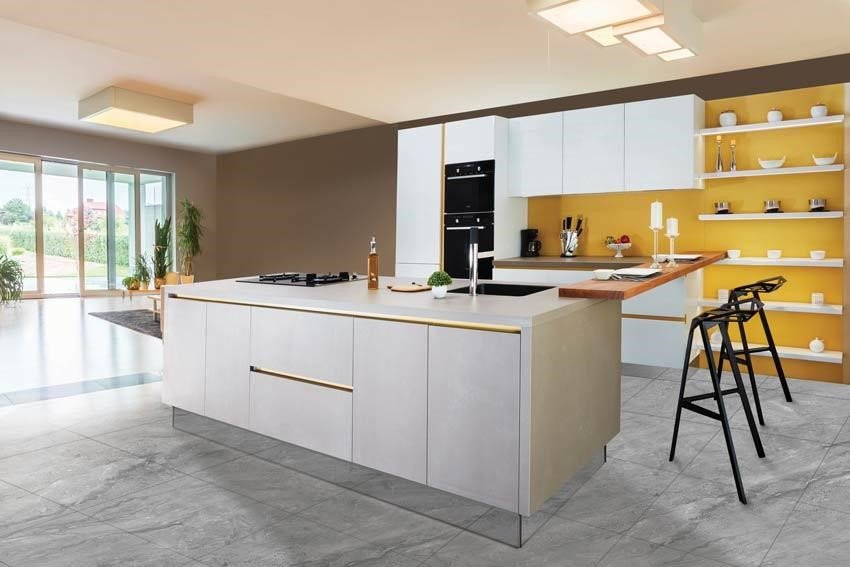 Large items like cabinets immediately draw the eye. Consider lighter colors in small areas. Larger areas can have either a similar color scheme to match or darker ones to make it pop out even more.
Finally, consider the kitchen backsplash. Most people tend to overlook this area but it can add to the color palette. You can choose your favorite color for a backsplash since it's an easy task to complete and inexpensive to do–many people like to take a DIY approach when it comes to backsplashes.
Conclusion
There may be one hundred things you have to consider but at the end of the day, you are one step closer to creating the modern kitchen you've always wanted. If you're still unsure, consult with a skilled contractor who has the proper tools and experience.
Remember to have fun creating the kitchen you've always wanted and don't feel overwhelmed; this is your kitchen and you can handle the heat.