Keeping your carpets clean and fresh can be daunting, especially with little to no knowledge of the subject.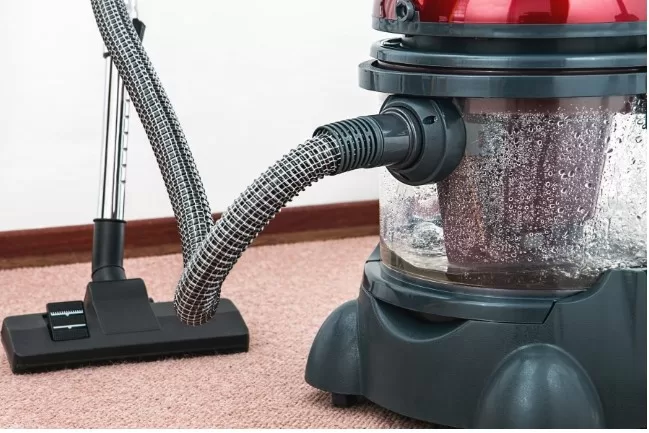 However, many DIY carpet cleaning secrets can help maintain your carpets' lifespan while contributing to a healthier home environment. You have carpets that are stained and dirty. You don't have time to clean the carpets yourself.
This article will explore 5 must-know DIY carpet cleaning secrets you should be aware of. From materials needed to best practices, we will cover everything you need to know to keep those carpets looking their best.
1. Vacuum Regularly
Regular vacuuming is an essential part of any DIY carpet cleaning routine and can keep carpets looking their best for longer. Vacuuming your carpets at least once or twice a week is the easiest and most cost-effective way to remove dirt and debris from your carpets.
Regular vacuuming also helps reduce allergens such as dust mites, pet dander, pollen, and other particles that can cause allergies or asthma symptoms.
When vacuuming regularly, it's essential to use the right vacuum cleaner for the job. Upright vacuum cleaners are great for deep cleaning carpets by removing embedded dirt and dust particles in a single pass. Canister vacuums are more lightweight and can be used to clean tight spaces such as stairs or around furniture legs.
---
Read Also:
---
2. Blot Stains Immediately
One of the most effective DIY carpet cleaning techniques is to blot stains as soon as they occur. Blotting is an essential step in any successful DIY stain removal process, and it can make all the difference between a clean and dirty-looking carpet.
By using this strategy, homeowners are not only able to maintain their carpets but also save time and money on professional cleaning services. When it comes to blotting stains, speed is essential. To avoid permanent staining, homeowners should immediately take action upon discovering a spill or stain on the carpet.
The technique involves pressing a cloth into the area to absorb moisture and lift away any debris or dirt particles that may be trapped in the fibers. Additionally, it is important that when blotting, you use light pressure so as not to damage or spread out the stain further.
3. Use Baking Soda for Odor Removal
Carpet cleaning can be an expensive and time-consuming endeavor, but it doesn't need to be. Many DIY carpet cleaning solutions are available, including using baking soda for odor removal.
Baking soda is a natural deodorizer that effectively absorbs unpleasant odors without using harsh chemicals. It's also safe and non-toxic so you don't have to worry about harming your carpets or your family's health.
To use baking soda for odor removal, simply sprinkle it on top of the affected area and let it sit for several hours or overnight.
After letting the baking soda absorb any odors, vacuum up the residue and enjoy fresher-smelling carpets! You should repeat this process several times until all of the odors are completely gone.
4. Spot Treat with Vinegar Solution
Do-it-yourself carpet cleaning doesn't have to be a daunting task. With the right supplies, spot treating with a vinegar solution is an easy and effective way to make your carpets look new. This non-toxic carpet cleaning method uses only natural ingredients, making it safe for small children and pets.
To start spot-treating your carpets with vinegar, create the solution in a bowl or bucket. Combine one part white vinegar with four parts water, stirring until well blended.
Dip a clean cloth into the mixture and wring out any excess liquid before dabbing it onto the stained area of the carpet. Allow it to sit for up to 15 minutes before blotting it dry with a clean cloth or paper towel.
5. Steam Clean for a Deep Clean
When it comes to carpet cleaning, steam cleaning is a great option for those looking for a deep clean without the expense of hiring a professional. Steam cleaning can be done at home and is easy enough for anyone to do with just a few simple steps.
The first step in steam cleaning your carpet is pre-treating any stains or spots that may be present. This helps break down the dirt, oils, and other substances embedded in your carpet's fabric so the steam cleaner can easily lift them.
Once all spots have been pre-treated, fill up your steam cleaner with water according to manufacturer instructions and begin steaming in small sections across your carpets.
As you move across each section, stay close behind the machine so that you don't miss any areas or leave excess moisture on the mats.
Conclusion
In conclusion, cleaning your carpets can be very simple. With these 5 Carpet Cleaning Services in Ardingly Haywards Heath secrets, you can keep your carpets looking great with minimal effort and cost.
From blotting spills as soon as they happen to regular vacuuming and deep cleaning, you can maintain the health and life of your carpets for many years.