Finding mobile homes for sale can be a daunting task when you aren't sure what kind of benefits you'll enjoy after you have found the right manufactured home for you. It can be difficult to know how to buy a mobile home when there are many new and used options available.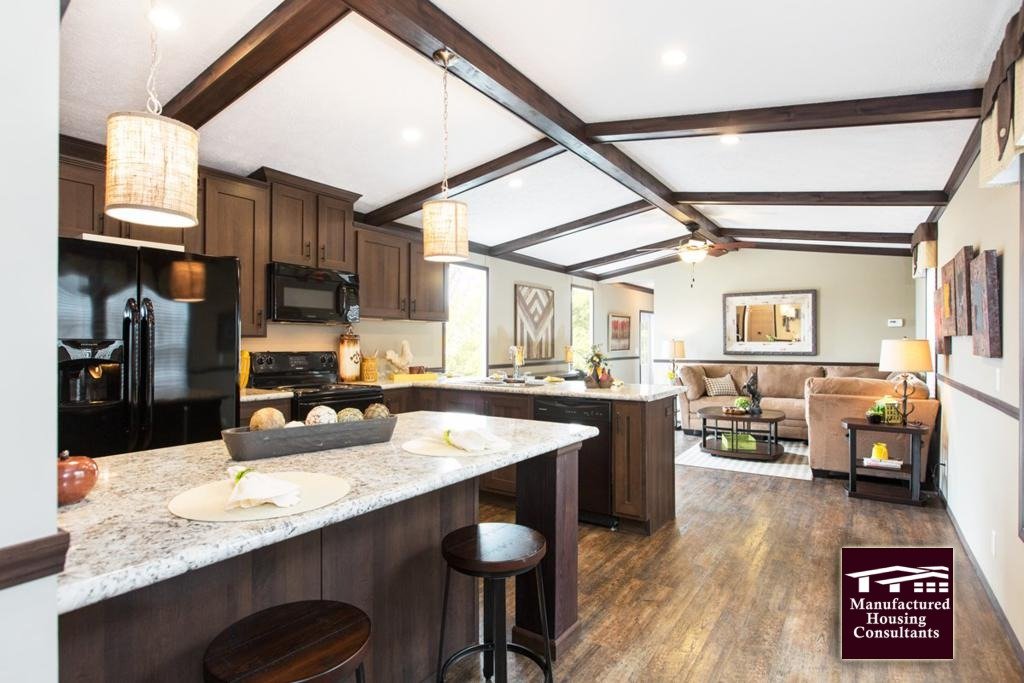 Let's take a look at some of the biggest pros and cons of new and used mobile homes for sale so you can decide if mobile homes are a good investment for you.
New Mobile Homes: Pros and Cons
It is always nice to purchase a brand-new home that you can customize to your preferences and feel good about spending a long life in.
There are some financial disadvantages to purchasing a brand-new mobile home, however.
Let's find out how much is a new mobile home and how to purchase a new mobile home if you are ready to move in now!
1. Pro: Less Land Expense
You can basically choose where you want to live, and you might not have to pay property taxes depending on your new location.
You have the ability to choose from gated mobile home communities to new plots of land to settle down on.
2. Pro: Customization Options
You get to add the major and final touches from the type of flooring to the finishes to the crown molding. You may even have a hand in choosing the layout of your mobile home.
Find out where to buy mobile homes in your local area so you can invest in personalization options.
3. Pro: Few Maintenance Concerns
What is a mobile home if not convenient? Newer mobile homes for sale allow you to enjoy new fixtures and finishes that do not need repair anytime soon.
You can also choose to add insulation and eco-friendly sources to your mobile home for even fewer fees and maintenance concerns.
4. Con: More Prep Time
You are essentially building your own home, so you will need a lot more time to figure out what amenities to add and how to upgrade to the home you want.
New owners will learn that finding out how much is a mobile home depends on what kind of money you want to spend on extra additions and newer features.
5. Con: Expense
Mobile homes for sale are still far more affordable than standard constructed homes; however, used mobile homes are significantly cheaper. It all depends on your budget.
Schedule an appointment with our mobile home experts to find out how to finance a mobile home that falls within your price range.
Used Mobile Homes: Pros and Cons
How much is a used mobile home in comparison to a new mobile home? Finding used mobile homes for sale may come with more advantages than you'd think.
Let's review the biggest pros and cons of purchasing a used home.
---
Read Also:
---
1. Pro: Finding More Financing
Because a used mobile home is already built, it is much easier to finance. If you are dealing with an inflexible budget or you are looking to get a loan, you might have a better time with a used home.
2. Pro: Affordability
How much does a mobile home cost when used, in comparison to the price of a new mobile home?
In the case of our mobile homes for sale, you will find used homes that can be purchased for almost half of the price of a new mobile home, giving you a much larger range of options when it comes to finding the perfect mobile home for you.
3. Less Planning Needed
A used mobile home is already complete. While you can think of renovations later, you don't have to plan anything upfront. You can simply purchase the home and move right in the next day.
4. Con: Aging Concerns
Some older mobile homes are not up to standard HUD codes or safety standards. Typically, homes built before 1976 might be subject to inspection before they can be purchased.
5. Con: More Maintenance
You will have to find a trusted repair service to help you out if something gets broken. While used mobile homes are by no means in a terrible condition, the age of the home must always be considered.
Get in touch with our mobile home pros to talk about the best repair and renovation options on a budget.
Where Can I Buy a Mobile Home?
Get in touch with our mobile home experts to learn more about our wide range of used and new mobile homes available.
Whether you are looking to upgrade to a nice home for the whole family, or you want to find something comfortable on a budget, let us be your guide to finding your next dream home.