There are many homeowners who enjoy doing things by themselves. This is because sometimes maintaining the roof or even getting it replaced a new one can be expensive and time consuming as well. However, the maintenance of roof can indeed be one of the most difficult but important task that you must consider on a regular basis. If you look after your roof on regular basis then there would be less chances of getting it damaged or replaced.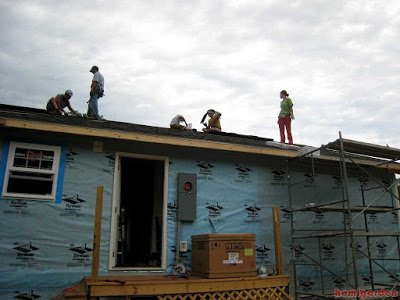 Roofing Tips for Homeowners
Here are the top 10 roofing tips for homeowners
1. Maintenance on Regular basis
Check out every corner of the roof and see if you can find any damaged or broken part. Inspect the roof thoroughly and take your time. Do not do it in hurry as you miss out an important part and ignore it, which may further damage the roof. Also, look for other signs of damage that may turn into a major damage. It is advisable that you get your roof repaired immediately to avoid falling into a big problem.
2. Consider the Age of the Roof
This is one of the most common thing that people often ignore or forget. Consider how old your roof is and check if it needs any type of repair. A very old roof that may be cracked and not looked upon for years can cause problems. You may consider getting it repaired or replacing it.
3. Hire a professional when needed
This is another important point that you must remember. There are many times when you cannot repair the roof by yourself. For this, you may have to call a professional who can help you fix the problem.
4. Hire a reliable Engineer
If you wish that your roof lasts for a long time then it is very important that you hire a professional engineer and reliable as well. This is because, a reliable or reputed engineer will be able to fix the problem in just few minutes and also will be able to guide you if required. You can completely rely on this engineer to get your work done. Moreover, a reliable engineer will be able to share the knowledge and experience that he has gained over the years and help in solving the roofing problem.
5. Look up for a licensed company
Yes, this is indeed one of the most important point that you must consider while looking up for a roofing company. This is because, with the increasing competition, there are also many fake companies that provide service but not to your satisfaction level but charge high fees. So you must check whether the company has license or no. this will provide satisfaction and also give you that peace of mind.
6. Materials
This is another factor that you must consider. There are many variety of material that is used for roofing. To get a durable roofing system for your home, it is important that you use high quality of materials. This will also allow you to maintain the roof on regular basis without any complaints. Besides, you may consider any material for roofs such as tiles, cement, aluminum or copper.
7. Type of roof
This is another point that must be kept in mind while roofing. This is dependent on the type of your house and the region that you are living in. you may want to consider a flat roof for commercial buildings or individual apartments. On the other hand, you may want to consider sloping roof if you are living in a hilly region or cold climates. This will shield you from snow and also allow the snow to slope down the roof.
8. Keep the important numbers handy
You may be required to call a professional engineer at any time. Therefore, it is important that you keep all the numbers of the engineer located in your nearby vicinity handy. This will save time during an emergency situation and you do not have to waste your time each time to find the number.
9. Act on every minor damage
Be it small or big damage, it is important that you react on every damage that you find. This will help in preventing major damages in future and also save your money.
10. Seek advise
Don't be shy or hesitate to ask questions. You can ask as many questions as you want to the roofing company to get your problem fixed. You can also seek advise from friends and family who had similar types of experiences.
These are the top 10 tips that homeowners can consider for their roofing repair system.