Welding helmets are used to protect the eyes, face, neck, and head from infrared rays, ultraviolet rays, and flash burns, so there's no room for error or for a faulty product when searching for a top-rated welding helmet.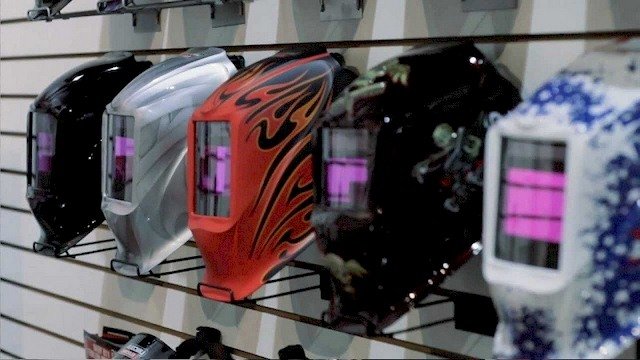 5 Top-Rated Welding Helmets
Helmets are most often used for arc weldings, such as gas metal, shielded metal arc welding, and the like. In order to avoid blindness, eye complications, harm to the head or skin, it's vital to buy proper equipment.
What to Look For in a Helmet
There are several factors to consider when purchasing a welding helmet, such as:
Auto / Passive Darkening Lens
Helmet Weight
Lens Switching Speed
Number of Sensors
Safety Standards
Varying / Fixed Rays
Below, we've listed some of the top-rated welding helmets on the market today:
Top-Rated Helmets Today
There are several great welding helmets on the market today. Some of our favorites include the following.
Jackson Safety W70 BH3 Auto-Darkening Helmet
When it comes to auto darkening, Jackson leads the pack. The auto-darkening helps to maximally protect the user from all types of arc rays. This welding helmet has a glass lens that makes it superior for full eye and neck protection.
The Jackson helmet also has various adjustable features such as panel adjustment and headgear adjustment, which are made up of 2-3 buttons for shade or delay. This helmet is perfect when quality and efficiency are your main concerns, plus it's comfortable for long jobs.
3M Speedglas 9100xx FX Welding Helmet
Customer reviews put the Speedglas welding helmet among the best in the industry. Not only does it protect the user from all types of rays, regardless of whether it's on or off, but it also has auto-darkening panels to diffuse arc rays from a glass cover.
The Speedglas offers security and protection from various work angles and there are adjustable positions for dense rays. There are different roles within this helmet's functions, such as welding and torching.
Specifically, this helmet offers comfort while on the job, a wide view, digital and automatic functions, reduced heating, and a wide lens view made up of a polycarbonate nylon material so it only weighs about two pounds
Rhino Large View Carbon Fiber RH01
The Rhino Large is light and comfortable, while the materials are also durable and heat resistant for various environmental or strong climate conditions. The glass panel lens even gives a wider range of view for the welder.
There is an auto-darkening feature with two sensors, which are powered by a packaged solar panel. This solar unit features a battery backup in case of failure, which makes this helmet stand out from the pack.
Various review sites also show that Rhino Large is highly appreciated among customers and the full package includes an adjustable helmet, auto-darkening features, full head protection, and a clean, sleek overall look.
Also, consider the Rhino HUGE LENS Auto Darkening Welding Helmet Hood Mask for an even wider range of views.
Related: Everlast Welder Review By Fixit Man Blog
Arcpro 20704 Auto Darkening Solar Powered Welding Helmet (Grinding Mode)
The Arcpro is a spectacular auto-darkening helmet for sparks and other rays. It can actually readjust itself to counter these aggressive rays that could hurt the welder and there's a huge viewing capability for the user as well.
The Arcpro adjusts the shade to DIN 9 and 13, which is ideal for welding and grinding. The helmet is also very fast and efficient when it comes to fighting off ultraviolet rays as the darkening rate sits at 1/25000th of second reaction time.
Some additional features include an on/off button and three volts lithium battery (American Safety Standard), which makes it ideal for individuals or business owners who are searching for quality in a product.
Lincoln Electric Viking 3350 Welding Helmet
The Lincoln Electric is made of customized plastic so no heat or rays can penetrate the helmet, but it is also lightweight in nature. It covers the entire head and the vast glass panel lens helps magnify a viewpoint in the working area.
Professionals consider the Lincoln Electric exceptional and it also has an amazing auto-darkening feature to protect welders against harmful arc rays. This comes from four sensors that help increase coverage from the helmet, plus it uses solar power backed by battery power.
Conclusion
All in all, there are many options when it comes to choosing a welding helmet, but as long as you take into consideration the helmet weight, auto-darkening or passive features, lens switching speed, sensors, and safety standards, you'll be able to find the right helmet for the job.
For more information, buying guides, reviews, and more, visit http://www.getweldinghelmet.com today.