Drain issues are never pleasant to deal with. They can cause water problems, unpleasant odors, and strange sounds. Dirty drains are inconvenient, but having clogged drains for too long could result in bursting pipes in your home.
No homeowner wants to come home to a flooded house due to a burst pipe, which is why it's critical to keep your drains clear all the time. You cannot ignore them for too long, because they can turn into bigger problems very quickly.
If you want to avoid this issue, you should be aware of several signs of drain problems. In this article, you will find a list of warning signs that you need drain cleaning immediately.
The Water Drainage Is Slower
When there is a blockage in the drain, you will notice it immediately. You may notice that water in the sink and toilet takes an unusually long time to drain. Flooding may occur in these areas if the clog is severe.
If only one area is affected, it could be due to the pipes in that appliance. For example, if your kitchen sink is blocked but your toilet is not, it could be due to a clogged pipe in the kitchen.
Water flow will be slow in all areas where the sewer drain is clogged. A variety of issues could affect your sink, toilet, bath, shower, or anywhere else drainage is required. Food and hair, as well as toilet waste and other debris, can all clog your drains.
So if you have to deal with blocked drains, make sure to hire a professional drain cleaning company whose employees are fully equipped to solve all kinds of plumbing issues.
---
Read Also:
---
Bad Smell
A bad smell can be difficult to locate. If your home has a lasting smell that you can't seem to get rid of, it could be due to clogged drains. Kitchen sinks are particularly prone to bad smells.
This is because food debris and grease are washed down the drain and then harbor bacteria in a moist environment.
If you notice that all of your drains are emitting a bad smell, there could be a problem with your entire drainage system, such as a leak allowing sewer gasses into your drainage system.
Additionally, blocked drains can be the source of unpleasant odors in your home. Covering up the smell will not help, so you must address the root cause.
Strange Sounds Are Coming from The Kitchen Sink
When your sink makes an unusual sound, it usually means you have a clogged drain. When you turn on the tap, water has difficulty passing through the pipes and past the clog.
The air beneath the blockage bubbles up through the water, making gurgling noises. If you hear these noises coming from your sink, the clog is only partially blocking the pipes. Water can still pass through them, though at a much slower rate.
Inspect your p-trap pipe if you hear gurgling noises coming from the kitchen sink drain. The p-trap is a curved section of pipe located beneath your sink that can catch any foreign objects that make their way down your drain.
Fill a bucket with water and carefully unfasten the p-trap from the drainpipe. Remove whatever is causing the clog and then reattach it.
Using Too Many Chemicals
Many people will reach for corrosive chemicals such as bleach or drain cleaning products when faced with clogs, slow draining, or bad smells.
These products are not only harmful to the environment, but they also emit fumes that are harmful to your family's health and cause structural damage to your drain pipes.
They eat away at the inner lining of your drainage system, eventually causing it to collapse. By avoiding these damaging substances, you can avoid an expensive drain repair job.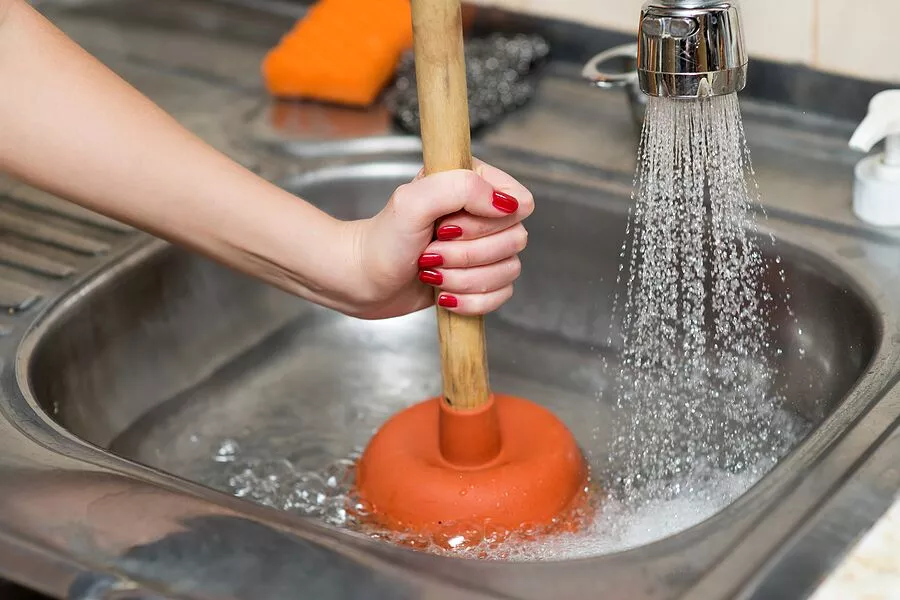 Food Debris Stuck in The Kitchen Sink
Food debris could indicate a clog in your plumbing system. The most likely culprit is your garbage disposal, an appliance that occasionally fails. When your garbage disposal becomes clogged, you can push the food remains back up the drain. As a result, it ends up in your kitchen sink.
If you suspect a clog, inspect your garbage disposal unit immediately. Cleaning out your garbage disposal usually solves the problem. However, you should take care of it as soon as possible to avoid problems later on.
Final Thoughts
It's best not to ignore drain problems if they occur on a regular basis. Small issues can grow into large, costly problems that could have been avoided.
Drains have an annoying habit of causing problems at inconvenient times, such as when you're on vacation or just before hosting a party. Don't let your drains catch you off guard; regular maintenance visits can help you avoid being caught off guard.