It is understandable if quarantine and working from home have made you start to hate how your home looks.
You probably hate how your space looks because Pinterest has endless inspiration pictures, and you have spent countless hours on it!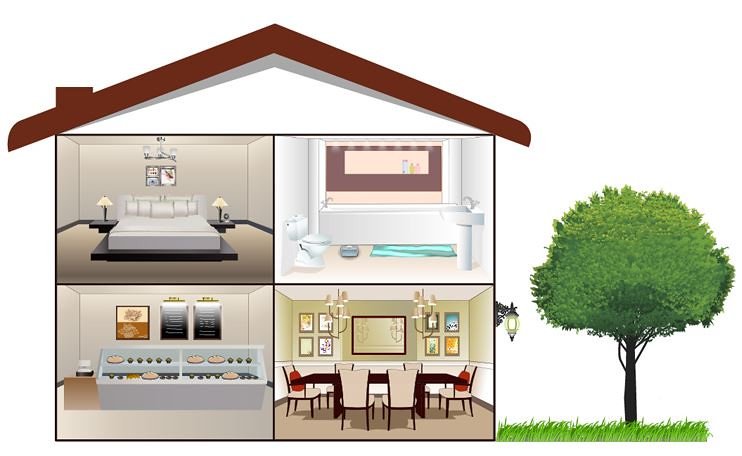 But know that it's not all necessary to be implemented! You don't have to take out a loan or buy the most expensive items in order to rework your entire home in such a way as to make it more appealing!
Even if you just get a new planter or paint the living room wall, your space will feel completely different.
No matter how big or small the changes you need to make, we've got tips that can help both inspire and implement creative ideas without spending all of your hard-earned dollars!
Add A Removable Wallpaper
We live in an age of bland, beige, and downright boring tastes and colors- no offense neutral is amazing, but we need color too!
Adding a little color into your life is one easy trick to make things more exciting and fresh!
Adding color gives you an instant mood improvement! Whether you're adding color to a wall or a backsplash in the kitchen, in bedrooms behind beds, or anywhere, it can bring an interesting element to your space.
PS: Try adding floral wallpaper to your bedroom- It will seem like you're sleeping in a boutique hotel.
Add Character on the Gallery Wall
You can get crafty and start quilting or painting on a whim to make something unique for your gallery wall.
Don't worry about any materials; anything you need is available online. You can also find quilting fabric by the yard online or any other paint supplies for your project online.
Remember that there are no rules to art, so don't be afraid to explore your creativity through painting or quilting.
Hang your works on the ceiling of your gallery if you feel like it – the ceiling is the limit here quite literally!
---
Read Also:
---
Add a mirror
Adding mirrors to your living space is a great way to create the illusion of greater space
The reflective surface adds depth while allowing natural light from overhead windows or skylights to give your room the atmospheric glow you want in an open, free-flowing home.
Rearrange Your Furniture Layout
Sometimes an area can feel cramped because of the things you have in it. But there are a few tricks you can use to make your home seem bigger than it is.
You could arrange furniture differently. You can try this in your bedroom or your study to see the full effects almost immediately.
Place A Rug
If an area of your home feels too rigid, try reviving it with a new rug to soften not only the footfall but also the warmth and texture of the floor.
Even in small spaces, such as entrance halls or kitchens, rugs can make a big difference in how they transform a home.
Rugs are a fun solution for creating interest and adding movement to an otherwise cohesive design. You can also try using multiple layers in one space to add visual depth and pattern to your floors!
Get A Sofa Slip Cover
If you are looking for an easy way to spruce up your living space, consider purchasing slipcovers!
When you decide to throw them over the old sofas, they add spice to your furniture and make it feel like a whole new piece.
If there's one sure-fire way to transform your living space instantly, this is it! It is also less expensive than purchasing a new sofa! Trust us!
Conclusion
We hope you enjoyed our article about ways you can transform your home. We know you can make the most of your home and remodel it to its full potential with this knowledge. Happy remodeling!