When you start a building or remodeling project, there are dozens of things running through your brain. You are trying to make decisions based on your own minimal knowledge of particular products, plus the (hopefully) deeper educated advice given by your contractor.
The problem is that many myths abound, especially when it comes to your floor. After all, haven't you heard that porcelain floor tiles are better than ceramic? Actually, that's not an easy yes or no question. It really depends on your particular project.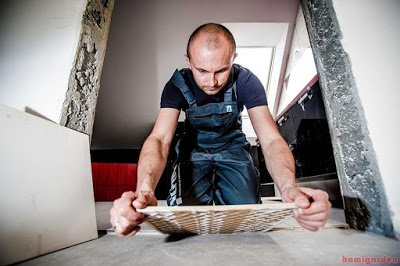 Porcelain Floor Tiles
One of the most common myths associated with porcelain floor tiles is that the color goes all the way through, unlike ceramic tiles where it is applied as a glaze. While you can buy porcelain tiles that are dyed before firing, they are less common and much more expensive. Most only have surface color, just like their ceramic counterparts.
Choosing Porcelain Floor Tiles
A better way to make this decision is to check the PEI rating of your particular choices. This will tell you how strong the product is and how likely it is to resist chipping and scratching. A lower PEI rating is a less durable product, while a higher PEI rating lets you know that it is better quality. PEI ratings of 4 and 5 can be used in commercial applications. Most residential applications are fine with a level 3 rating.
It is absolutely true that porcelain is a denser material than ceramic and is less likely to chip in general. The properties of porcelain floor tiles also lead to less expanding and contracting, making this the ideal choice for colder areas. They absorb less moisture, making this choice ideal for bathrooms and some outdoor applications. However, any time a material is placed in the weather, care should be exercised for the longest life of the product.
This type of flooring is also fairly easy to install. If you use a product that accommodates floating over the sub-floor, you're in luck. However, even gluing down your tile isn't very difficult. You can likely do it yourself or hire a handyman to get it done for a reasonable price.
Whenever you begin a home improvement project, you will want to compare prices. There are several manufacturers that are known for their porcelain floor tiles, including Marco Polo, Snow White, Elaine and Takla. The size of your tiles will also make a difference to the overall cost. Smaller tiles are cheaper, but it will take more work to install them.
However, they are often the most versatile option and the one most people choose. By spending a bit of extra time up front, you can understand your flooring project better and be more pleased with the finished results.