Outdoor spaces are significant in any home. They can be used for yoga, having coffee in the morning, or just relaxing on a beautiful evening, enjoying the natural beauty.
In winters, we all love to enjoy the sunshine on our balconies, decks, or patios. But in summer we can't use the space as much as we like due to intense sun rays.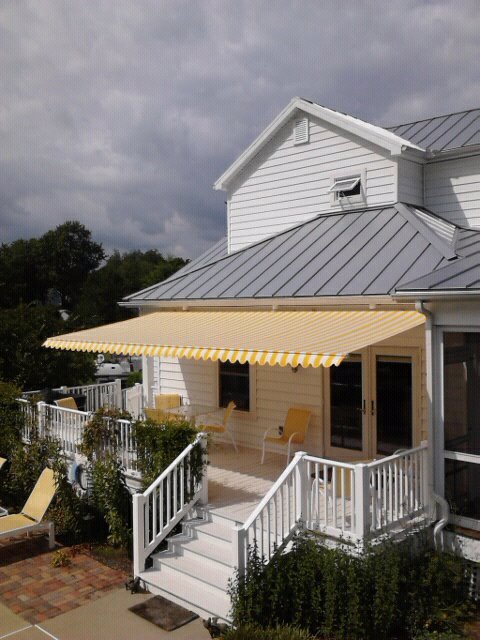 So here come retractable awnings to take you out of this trouble and let you enjoy your outdoor space anytime you want. Remember you need installers for retractable awnings in Clearwater.
Retractable awnings cover outdoor spaces like a patio, deck, or balcony and protect the space from sun and weather.
What makes them different from standard awnings is that they can be unfolded and retracted as required. This feature makes them very manageable to use.
For enjoying the sun,  you can retract them. So no trouble at all. Also, they save the cost, time, and energy you would invest in building a permanent structure. Moreover, they give visual appeal to your outdoor space.
We have reviewed the 8 best retractable awnings that you can install in your home for more comfort, protection from the sun, and visual appeal.
Each awning has its own specific features and purpose. According to the requirements of your space, you can select which awning suits you most.
Pergola Roof Covers
Pergola roof covers are installed over a fixed frame to protect the area from sun and rain. Depending on the needs of the space you want to cover, they can be used either as freestyle or attached to a structure. They provide protection from sun and rain if you use waterproof material.
They are mainly used for commercial purposes in restaurants and can also be used for outside BBQs, home parties, and as a covering for your garden.
There are a lot of advantages of pergola roof covers, including protection from unkind weather and adding value to your home.
So with its help, you can enjoy your garden or outdoor sitting area in any weather. They also make your outside space more beautiful and comfortable.
---
Read Also:
---
Drop Arm Awnings
Drop arm awnings, sometimes called retractable side arms, are kept at an angle to the attached structure. According to the rise and fall of the sun, their angle can be adjusted for complete protection.
They are mostly installed for covering windows and doors. Their use is also pretty common in small balconies.
In addition to blocking sunlight, they keep the temperature of windows and doors low, making them a handy accessory for a home during summer. What's more, they give your home a very aesthetic look and add to its charm.
Retractable Screens
Retractable screens can be installed in any rectangular-shaped region. They can be dropped down and retracted into a box attached inside or outside the house. They provide complete protection from sun, rain, and winds.
If you don't need coverage from the sun, just retract it, and it will become non-existent.
They are used in houses for privacy purposes. While commercially, they are installed in restaurants for unpredictable weather conditions.
The good point of a retractable screen is that it goes completely out of sight when not in use. These awnings are preferred in gazebos and pergolas.
Free Standing Awnings
Free-standing awnings use a structure that can be installed anywhere on your lawn or outside restaurants or government buildings. The plus point of these free-standing awnings is that they can be installed at any place.
They are generally used for large gatherings such as parties or BBQ events.
Due to their freestyle, they have the advantage that they are available in huge sizes.
A free-standing awning provides a nice sitting area to enjoy nature. They are also accommodating in open restaurants, providing them safety from sun, rain, and snow. They increase the worth of your property.
Folding Lateral Arm Awnings
Lateral arm awnings have an arm used to extend or shorten them. This extra feature has a plus point: it helps adjust the shade according to sunlight. During extreme sunlight, the arm can be extended fully, while in the evening hours, it can be extended backward.
Folding lateral arm awnings are generally used for coverage in balconies and windows.
They help keep the room's inside temperature low and provide safety from harsh weather conditions.
In addition, they add extra beauty to your home from the outside. By playing with patterns and colors of awnings, you can give your house a unique look.
Wire Sliding Awning
These awnings are installed on a delicate wire structure. With its help, you are protected from the sun and can enjoy the beauty of the sky whenever you like.
They are best fitted for stadiums, commercial areas, and gardens.
Wire sliding awnings are very beneficial as they can be removed anytime, and you can get a broad clear view of the sky.
Sensor Operated Awnings
These are users' favorite awnings as they unfold and retract themselves according to weather conditions. They have sensors installed in them that can detect sunlight and rain. This feature is practical and convenient as you don't have to do much work.
They are mostly used for commercial purposes. Looking to their advantage,  they can be used in homes to protect your outside furniture from sun and rain. If you also hate folding and unfolding awnings, it's time to game up with sensor-based awnings.
They are a little expensive due to their convenience of it. Another drawback is that their design is a bit complicated. So there are chances of its malfunction, and you will have to repair it.
Motorized Awning
Motorized awnings are also a valuable addition to a large awnings variety. They have a motorized structure installed, which is connected to electricity and covered under the barrel. One can control a motorized awning with a remote.
They are primarily used for home and provide convenience. Those who don't like to do work of opening and closing awnings can take advantage of its remote control feature.
Conclusion
Awnings are a beneficial addition to your home. They let you be protected from sunlight, rain, and wind and also add to the beauty of your home.
We hope, from the 8 Best retractable awnings mentioned above, you can find the type that suits your home the most.