Retractable awnings are an excellent addition to your home as they offer various benefits.
They shelter your deck or patio from the rain and sun, ensuring it doesn't deteriorate faster than it should. It also gives you extra living space so you can enjoy the outdoors or use it to entertain family and friends.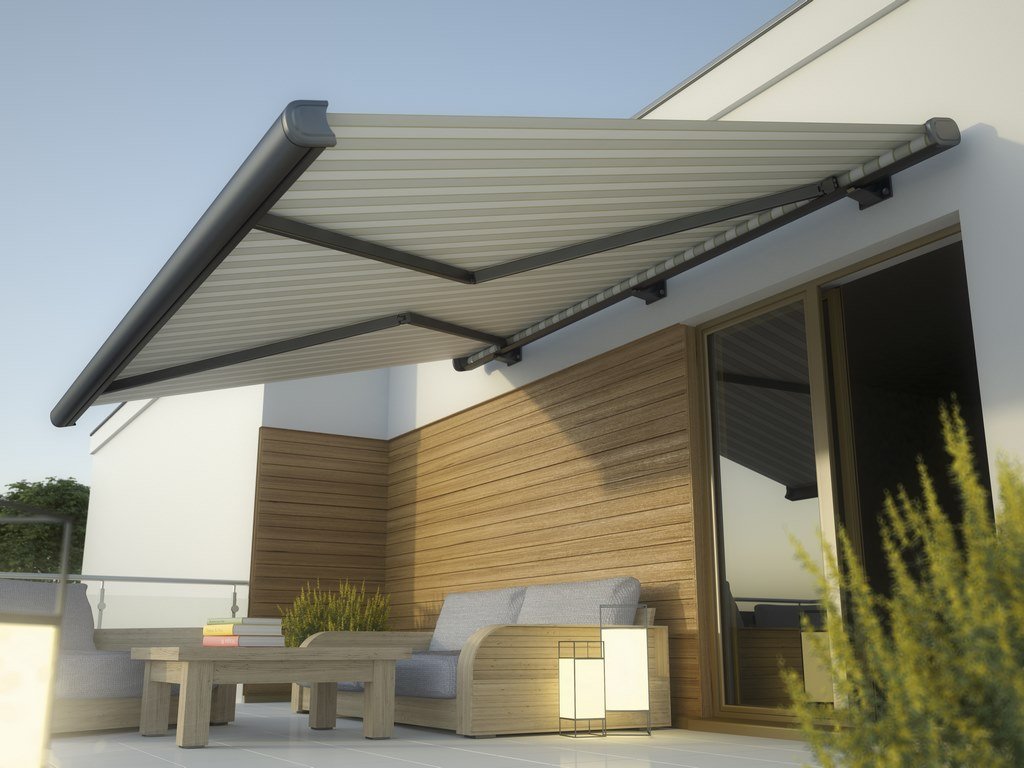 Retractable awnings can spruce up your patio, improve your home's visual appeal, and boost your house's resale value. (1)
However, your choice of a retractable awning will determine the benefits you'll enjoy. If you're thinking about installing a retractable awning, the varieties that exist can make picking the best one quite challenging. In this article, however, you'll be guided in selecting the best retractable awning for your home.
Measure your Space
Retractable awnings come in different sizes. That's why the first step in choosing a retractable awning is to get the measurements of the space where you want it installed.
Consider the overall size of the area you want to cover and the direction you want the awning to face. These two factors will help you get the sizing right.
While smaller awnings may look more appealing, bigger ones will provide a larger outdoor space and a wider cover for your deck or patio. To ensure you get this right, shop with the exact measurements instead of using estimates.
You want to be accurate with this as much as possible. There's a variety of retractable awnings available on the market. View here to learn more about retractable awning sizes.
---
Read Also:
---
Select the Material and Quality
Aside from different sizes, retractable awnings also come in a variety of materials and quality grades. Before starting to shop, it's best to think about the quality of the awning you need.
If you want one that will last for a long time, you may need to spend more money on it. Higher-priced retractable awnings are often considered to be of better quality.
Another way to ensure you get the best quality retractable awning is by purchasing from reputable brands. The weather conditions in the place where you live will also determine the quality of retractable awning you need.
If you live in a windy region, you need to have a stronger awning than if you live in an area with less wind. The same goes for places with extreme sun, rain, or snow.
To know if a retractable awning is of good quality, it has to have the following features:
It doesn't fade from exposure to the sun.
It's waterproof.
It's easy to clean and maintain.
It can block ultraviolet rays.
Pick the Color and Style
The appearance of your retractable awning is an important aspect, and you want to ensure you end up with something you like and one that enhances your home's visual appeal.
The rule in picking a color for your awning is simply choosing one that complements the rest of your home, meaning both its interior and exterior look.
You want to ensure your home looks cohesive with a good flow of colors between both your interior and exterior spaces. Generally, lighter colors are preferred as they reflect heat and sun rays.
You should also pick a design you think fits your home's overall style. As awnings come in various designs, you can find one that matches your home's theme.
You can choose from waterfall, dome-style, gable walkways, and traditional awnings with open or closed sides. It's best to seek the opinion of an interior and exterior home designer to determine the style that's most suitable for your home.  (2)
Decide on the Retracting Mechanism
Retractable awnings can be either manually operated or motorized. While some people may not have a problem controlling their awning using a winder, some may have an issue with it and prefer remote-controlled ones.
It's up to you which type you're more comfortable using. You can compare both types, check their pros and cons, then pick the one that better suits your preference.  (3)
Manual retractable awnings offer the same essential function of creating a shade whenever you need it, just like motorized ones.
They also usually come at a lower price compared to their motorized counterparts. You'll also save yourself the time and energy you need for maintenance, unlike with motorized awnings, which require upkeep.
However, manual retractable awnings consume more time and energy. They also lack the convenience found in motorized awnings, as well as special features like wind and rain sensors.
Takeaway
Retractable awnings offer both decorative and functional benefits to your home but choosing one, although challenging, shouldn't be stressful. The steps above offer a simple guide to help you make the best choice.
Specifically, ensure you know the size you want, pick the best quality material, and choose the color and style that match your home's design. Also, make sure to only go for reputable brands and installers for the best results.
References