Protecting patio and deck is a must for every home in Edmonton. If you want to enjoy a comfortable living at your home you can opt for retractable home awnings.
This will help you to relax after your hectic office work or during your weekend holidays without getting annoyed by the disturbance of insects from outside. Besides you can also cherish the crystal clear view of the outdoors from your room. In addition you can also have your much desired privacy of living at your own space.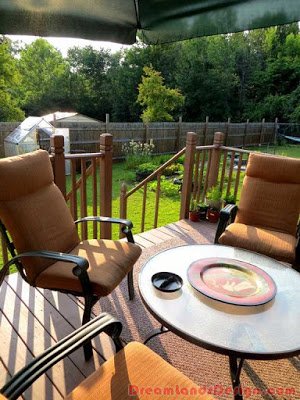 Backyard Deck Patio
Now let's take into consideration the products that you can try for having a retractable awning at your house. A few products that are used by many families in Edmonton include Bravo, Drop Arm, Adalia Extreme X3M, etc.
Bravo
Here an aluminium cassette holds the fabric, roller tube as well as the operator in a perfect way in order to shied them from dusts and insects. As soon as the awning is completely retracted you can see only the arms, cassette and the valances. An exclusive device is designed for forcing the front bar to draw into the top as well as the bottom profile. This forms an enclosure for avoiding any creature from entering into you room from outside. You can design the awnings as per your own specification within the width range of 6'2″ and 19'9″. However whenever you are purchasing be sure to check out that there is no hole in between the cassette profiles.
Drop Arm
If you are having a shading window, then drop arms can be the best option for you. These are retractable and thus can provide you the chance to act as a shade for your entire window or for only a part. You can choose the motorized option or a manually operated drop arm as per your need. In case you are having higher installation for your room, motorized functioning can be the right choice.
When the arms of drop arm are extended, you can find out the projection length as well as the fabric angle. Another advantage of installing drop arm is that you can save much of your precious bucks. According to studies, it is revealed that it has the capacity to decrease the temperature of your room to about 8 degree and lessen the loss of heat from your room by around 12°.
Adalia Extreme X3M
It is designed in such a manner to blend resilience with outstanding function. Most of the portions of this awning are created with extruded thermal treatment and artificial aluminium. These parts have resistance to decay and are refined with a coating of white powder. If you are going for manual operation, you have to make use of a quick bevel device along with a stopper. It averts the fabric from appearing in the wrong way. Again if you don't want to operate manually, you can choose optional motorization. You can get it customized as per your specific width.
Place order for your retractable awning from the best screen designers in Edmonton and take care of your home in a smart way.