Winter is that time of year when the sun disappears earlier and the heat drastically drops. So what are the best window treatments that you can install that can maximize on sunlight while still offering privacy?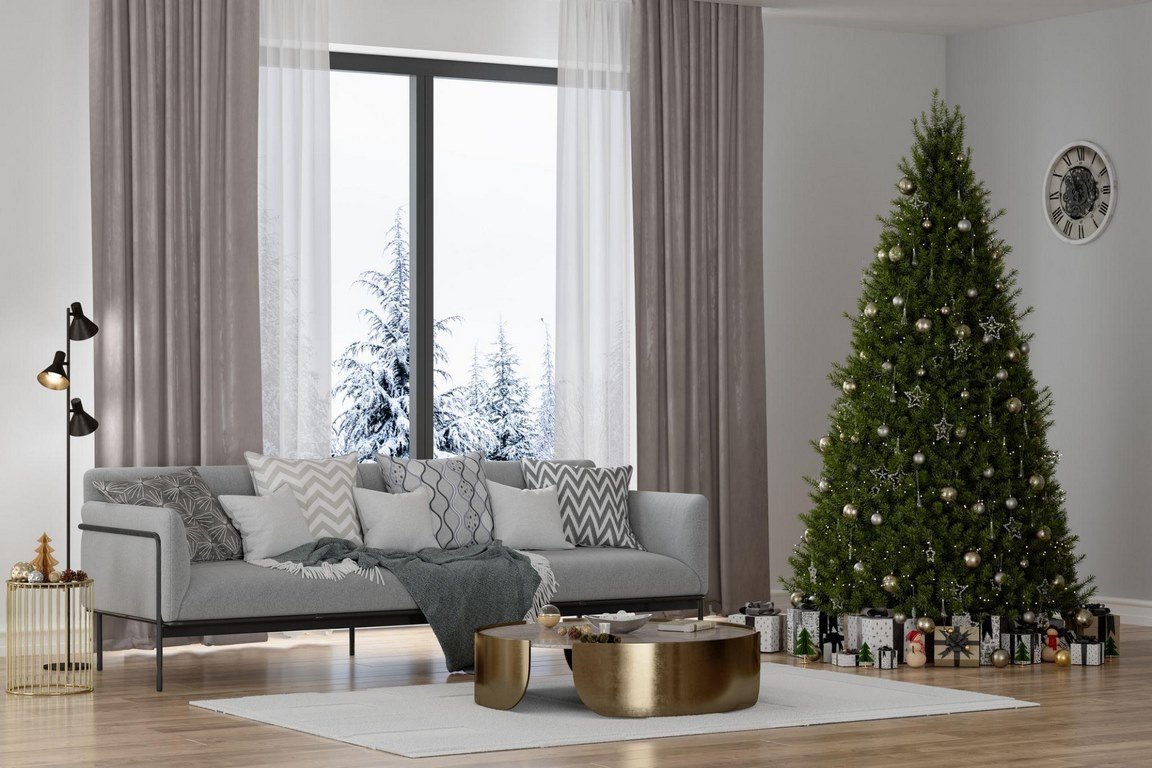 Different window treatments are better suited for different seasons. In this article, we'll cover the best window treatments that you can purchase for your home that are great for the winter season.
We'll also explore how you can use window treatments to maximize daylight and trap heat while still enjoying the view.
Maximize on Sunlight
The most common thing that people look for in winter window treatments is anything that will help maximize sunlight. Luckily, there are quite a few options that you can choose from.
Roller shades are a popular choice because they can be opened all the way, revealing your bright windows and letting all the sun inside.
When you opt for designer shades with decorative patterns, colors, and textures from around the world, you can enhance the atmosphere of your room even further.
The fabrics offered are designed to filter light as it enters the room, but they still offer UV blocking and glare-reducing features.
If you'd like to purchase roller shades but want a different style option, solar shades are a great choice. Solar shades minimize the number of sun rays entering a room while maximizing your view of the outdoors.
The fabric is woven tight enough so that glare is reduced and UV rays are blocked, but you still have visibility to the outdoors.
If you have large patio doors that you want to cover, but still want the light to enter the room, then consider vertical blinds.
Vertical blinds are durable and cost-effective, and perfect for large windows and sliding doors. They offer more control for light filtration and are easy to clean.
Lastly, panel shades are another wonderful choice for large windows, especially if you live in a condo or loft apartment. Like vertical shades, panel shades offer great light control. They're elegant and sophisticated, and when pulled back, they let in lots of natural light.
---
Read Also:
---
Privacy Concerns
Maximizing on natural light can sometimes lead to privacy concerns, especially if you live in an apartment building or on a busy street. If you want to maximize on natural light but still want privacy, there are options out there that can help with this.
Automated blinds and shades are one way to deal with this issue. With automation, you can control when your blinds are opened and closed using a smart system that's either attached to your phone, a remote control, or a home's smart system.
The convenience of automation means that you can time your blinds to close at night and open in the morning when you know you'll receive more light.
A sensor can also be added to your blinds so that they open and close with the changing weather, so if it's dark out early, your privacy is protected.
Automated shades can also help with reducing energy costs. If you set timers for the shades to open and close at specific times of day, or you purchase a sun sensor that reacts to heat and sunlight, your home can heat up and cool down naturally, allowing you to leave the thermostat alone.
Alternatively, if automation isn't for you, then you can look into black-out roller shades or black-out panel shades. When these shades are fully open, they let in a ton of natural light.
But during the evening, or times when you need complete privacy, they completely block out any views into your home. Black-out shades are perfect if you do shift work and need to sleep during the day, but on other days, you want to allow as much light into your home as you can.
Texture & Decor
If you're looking for something more unique, then look for Elite High-Lite® Shades. They add personality to any room and are similar to Venetian blinds.
They alternate between opaque and horizontal bands so you can choose between complete opacity or allow light to filter through. The shades offer texture and uniqueness to any room, and can also be completely raised so they disappear.
If you want to play around with texture and design, even more, a BYOF program (bring your own fabric) allows you to customize the fabric you want to use with your choice of roller shades.
You can have blinds and shades customized with prints or different colors that evoke the winter season. This is a fun solution to the winter blues and can really brighten up your home.
Final Touches
No matter what window treatment you land on, you'll want to consider having them automated or motorized. This is because cordless legislation was mandated in 2021 to help eliminate hazards and increase safety.
Long window cords, unfortunately, result in preventable accidents with regards to children and pets and are no longer allowed to be in the home or even manufactured.
Get Ready for Winter
Winter doesn't have to be synonymous with dark and gloom. Even though the sun disappears sooner, you can still have a bright, warm home as long as you choose the right window treatment.
Make sure you capitalize on a natural light without compromising your privacy and your views. Whether you choose bright, open roller shades or an automated system that's customizable to your needs, having more natural light in your home is never a bad thing.
With more natural light, you'll notice that your plants are happier, your home heats up more easily, and you'll even notice that your mood improves.
Get creative with your options and find what works best for your budget and space. The right decision depends on your personal style and the size of your windows. Contact a local window treatment supplier who can help you make the right choices for your needs.