Bluebirds are stunning. They have breathtaking feathers with a blue back and pale underneath. That's why having them fly around your backyard is a pleasure.
And bluebirds also deserve themselves a comfortable and gorgeous "home" there. Before, bluebirds always sought natural cavities, like in old woodpecker holes.
It is hard to find those locations today, however. As a result, building a bluebird box in your place is a blessing to bluebirds and a delight for you to observe them daily.
In this article, you can get anything about building a bluebird nest. From which material and dimension should choose step by step on how to build a complete "house." Keep scrolling down for expert tips on creating a perfect fit habitation for those astonishing creatures.
Desire to attract bluebirds to your yard? Make a bluebird box!
Bluebird House Materials
What do you need to build a bluebird house?
Sawbench
Electric drill
10in (5.1 cm) screws
8ft and 0.25in the pipe and two straps
Two-piece of rough sawn board (white pine or cedar wood)
Glue is made from aliphatic resin, urethane, or construction adhesive.
Bluebird House Dimensions
The best dimensions for bluebird houses are:
Entry gate:5″ to 1.56″
Entrance size: 6″ to 10″ count from the floor
Interior floor space: 5″ to adjust families of five to eight birds
Total height: 8-12″, with a higher back to get rid of standing water.
---
Read Also:
---
Step-by-Step Bluebird House Plans and Instructions
Step 1: Prepare the Material
1. Wood Piece Prep
Cut three pieces of wood from a part of 1 in (2.5 cm) thick and 66in (170cm) long unfinished wood. (Dimension is Length x Width in turn.)
For the roof: 11x12in (28×30.5 cm) piece
For the sides: 23×8 in (58× 20.3 cm) piece
For the back and front: 32× 6 (81cm × 15.2 cm) piece.
2. Screw
There should be ten screws in total, 4 for the front, 4 in the back, and 2 to lock the base.
3. Cut the Wood Pieces Into the Necessary Bluebird Parts
Keep the roof piece alone. For the rest, you should cut it into six parts as below description:
One front piece is 5×10.75″ (13×27.3 cm) wide and long.
One bottom piece is 5×5″ (13×13 cm) wide and long.
One back piece is 5×15″ (13×38 cm) wide and long.
Two angled pieces with 6.5″ in width. (12.25″ (31 cm) at the top and 10.75″ (27.3 cm) from the back). These angled pieces are for the sloped roof.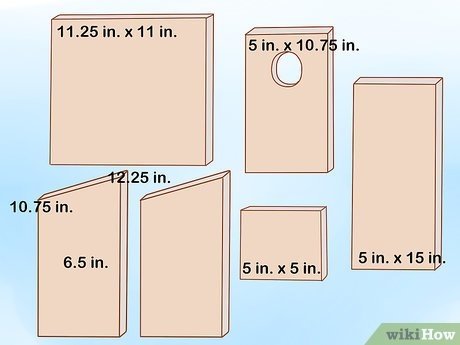 Step 2: Assemble
Build a 1.5–1.5625" (3.8–3.9 cm) entrance hole in the center of the front piece.
Deliberate Scratch crisscrossed on both panel sides. This "flaw" will allow young birds to climb more effortlessly, and it also helps the mother bird land more stable.
Using an electric drill to create two 0.62in (1.6cm) ventilation holes, one for each side piece.
Assemble side and back pieces using glue. Those pieces should align as tight as possible to each other. After that, use screws to secure them for durable purposes.
Drill a 0.37" (0.95 cm) ventilation hole in the bottom piece. Then, cut corners off the bottom part to create an octagon shape finish. And glue the bottom to the back and side pieces at the end.
Glue and screw the front pieces to the side ones, then nail each separate part. Afterward, create vertical holes through the roof and into the side pieces. Insert nails to that hole, also.
Step 3: Installing Your Bluebird House
The perfect place to put your complete nestbox is away at least 4 to 6 feet (1.2 to 1.8 m). If you intend to build more than one box, ensure they are 125 to 150 yards (114 to 137 m) apart from each other. You don't want to see them fighting for a better place, do you?
A perfect birdhouse has shrubs or large trees surrounding it. Face the gatehouse to the giant tree so those bluebirds will quickly notice.
Don't forget to clean and repair the box after every bluebird season. The old smell might annoy bluebirds and make them not enjoy being back for the following spawn time.
Free Bluebird House Plans
These free bluebird house plans can assist you in identifying the exact size, shape, and style to build a flawless "new house" for the birds. Check out these websites for free bluebird house plans:
More tips on attracting bluebirds
Safety First
An ideal birdhouse needs proper ventilation to keep a moderate temperature. An addition of predator guard will make them feel safe from the risk of raccoons, cats, snakes, and other animals hurting brooding bluebirds and vulnerable chicks.
Attracting Bluebirds
Bluebirds are "grumpy" creatures. They won't even look at the house if there's no suitable surrounding habitat for their needs. Suitable here means the native food that they consider their favorite.
They love mealworms, grasshoppers, mosquitoes, and other insects. Berries, grapes, and some wild fruit are the "apple to their eyes,", especially in the winter. Bluebirds also desire fresh, clean water for drinking and bathing.
Suppose you provide them with enough food and water. Bluebirds will be more crowded next time they return.
Nest Placement
The bluebird's house placement is a crucial factor for the birds. They prioritize a wide-open area and a clear flight path into their home.
They also like the light, so a full sun and far away from the shadow place is always their top choice. And one more thing to remember, don't put their house near the bird feeders' area. They don't honor it.
In short
Bluebirds are beautiful. And it explained why people always find a way to attract them that much. Bluebirds, however, don't stay in any nest.
Understanding what they need and desire in a nest box will amaze how many birds have come and returned to your backyard every season.
Hey, I'm Sharline, the founder of Leeline Sourcing. With ten years of experience in the field of sourcing in China, we help 2000+ clients import from China, Alibaba,1688 to Amazon FBA or Shopify. If you have any questions about sourcing, please feel free to contact us.