New and improved technologies always have better paybacks over the old ones. But does that eliminate the usage and existence of former technologies?
Most readers want to buy a new drill; however, they get confused after watching thousands of products when they head to the stores.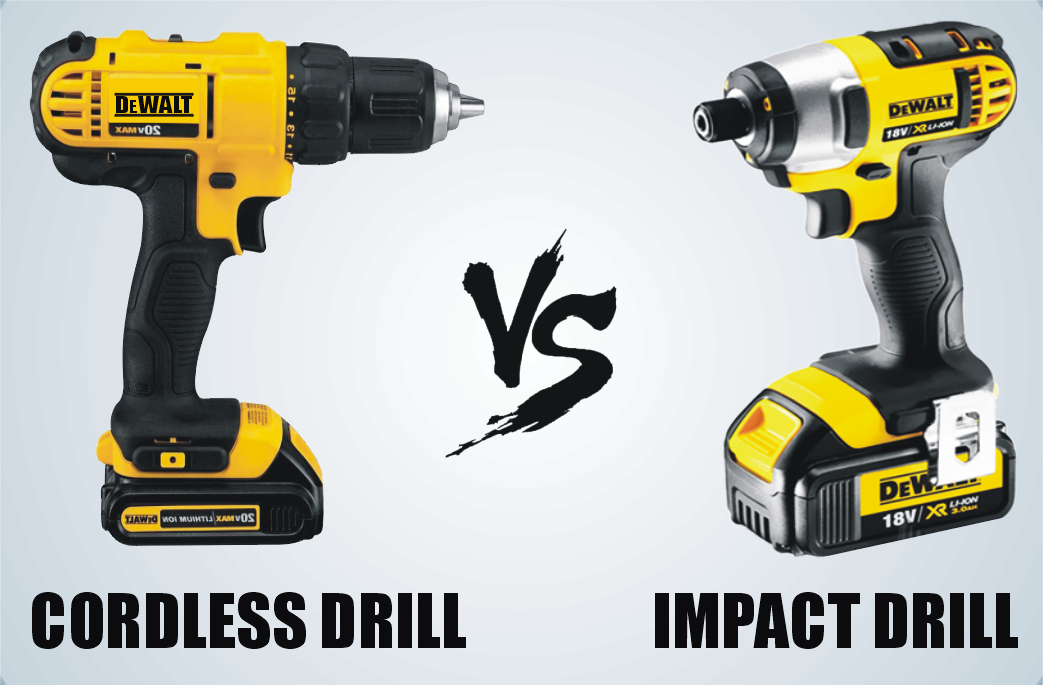 Or they might choose a product in hassle, which turns out to be useless for them because they haven't researched the product correctly.
Some questions like what is a cordless impact driver? Or what is an impact driver used for? Or why do I need an impact driver? And many other questions may come to your mind.
 But why worry? As we will be comparing the cordless drill vs. impact drill in a moment.
Cordless Drill:
As these drills' names are very self-explanatory, they are the standard drills but with batteries. They are highly portable to carry than the corded drills.
To make it simple, it's just the usual drill with batteries, due to which the drills can now carry their own power. These are highly versatile and capable of doing many tasks.
Following are some of the critical features of cordless drills:
Clutch System
Probably one of the most significant differentiating features of cordless and impact drill is a clutch system. The cordless designs are fitted with a clutch that frees the drill's drivetrain when maximum torque is achieved.
In other words, when we release the drivetrain, it eliminates the striping of a screw or even breaking of drill bit—eventually enabling precise and consistent drilling.
Keyless Chuck
Typically the cordless designs have a keyless chuck, enabling the user to change the drill bits on the go. Similarly, it allows users to stop stressing about having a key to change the drill bit every time.
This design feature makes cordless drills versatile, as most of the cordless designs have either the chuck size of 3/8 or 1/2 inches. Thus, one can changeable use different drill bits on various cordless drills.
---
Read Also:
---
Price and Affordability
While speaking of the price of these drills, they are relatively affordable. You may be able to find a basic cordless drill with essential features for a reasonable price.
However, suppose you start to spec-up the basic configuration of cordless designs with add-on comfort features. In that case, you might end up paying an extra amount.
Performance and Versatility
While they are relatively cheaper than the impact drills, they still don't lose their prominence. The cordless drills are ideal for drilling and fastening screws.
It provides a uniform torque. Apart from that, it's compatible with a large variety of drill bits, rotary sanders, and brushes. Overall, it proves to be a perfect fit for precise drilling jobs.
Sometimes these cordless drills have hammer functions built-in that enable them to drill into concrete or even more challenging surfaces.
If you want extra insight, do check out the following article on the best cordless hammer drills available in the market.
Pros
Cons

Price is comparatively affordable
capable of providing uniform torque
Great for soft materials
Integrated clutch system for changeable torque
Perfect for precise drilling tasks
Versatile with a large number of drill bits and have a keyless chuck

Due to keyless chuck, the drill may often remain to lose
Relatively lesser torque than an impact drill
 May get stuck while fastening long screws
Highly probable to strip screws
Unable to reduce wrist strain
Impact Drill:
These are cousins to cordless drills and don't differ much in the working mechanism. Speaking of these little champs, they deliver up to two to three times more torque than the standard cordless designs.
The trick lies in the perfect delivery of combined torque with a base force that yields an excellent grilling experience.
These machines' size is relatively smaller and compact due to the absence of an adjustable torque feature.
Smaller and Compact Design
The impact drill/driver's size is smaller, yet they are more powerful than the cordless drills. The impact drills are commonly used for clamping threaded fasteners.
The design is smaller due to the absence of a clutch, enabling the drill to be used in tight and short places.
Impact Driver Uses and Chuck Design
Hence using an impact driver is not a very different task. Mostly it's used for tightening threaded fasteners.
It's used for this job because it can provide tremendous and automatically adjustable torque that keeps the drill bit secured to the screw head.
The chuck design on these drills accepts hex styled drill bits. The chuck collar is pulled up, the bit is inserted, and the collar is released. This holds the bit more firmly than the keyless chuck of standard cordless drills.
Non-Adjustable Torque and Output Noise
The impact drills don't have a clutch system, due to which they have reduced sizes. However, the machine reduces the physical drilling effort by automatically adjusting the torque.
This eliminates the need for a pilot hole and minimizes the risk of stripping the screw, breaking a bit, or wrist injury.
One more exciting feature of these drills is that they have release/resume impulses. This provides high torque and exceptional fastening speeds. Though, this could result in loud noise, which these drills generate.
Price and Performance
The impact drills are priced a little more than the standard cordless drills. The justification for the extra paid amount is that these drills have much higher torque speeds and are ideal for threaded fasteners.
The performance is outstanding because it never stalls and is least prone to breaking bits or stripping screws. Overall it's friendly and handy for deep/dense materials or stuck bolts.
Pros
Cons

Able to provide a high and automatically adjustable torque
Perfect for deep/dense materials
Works excellent for tight/stuck bolts
Hex-styled bit holds the drill bits firmly and strongly and prevents wrist pain
Release/resume mechanism for non-stalling performance
Least probable to breaking bit or stripping screws

Price is comparatively expensive
No clutch for manual torque adjustment
Often becomes loud and nosier
Not much versatile due to restricted to hex-styled bits only
Limited applications
It may turn to be useless for some of the application
Conclusion
To conclude, both the drills have their pros and cons. The modern combo tools kit comes with both the drills included.
The cordless drills are versatile, while the impact drivers are robust and offer higher torque. Both the drills have a great variety of deals to purchase.
Now, most of the new manufacturers are striving hard to reduce the gap between them and form a single product with useful combined features of both the drills.