Decorating an office interior in the modern corporate world has almost become compulsory. Office interior décor is meant to improve the image of a business as well as make the pace look elegant and stylish.
Introducing structures that are made from custom-cut glass can do the trick of creating a modern-looking office. Custom cut glass can be ordered from expert glass sellers either offline or from online stores. The many designs of glass that are used in the decoration of the office interior s can be found at fab glass and mirror.
The company is dedicated to ensuring that you get quality glass materials at all times. If you are looking forward to using custom cut glass to improve your office interior décor, there are many ideas that you can embrace to make your office not only look elegant but also modernized.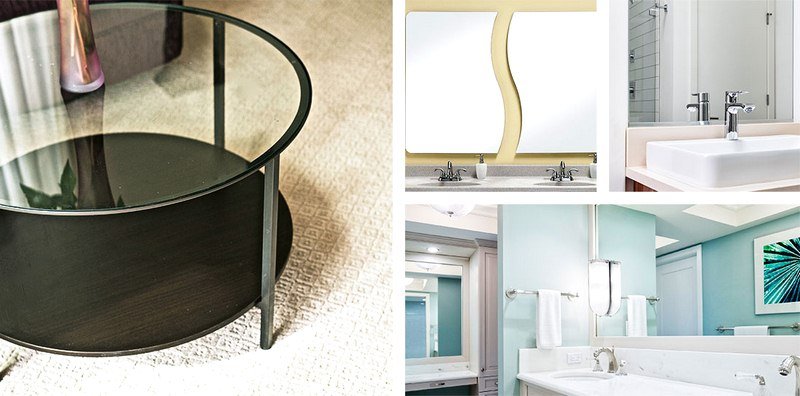 How Custom Cut Glass & Mirror Can Help You Remodel the Office Interior?
Within this article, the popular ideas of using custom cut glass and mirrors will be discussed and thus could be helpful to an office owner who has a vision of upgrading their interior décor.
---
Read Also:
---
Glass Display Cabinets
Glass display cabinets can be a great addition to your office interior décor. Curio cabinets are used to showcase artifacts that are unique. Mostly they are installed in positions where the visitors coming into your office can see them. The custom cut glass and mirror can be used in the construction of the curio display cabinets where you can place your unique artifacts at all times.
For instance, you can place the curio display cabinets within your waiting rooms so that visitors get to enjoy the view of your artifacts. The custom cut glass should be clear enough to avoid distracting the view of the visitors.
When deciding on the size of the custom cut glass to be sued in the construction of the curio display cabinet, you should also consider the available space in the position where you want it placed.
Stylish Coffee Glass Tables
Coffee tables within your office can help you transform the interior décor. The stylish coffee tables that are trendy should be included in different rooms of your office. In your common room, you can include a stylish coffee table which will be used by your employees during their coffee breaks.
If you need to transform your office from that boring traditional interior, you need to ensure that you add stylish glass tables with table tops that have attractive designs.
You could have the custom cut glass table top labeled with the company logo. This way you will make your office look sleek as well as advertise your company to visitors through your company logo. The engraving of the company logo should be professionally done so that the final output is attractive and makes your office unique.
Glass Boards
Conference rooms within the office are mostly used for presentations. Glass boards are modern in addition to offices that mostly have presentations. If you are looking forward to transforming your office, you might consider including colored glass boards. The type that run from the floor to the ceiling is the most attractive since they also reflect light from outside making your room brighter.
A recommendation for office owners would be to avoid the white colored traditional boards as they will only make your office more monotonous. Also, the custom cut glass can be used for the construction of glass boards to be used in common rooms. In the common rooms, the employees can have the opportunity to brainstorm different ideas during their meals or short breaks.
Magnetic Glass Notice Boards
Magnetic glass can be made from custom cut glass can be used as a notice board within the office. Since notices and announcements are a crucial part of office communication, you will need to use an attractive pattern glass for your glass board. This will help to capture the attention of the employees whenever there is important information placed on the board.
The colored types of magnetic glass boards make your office look modernized and colorful. The notice boards can also be installed in the visitors' waiting room so that they can be provided with pamphlets and informative cards which they can take home.
The advantage of the magnetic glass boards is that they are easy to clean and you do not need tuck pins to put up notices. You can easily utilize the magnetic stickers on the notices and hey will remain intact.
Patterned Glass Partitions
Glass partitions in your office help to improve the productivity of employees due to reduced distractions. Pattern glass is a trendy addition since it does not only improve the level of privacy but also contribute to the decoration of your office. Therefore, if you are ordering customized patterns on the glass to be used for office partitions, you should select trend patterns.