A home game room isn't just a place to play games; it's where family and friends can unwind after a stressful week and spend some quality time together. It's a place where a younger sibling finds out who's the real champ. And it's a place where memories are made.
Decorating Game Room Ideas: Planning and Illuminating Your Game Room
It's important to have somewhere in your home that is solely dedicated to having fun. But how do you go about planning a home game room in such a way that it will be functional, practical and stylish? It's not hard.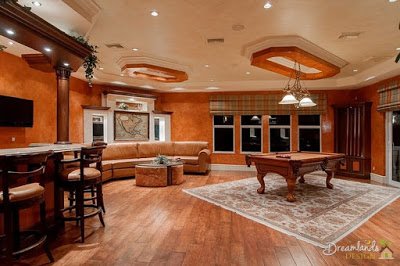 Planning Center: Planning a Games Room
In this articles, we will discuss how you can design a games room that will be a gathering place for both your friends and your kids' friends that everyone will want to brag about.
1. Purpose
Decide what the main purpose of the room is going to be. Is the room going to be used for one type of game, such as pool, Foosball, shuffleboard or poker? Or do you want a space that, while the billiards table will be the centerpiece of the room, you would like to include a darts board and someplace to play chess for those that don't?
2. Space and Location
Roughly determine how much space you will need and where the games room is to be located. A pool table or billiards table is going to take up more room than an arcade cabinet. It's not just size and dimensions you have to worry about; don't forget to make allowances for people playing the games and moving around the room.
Before ordering the pool table of your dreams (and any other large pieces of furniture you plan buying for your game room), make sure that it will fit through doorways and be able to maneuver down or up stairs.
3. Game Room Furniture
Would you like to include a home bar, someplace for spectators to sit while they watch the players or a video games area complete with game chairs and an entertainment center? Make a list of all the furniture pieces you would like in the room. Some popular game room furniture pieces are:
Pool table
Arcade games
Foosball table
Poker table
Home bar —including a pub table, bar stools and/or spectator stools
4. It's all about the Money
Make a budget. Knowing how much you have and/or are prepared to spend will help you focus on priorities. It doesn't mean that you can't have everything on your games room furniture list, but it might inspire you to look for bargains in order to tailor what you want to what you have to spend.
5. Should You or Shouldn't You?
DIY or should you hire someone to do the work for you? If you want the trendy pendant ceiling light with stained glass shade to be perfectly centered over your pool table but you're not quite sure how to do that, then it's best to plan on hiring someone who does.
Do the walls have to be insulated or the floor reinforced to bear the weight of the pool table? Include the expense of a contractor or trades person in your budget. A games room is a multifunctional space that will prove hours of fun and quality time, if it is designed with a little something for everyone in mind.
Decorating Tips for a Games Room: Decorating Game Room Ideas
Games rooms are supposed to be fun places to hang out —the perfect room in your home for a wild and crazy theme. Have fun decorating the space; since it's going to be shared by several people, involve as many interested parties as possible.
Get feedback from those who will be using the room the most. Most likely you will want to start with a theme that centers around the game room's main focus or purpose. Ideas for themes are endless and as individual are you are, commonly based on a favorite sport, sport team, beach getaway or popular vacation spot.
---
Read Also:
---
Divide and Conquer
Divide your game room design project into stages. Trying to do it all at once can be overwhelming especially if it's going to be used for more than one kind of game. Assign priorities. When assigning priorities, a good decorating rule to keep in mind is what is important to you?
The dart board and home bar might be the first thing you work on. Then again if you want friends over to test out your new pool table to see if it works, setting it up to your satisfaction will your main concern.
Accessorizing Your Games Room
If the room is designed to house a regulation-size pool table, then two or three billiards-theme spectator height bar stools would fit right in. Or if it's setup for gamers, don't forget to include a couple of high-tech game chairs. Select game room accessories, such as lamps, neon clocks, signs or framed posters that reflect your décor theme, if you have chosen one. Popular game room accessories can include:
Juke box
Neon clocks
Neon signs
Framed posters
Themed floor and ceiling lights
Popcorn machine
Gum ball machine
Vintage coke machine
Pool cue racks
Other Things to Consider when Decorating a Games Room
Do a reconnaissance of the room's power sources. These will come in handy if your home bar has a fridge, you want all the gadgets in your video games area to work and any other electronic games like arcade and pinball games.
If your dartboard is of the standard variety, place it in a cabinet. This will protect your walls and save you from have to repair and repaint them on a regular basis. Keep in mind, however, that it will take up more room than just hanging the dart board by itself.
Add a magnetic white board as an easy way to keep score, leave messages, etc.
Carpet is ideal for absorbing sound but if you're concerned about potential spills maybe tile or hardwood's better.
Especially if you will not be including a home bar, consider what appliances, if any, you would like in the games room. A bar fridge or mini fridge, coffee maker, water cooler or microwave will save you and your guests a few trips to the kitchen.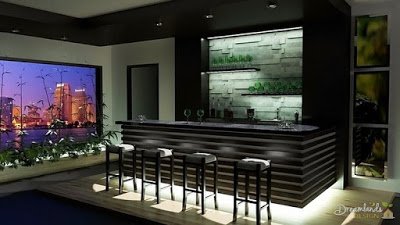 Illuminating Your Games Room
Shed some light. You don't want your games room to be lit up like a movie set, but you don't want it too dark to see what you're doing either. Especially if your games room is in the basement or somewhere else in your home with little natural light or even no windows at all, lighting will play an important role in your game room design.
The trick to proper lighting in a games room is balance. You don't want your games room to be lit up like a movie set, but you don't want it too dark to see what you're doing either.
Games Room Location and Purpose
When considering what type of lighting would be best for your games room, take into account its location and purpose. A basement games room will most likely need more light fixtures than one in the corner of a family room. If your new pool table has pride of place in the middle of the room, then you're sure to want a game table light centered directly above it.
---
Read Also:
---
The Different Types of Lighting
Because the games room will be used for a variety of activities, the light fixtures you choose should accommodate these different lighting needs. A multipurpose room like a games room should include two or more of the different kinds of light fixtures available.
Task Lighting
Task lighting is generally bright and used to put the spotlight on your game table, pool, poker or otherwise. It is also a great way to light your home bar. Track lighting is a type of task lighting that popular in games room.
General or Ambient Lighting
General or ambient lighting is some type of overhead light, like a flush mounted fixture centered in the rooms ceiling. It fills the space with a medium to bright light that softens shadows and creates a warm and welcoming atmosphere.
Tiffany Pendant Lighting
Tiffany pendant lighting is particularly popular for a traditional style games room that features a pool or billiards table.
Recessed Lighting
Recessed lighting with a dimmer switch would be ideal for a games room that has a video gaming or home theater area.
Customizing your lighting needs to the various activities in your games room, is not only practical but it adds warmth and appeal to room's décor.