A knotty pine fireplace wall can be decorated with color and style. From colorful glaze, to a collection of found objects, cowboy hats, snowshoes, area rugs or drapes all offer endless possibilities to enliven your naturally beautiful knotty pine walls and make your interior uniquely your own.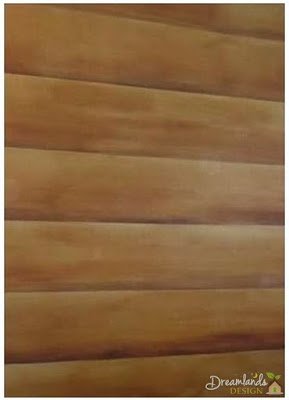 Knotty pine walls offer many opportunities to add interest
Knotty Pine Cannot Stand Alone
Even left bare, knotty pine walls are naturally beautiful. It can be monotonous, however, if all the interior walls are the same. The first lesson in how to decorate a knotty pine fireplace wall is to think of knotty pine as a blank canvas, ready and willing to accept color, texture and interest in a multitude of ways. From pictures to collections, rugs, drapes, a stone hearth or paint, you can enhance a knotty pine fireplace wall with relative ease and make it uniquely your own.
Pining for Color?
If you're surrounded by knotty pine walls, one quick way to add color and interest is with art. Local stores and the Internet offer many different sizes, styles and prices of framed art from which to choose. For example, framed pictures of flowers are available at many stores.
Select frames — contemporary, rustic, or traditional — that are black or have a black tones in them. The frames will pick up the black colorations in the knotty pine walls. Balance is important. Purchase an even number of pictures, at least six measuring 17″ x 24″ or bigger. (Small pictures on a big wall can look like postage stamps). Mount three pictures on each side of the fireplace, balancing the effect.
Use mounting hooks that can be remounted easily; they allow you to put up, take down and move pictures as often as you wish without harming your walls. If flowers aren't your style, select pictures of boats, bears, moose, fish, architecture or contemporary art. Any images that you find pleasing will work well and you'll enjoy looking at them!
Your Own Art
You might even try making your own wall art to match your decor. A do-it-yourself way to accomplish adding color to a knotty pine fireplace wall while keeping things inexpensive and original is to make your own art. You do not have to be an artist to accomplish this. Buy six large blank canvases at the local art and crafts store plus a quart of each of your three favorite paint colors. Sticking with the basic red, blue, and yellow (or green) will work just fine. Paint each canvas a solid color and three on each side of the fireplace.
"Found Art" Collections Offer Instant Color and Continued Fun
Collections of items work well as art. Plus, it's fun to find and collect whatever objects you fancy. They can be inexpensive, quirky and unique.
You could, for example, collect old license plates. Hang them as a collection on either side of the knotty pine fireplace wall. Just like framed pictures, you'll want to start off with at least six; you can always add to your collection. Collections are a great conversation pieces as well.
Vintage license plates are colorful and well traveled!
Other collections that offer color, texture and conversation pieces include cowboy hats, vintage metal trays or even snow skis. Perhaps less colorful, but full of texture and style are fishing creels, straw hats or snowshoes. Collect anything you'd like, as long as you can hang it up! Finding the pieces is half the fun.
Use a Rug Like a Tapestry: Hang it on Your Wall
Although rugs are traditionally intended for the floor, you can also hang them on a knotty pine fireplace wall. Rugs offer color and texture like any other piece of art. Plus they're easy to hang. Use the adhesive mounting Velcro squares found at any hardware store, they won't harm the rug or the wall. Whether you like traditional or contemporary style, you can find rugs new or used that will cover a lot of wall space and offer instant appeal.
Similar to rugs, drapes are another idea. Simply install a rod on the knotty pine wall and hang one drape on either side of the fireplace. You've got color, texture and relief from all the knotty pine surrounding you. An added benefit: drapes will give the idea of a door or window.
Make a Knotty Pine Fireplace Wall Pop With Colorful Glaze
What would a professional interior designer suggest? "Do something different with the knotty pine fireplace wall", Elaine Addison, of Addison Interior Design recommends. "I would glaze the entire wall in enamel red so it really pops", she says. Other colors work just as well, such as green or blue, but stay away from brown since you are trying to differentiate from the knotty pine look.
Glazing is easy. Simply purchase interior paint and a quart of glaze. Mix the two and apply with a brush. You'll find detailed directions right on the label of the glazing liquid, or ask for tips when you purchase it at the store.
Field Stone Adds Long Lasting, Natural Style
With a small investment, an architectural change will have a long-lasting effect. "Install field stone around the fireplace from the floor to the ceiling", another professional interior designer, Holly Mandt, suggests. You can also use river rock stones; they come in a wide selection of shapes and colors.
Mandt also suggest that you "build a field-stone hearth with concrete on the top in a rectangular or half circle shape. "Stain the concrete top in one of the 'dramatic' coordinating colors from the field-stone", she says. "For example, either a dark gray or brownish gray would make a statement as well as blend in beautifully with the field stone and the knotty pine walls — it also offers long-lasting wear".
To complete the look, "add a one half log mantle with distressing and chisel marks. Stain it a soft black that blends with the dark knots in the knotty pine wall", Mandt says.
Like Elaine Addison, Mandt also recommends glazing the wall. "Glaze the knotty pine wall a deep tone, using a color pulled from the field-stone of the fireplace", she states. While some people may feel that glazing a natural knotty pine wall is a dramatic change, it will reinvigorate the room with relatively little effort or expense.
Knotty pine is always stained, or at least glazed with a clear finishing coat, anyway. Natural wood ages (pine usually yellows) so take control and glaze it the color of your choice. You can always change it with a different coat of glaze.
Now you know how to decorate a knotty pine fireplace wall, the choice is left to you and your imagination.
Just one word intrigues people. Color. From deep red to rich chocolate brown, lime green to vibrant yellow, bringing color into your home instantly changes the look , fashion and energy. Getting the job done can be inexpensive and easy; this series will show and tell you how to do it.

Decorating Ideas for a Knotty Pine Fireplace Wall
References
Elaine Addison, Owner, IFDA, NKBA, Addison Interior Design
Holly Mandt, Interior Designer, Addison Interior Design
Red contemporary rug photo by Shiz pet: http://i920.photobucket.com/albums/ad45/Shiz_pet/Rugs/handtuft-rugs-cabred4.jpg
Traditional rug photo by 54wuzard: http://i398.photobucket.com/albums/pp68/54wizard/6.jpg
Field stone fireplace photo by fireplacecarol: http://i1038.photobucket.com/albums/a466/stonehouseproperties/Kreismann/DSC_0151.jpg