Ideas for Decorating around a Flat Screen TV — Decorating around a flat screen TV can be tricky, as today's TVs take up so much wall space. You need to consider the height at which your TV is placed and use pictures and features to integrate into the décor, without causing distraction or eye strain when you are watching the TV.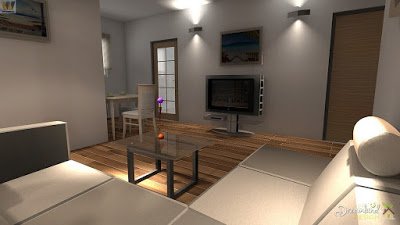 Ideas for Decorating around a Flat Screen TV
What Height Is Your TV?
As well as the size of your TV, versus the wall space that it is fixed to (or backs on to), the most important consideration in decorating around the flat screen TV, is what height your TV is placed at. The best height to have your flat screen TV is to make sure your eyes are level with the middle of the screen.
Using a flat screen TV stand obviously takes care of this problem for you, but when wall-mounting a flat screen, a mistake that a lot of people make is to place it too high on the wall, where they would place a picture. A mistake soon realized when you get neck strain just from watching your favorite show.
Must Read:
Using Pictures & Art
The size of flat screen TVs now, dictates that they have become the focal point in most living rooms – this doesn't have to mean that your décor has to suffer though. Integrate your television into the room's design with the clever use of pictures around the flat screen.
Don't use one large piece of art work on the same wall as your TV, as it will be competing for attention and the look won't be balanced. Using a selection of smaller pieces is a better option.
Hanging pictures in odd numbers, always works best – don't count the TV as one of the number.
The use of wall art, in the form of a triptych (hung in a series of three in a row), works well on a TV wall, only if the total area covered is less than the television. The TV is the focal point, nothing else should dominate. Setting the triptych up slightly to one side of the TV works better, rather than centrally above the screen. Try creating some DIY wall art to coordinate with the room's décor.
Don't hang the pictures too close to the TV either. Not only will it be a distraction to your eye-line when you are watching the TV, it will also create a confusing visual image. The TV is the star of this wall – treat it like a diva – no space invading please!
Using a decorative TV frame, gives you a neat finish to the wall, as well as small spaces to display those smaller pieces of art around the screen – combining to make one focal large focal point, including the TV as part of the design. Don't fill up the spaces too much though, keep it simple or it will become distracting.
Using Color & Pattern
Now we've established that the TV is the celebrity of the room, you won't be surprised to learn that it doesn't like to be outshone by the use of bright colors and too much pattern. This doesn't mean that you have to put up with a boring, plain wall though:
If you want to decorate with wallpaper, then opt for one with a large dark or metallic pattern, and deep colors around it. Using darker colors will visually push the wall back, still leaving the flat screen TV as the focal point.
Frame the TV with the use of color, by masking off a vertical strip of the wall, wider than the TV. Paint the colors either side of this strip in a deep berry color, with the middle strip left pale behind the TV. Or use a pastel, or rich yellow color behind the TV, and a paler coordinating color either side.
Avoid the use of stripes on the TV wall at all costs. The same goes for spots and wallpaper with small patterns, it's just too distracting visually, and will cause headaches.
Clever Ways to Hide TV Cables
The amount of wires that come out of, or lead to, your flat screen can not only be distracting but also very ugly. A game console, DVD player, satellite/cable box and surround sound speakers, all add up to a lot of cables. So what can you do, now you've gone to all the effort of ideas for decorating around a flat screen TV so carefully, only to have it ruined by a mass of cables?
Apart from the obvious solution of hiding TV cables in channeling in your walls, there are a number of things you can do:
Use the clips that came with your TV stand to keep as many cables together as you can, and clip them out of the way, behind the edging of the stand and other components (like the DVD player). Use dark colored hairbands to keep them tied together, minimizing the number of cables left untidy.
Buy blank panels that fill in any gaps not already used by shelving to hide the TV cables behind – some options have added clips and rings for more organized cable storage too. You can also buy "dump panels" that are like little storage boxes and include an organizer section for excess cabling.
Cable protectors (or cable curbs) are an ideal solution for hiding the cables from the TV, to the power source. They usually come in black or white, but could be covered to suit your decor.
An unobtrusive open bookshelf, or magazine rack, in a dark color, can be placed right next to the flat screen, for another place to hide cables. It's multipurpose too as it includes some handy storage and display space as well.
Ideas for Decorating around a flat screen TV is a way to let the television be the focal point of the room it wants to be, as well as tying in your art work and personal tastes in a complimentary way, creating a room with style.
Reference of Ideas for Decorating around a Flat Screen TV
Cablemonkey: http://www.cablemonkey.co.uk/2786-cable-management