You don't need to have an entire mudroom or a huge foyer to make your entryway a predominant area of the home.
Even in a smaller apartment, you can turn your doorway and a few square feet of space into a stylish, well-organized entryway.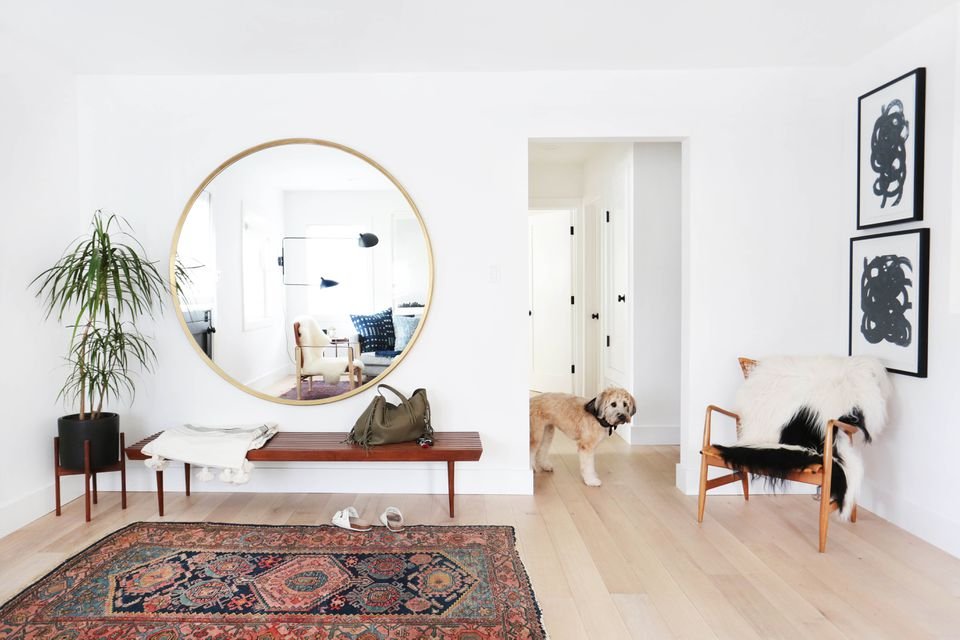 Ready to learn how? Here are seven functional entryway ideas for your apartment.
---
Read Also:
---
1. Find a Bench
If your door opens and you're right in your living room, it probably seems impossible to create an entryway. Well, it's not!
A simple bench placed beside or behind the door is all you need to turn your entryway into a well-thought-out space.
Having a bench near your front door offers a place to sit and take off your shoes. It's a place to rest your handbag, coat, or shopping bags until you have a chance to put them away where they belong.
If your bench is open at the bottom, add bins or baskets or even a shoe rack underneath. That way, your outdoor gear can stay by the door where it belongs.
Don't have room for a bench? A small accent chair works just as well!
2. Hang Some Hooks
Wall hooks are one of the easiest ways to add storage, even in a tinier apartment with little to no extra space.
Mount a few wall hooks behind your door to hold coats, handbags, umbrellas, dog leashes, or anything that you only use outdoors.
Already have wall art or wall shelves near the door?
You can always mount hooks on the back of the door itself.
If you don't have a closet or enough space for a coat rack, wall hooks create an easy storage solution for jackets and other outdoor essentials.
3. Use a Chalkboard
The best mudrooms serve as multi-functional spaces, and your entryway can do the same just by hanging a simple chalkboard.
If you live alone, you can write reminders for yourself (just remember to check the board before you walk out the door).
If you live with roommates, a chalkboard can turn your entryway into a full message center where you can leave notes and schedules for one another.
Prefer to make notes and reminders on your phone instead? You can also use your chalkboard to write inspirational messages or greetings to welcome guests!
Want to DIY it? Check out this fun How to Build an Entry Message Center project.
4. Decorate With a Shoe Cabinet
If you have some extra space in your entryway — add a shoe cabinet.
Not only will it save you room in your bedroom closet, but it will prevent you from having to walk through your apartment with wet or muddy shoes.
Look for a tall, narrow cabinet with plenty of shelves or a low cabinet with cubbies so you can store a lot of pairs of shoes by the door.
Are you extra tight on space?
Try adding a simple shoe or boot tray. That way, you'll at least have a place to take off and leave wet shoes and boots to dry overnight!
5. Bring In a Mirror
Like to make sure you look your best before you leave the house?
Hanging a mirror in your entryway offers an easy way to do one last check of yourself before you go outside.
The smaller your entryway is, the more critical it is to add a mirror.
Why do we say that?
Because mirrors create the illusion of a larger space!
Mount a large mirror on a wall near your door or prop up a floor mirror behind your door. The bigger the mirror — the better.
6. Mount Wall Shelves
There's not a single room in the home that can't benefit from having a few shelves on the wall. Wall shelves offer a place to display decorative items and create added storage.
The more space you have, the more shelving options you'll have.
If you have a large wall, you can mount an entire shelving system with doors, drawers, and open shelves. If you're limited on space, mount one or two floating shelves instead.
Even a single, small floating shelf is a great place to toss things like keys, wallets, and phones when you come in from outside.
7. Add Bins and Baskets
No entryway is complete without at least a few baskets or bins for storage.
Whether you mount shelves on the wall or buy a bench with open space underneath, containers make organizing a whole lot easier.
From woven baskets to collapsible canvas bins to stackable wooden boxes, there are plenty of options to choose from. It's all about creating a storage system that works for your lifestyle and suits your personal style.
As long as you have the space, it's best to assign one basket or one bin to everyone who lives in your apartment. That way, everyone has a specific place to stash things like gloves, hats, scarves, and outdoor accessories.
Living with children or pets? Designate a specific box or bin for your kid's sporting equipment or your dog's leash, collar, and booties.
The more storage options you have, the better!
In Summary
The key to creating a functional entryway is to make use of vertical space.
Also, if your entryway consists of nothing but a corner nook behind your door, it's usable space that you should take advantage of.
If you're ready to get started now, here's a quick summary of the tricks to help:
Add a bench, so you can sit and take off your shoes when you come home
Hang some hooks to hold coats, handbags, umbrellas, and dog leashes
Hang a chalkboard to write greetings, messages, or reminders
Add a shoe cabinet or a shoe tray where you can stash wet, dirty shoes
Hang a mirror to create the illusion of a larger space
Mount wall shelves for storage or to display decorative items
Add storage bins to hold hats, scarves, gloves, and other outdoor items
With a few purposeful pieces, you can turn your entryway into a functional, welcoming space in a matter of minutes!
---
Author Bio:
Angus Flynn has five years of Property Management experience working primarily in high-end apartment community living.  His ability to consistently deliver white-glove service to his residents and prospects has propelled him in a successful career that now finds him leading the team at Turtle Creek.
---