Are you planning to spend for a renovation on your garage so that you can use it for the purpose it was intended for?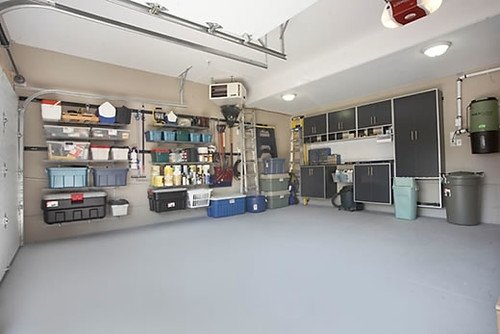 Most people don't even use their garage, and though they may have used it once, they wasted the space many times when remodeling.
Do you have an old garage that doesn't serve its purpose? We're here to help. Read on to find garage makeover ideas you can use.
1. Transform Your Garage with Colorful Paint
A colorful paint job can turn any old garage into a charming, inviting space. If you want to give your garage a makeover, adding a splash of color is a perfect way.
Whether you add just a few accent colors or go for something bold and bright, it will instantly draw attention and make your garage stand out. If you're brave, you can even paint the walls in a striped pattern or use chalk paint to customize the look.
Remember the finishing touches, such as adding new doors and hardware for a unique look. With a little effort and creativity, you can completely transform your garage and make it an inviting part of your home.
2. Utilizing Overhead Storage to Maximize Space
Utilizing overhead storage to maximize space is a significant garage renovation that can help unleash many benefits. By installing overhead storage, like ceiling-mounted racks or shelving, you can capitalize and maximize your garage area to its fullest potential. Consider adding overhead racks or organizing cabinets to store equipment and camping utilities to free up space properly.
This way, bulky items can be stored off the floor, freeing up valuable space for more practical uses. It's essential, though, that with ceiling storage, you consider accessibility, weight, and size when selecting.
Steel shelves and cabinets are usually the best choices as they can easily support heavier items while being easy to install. Once you've settled on your storage option, reorganizing every item in your garage and labeling and sorting them will make the setting easier to follow. At the same time, you can keep everything neat and organized.
---
Read Also:
---
3. Increase Lighting and Visibility in your Garage
A garage makeover is a great way to increase lighting and visibility in your garage. Consider adding high-wattage LED lights along the walls and ceilings of the garage, as these will be a great way to add illumination to a previously dark garage.
Another great way to increase visibility is to paint the walls and floors of the garage with light-colored paint. Additionally, consider adding additional windows or skylights to the garage to maximize natural light. You can also hang mirrors on the walls to increase visibility and reflect natural light.
Installing larger, brighter lights around the edges of the garage walls will also help brighten the space and make it easier to see and work in. Finally, adding reflective surfaces, such as coated aluminum paint, to characters in the garage will help to reflect light and make the workspace even more visible and safe to use.
4. Creative Solutions for Unwanted Clutter
You can use garage makeover ideas to create creative solutions for unwanted clutter. It is essential to determine what mess needs to be removed and where it can go. Once the clean-up is complete, you can start thinking of creative ideas to store what needs to stay.
Consider containers of various sizes and shapes to fit into nooks and crannies, as well as cabinets, hooks, and racks for at-hand accessibility. Include shelving units, bins for items that can't hang, and drawers for smaller items. Remember to get creative regarding flooring, walls, ceilings even the garage door you can paint to brighten the area.
If you plan to work in the garage, set up a workbench and tool chest to keep items organized and out of the way of the main work area. You can develop unique solutions to your needs using your creativity and the available space.
5. Give Your Garage a 'Feel' with Decorative Accessories
Transforming your garage can be quickly achieved with the inclusion of decorative accessories. You can find a wide variety of items to complete the look of your garage, such as colorful rugs, artwork, and furniture.
Small accents like lighting fixtures, magnets, and excellent shelving can give your new garage a unique feel. Consider hanging a bicycle or unique tool caddy from the ceiling if you want something more unusual.
Wallpaper is also a popular option to add texture and color to the interior of your garage. Lastly, you can give your garage a more inviting feel with the right pieces of furniture. A vintage couch, for instance, can turn an ordinary space into a relaxing area for your family to enjoy.
6. Upgrading Floors with a Concrete Coating System
Upgrading your garage floor with a concrete coating system is an excellent choice for a garage makeover. A concrete coating system is stylish and practical, efficiently handling heavy vehicles entering and departing the garage.
You can customize the look of your garage with the different styles and colors of concrete coating systems available. You can also opt for a textured finish that can hide tire marks and dirt accumulating over time. A concrete coating system is durable and can last years if properly maintained.
Such a system will require much less cleaning up than other flooring options. Additionally, concrete coatings reduce the risk of slips and falls, making them a safer option for homes with kids and pets. Investing in a substantial coating system for your garage will give it a lasting and stylish upgrade.
Ideas for Garage Makeover
Giving your garage a fresh makeover can offer additional storage room and a greater level of security and make the space much more enjoyable to spend time in. Consider making changes to the shelving, lighting, walls, and flooring.
Make your garage makeover a fun project and enjoy the benefits of a well-organized space. Why not explore the ideas discussed in this article and bring your vision to life immediately? Did you find this article informative? Check out the rest of our blog for more!