More people are now aware of what remote working is about than ever before. This is largely thanks to the pandemic that shocked the whole world in the year 2020. It made people see the need to embrace the possibilities that remote work has to offer.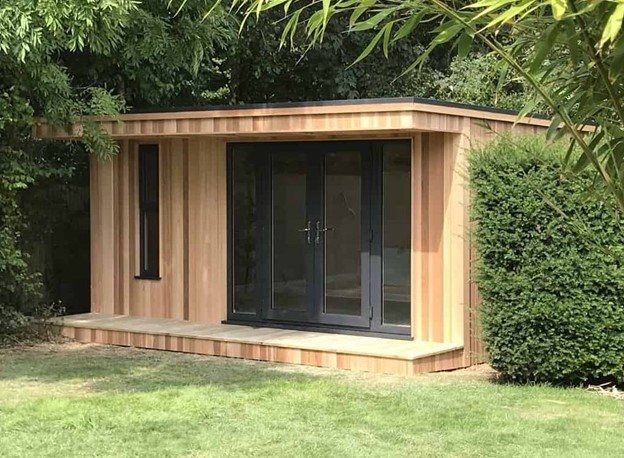 You might want to know that remote work is not the only way this work culture is described even though it is more common. There are other terms used instead of remote work that you may or may not be aware of.
The terms telework, distance working, working from home, and mobile work, are used in certain parts and circles. Well, the point is that they all mean the same thing.
Having made all these clear, one of the necessities of remote work is having the ideal environment for working. There are several suggestions to this effect. One of them is creating a room inside the home for this purpose.
This has worked well for some but not everyone can say the same. Well, the experiences of some people have shown that having a garden building for remote work is a very good idea. This is because with such an arrangement, you get the right blend of office and home feel that helps you to be productive.
This is why we strongly advise that people that are into remote work think seriously about having a garden building installed. To shed light on this subject, we will pay attention to what people stand to gain using these installations for a studio, home office, or even extra room.
How Using a Garden Building as a Home Office Can Help
Of course, it is possible to have your home office right inside your home's main building. However, the experiences of some people have shown that this is a bad idea.
For this reason, some people have resorted to coworking spaces as this seems like a better arrangement than going to the office or working from their home's main building.
Well, we have a better alternative in garden buildings designed and installed for this purpose. The benefits of this arrangement include the following:
No Distraction
Especially people with little kids get very distracted when they use one of the rooms in their home's main building as their office. Kids will always be kids and that is the explanation.
Such people would do better with the arrangement of using a garden building as their workstation. They would have very little or nothing to worry about as it concerns being distracted.
This is because the installation is not directly connected to the main building. Rather, it is an annex located in the garden even though it is a part of the surrounding area. In addition to that, many top installation companies ensure that their installations offer insulation to a great extent.
Amongst other things, this means that you would not be bothered by noises all around you. For a better understanding of how this is the case, you can check here.
---
Read Also:
---
The Productive Home Effect
Some companies were well aware of the benefits of remote work even way before the pandemic happened. But for the most part, most companies saw the benefits out of the necessity brought about by the pandemic.
As a result, some of them have continued with remote work. There is this productive home effect that comes with remote work as long as the home environment is conducive enough.
Speaking of having a conducive work environment, this is why you are advised to consider installing a garden building for this purpose.
How Using a Garden Building as a Studio Can Help
As someone that is into music for commercial or personal reasons, you can make use of a garden building as a studio. This is an arrangement that pays off for reasons such as:
Acoustic Advantages
As far as you get a top-notch company to design and install your garden building for this purpose, you enjoy insulation among other things. What this means is that the room's acoustics will be favorable and this is a necessity for music studios.
This is even though you would have to add some additional touches to tighten up loose ends. However, you stand a better chance with this arrangement.
Easy Recording
People are inspired to write and record good music. It is better to make hay while the sun shines when that inspiration comes. In other words, recording as soon as possible is advised.
This is quite easy when you have your studio in a garden building very close to you. You can get right to the business of recording regardless of the time you get the inspiration.
How Using a Garden Building as an Extra Room Can Help
Quite a lot has been said about using these arrangements as remote workspaces in one way or the other. Well, it is also a good idea to use them as an additional room(s). Some of the reasons why this is the case include the following:
Extra Room to Store Items
It is not unusual that you have gathered so much stuff over the years and need extra space for storage. Well, you should know that a garden building can come to the rescue.
Me-Time for Guests
There are many occasions when people have these installations as guest houses. This could be better than having the guest right inside the main building and there are several reasons for this.
One of the reasons is because the guest gets a good amount of me-time. This means that they have their privacy and feel more comfortable.
Another reason is security. This is especially if you do not know the guest well enough. Having them in the garden building that is not directly inside the main building is safer for you and yours.
Wrap Up
You need to have the right kind and size of a garden building designed and installed when the need arises. This is very important. You can see https://essexgardenrooms.uk to know about the various sizes available.
There are several advantages of having and using garden buildings considering the discussions here. Against this background, make sure you get one installed when the need arises.
It is also important that the right company sees to the design and installation of your garden building.