When you arrive home from a hard day of work and want to kick your feet up to relax, having the perfect comfy furniture is exactly what you need.
They are known by many names, you may call them foot stools, hassock, tuffet, or pouf but they all have the same purpose – maximizing the comfortability of your home.
They are a vital piece of your home decor that allows a snug and cozy ambiance to any room you want.
That's why, to buy an ottoman that fits best for you, it is good to know the background and origins of this diverse and versatile piece of furniture.
Everything You Need to Know about Ottoman Furniture
Origins
You might recognize the name from the Turkish empire that we learned in history class, and you would be right to make that connection.
The ottoman chair was invented by Osman I, a Turkish tribe leader who later founded the Ottoman Empire which is now modern-day Turkey. The name of the furniture is derived from Osman I's Arabic name "Uthman."
These Turkish footstools could be found in the homes of the Turkish people and served as central pieces of furniture.
They were likely used to lessen the class disparity and were the "middle ground" between common floor mats or rugs and high chairs.
First introduced to Europe in the late 18th century, the ottoman chair quickly gained popularity in the West as it was seen in the luxurious homes of high-class people and as well as among those of royalty.
Even back in the 1700s, they were very versatile pieces of furniture with a diverse set of creative designs.
Footrests with handmade designs, low seats with overstuffed cushioning, and short tables with embroidered fabric are but a few popular pieces that were sought after by people around the world.
The trend was to buy an ottoman which people loved because of its seemingly exotic appeal, even to this day.
---
Read Also:
---
The 7 Types of Foot Stools
Ottomans can come in many unique shapes, sizes, and styles to choose from. To find the best piece of furniture for each room in your home, here are some of the most popular types you need to know.
1. Traditional
The traditional type is a classic piece that comes with all the basic features of an ottoman chair. An upholstered top surface with a sturdy and firm base for solid support.
The traditional types are mainly used as footstools and usually feature a simpler design.
They still keep the important functions of being a versatile piece of furniture that brings both comfort and class to any home.
2. Pouf
The pouf is one of the most popular types for its iconic designs. The key characteristic that differentiates poufs from other types is that it has no legs to support the base and sit flat on the floor.
The pouf is a great piece for a cozy, casual setting and can be used as an ottoman chair when you buy an ottoman short table to match it perfectly.
3. Cocktail
The cocktail is designed to function as both a short table and as an ottoman chair. Most cocktail types are known to have a reversible top surface, one soft and comfy surface which is used as a seat.
Alternatively, the cocktail type is also called the coffee table type, with the other surface being stable and firm. The cocktail is truly a multifunctional piece to utilize in your home space.
4. Storage
Just as the name implies, the storage type is another highly functional piece, which comes with its own neat storage space.
You can keep anything you want in a storage type's sturdy interior. A great piece of furniture especially in smaller homes where space is a big concern.
5. Tufted
Tufted types are distinguished by their decorative pattern which is achieved through tufting, an upholstery technique that involves the use of large needles sewn through the material layers.
These tufted pieces can be used as either footstools or tables. It is one of the more prestigious choices and can come in many different shapes and sizes. An all-around excellent piece for your home.
6. Sleeper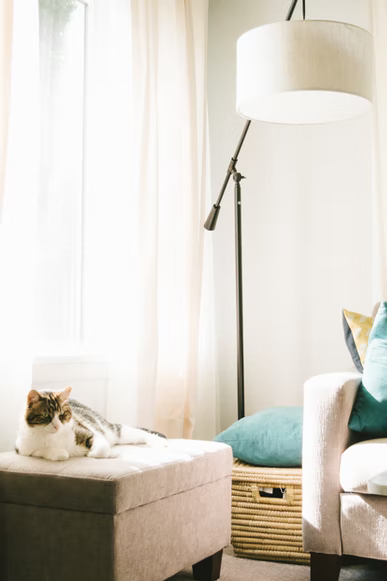 The sleeper is the outcome of innovation when we strive for a complete comfort experience. The sleeper can also be called the bed ottoman or the convertible because of its transforming capability.
If you need a bed, a chair, a table, or a cabinet, the sleeper type is designed to meet your needs.
It is a super versatile piece that you should consider when you buy an ottoman. Sleeper is highly recommended to maximize furniture functionality.
7. Novelty
The novelty type is one of the more unique concepts created with an innovative and artistic design. There is no limit to the creative forms that the novelty type can take shape in.
Novelty types can look like cute animals, take irregular shapes, or look completely unique. Not only do novelty types look aesthetic, but they also function as normal footstools and short tables.
Materials and Fabric
Ottomans can be made in almost any material depending on what feel you want from them and the designs you prefer.
Here are just a few types of materials to choose from when deciding on these furniture pieces.
Silk
Wool
Leather
Synthetic fiber
Yarn
Wood (Bamboo, Cedar, Mahogany, etc.)
Should You Invest in These Furniture Pieces?
If you've made it this far and have read through all the reasons why ottomans are great, then the simple answer to that is a definite, "Yes!" Ottoman furniture is absolutely worth investing in, for your home.
There is great potential that this furniture can bring to every room. Aesthetically, functionally and most importantly, comfortably, these pieces can give you all this and more!
If you're looking to buy an ottoman for any purpose, whether to use them as footstools, as an ottoman chair, tables, or even beds, you can find all the furniture you need right here.