Are you looking to downsize, live simply, or just get away? If so, you may have already considered transforming a shipping container into a tiny home.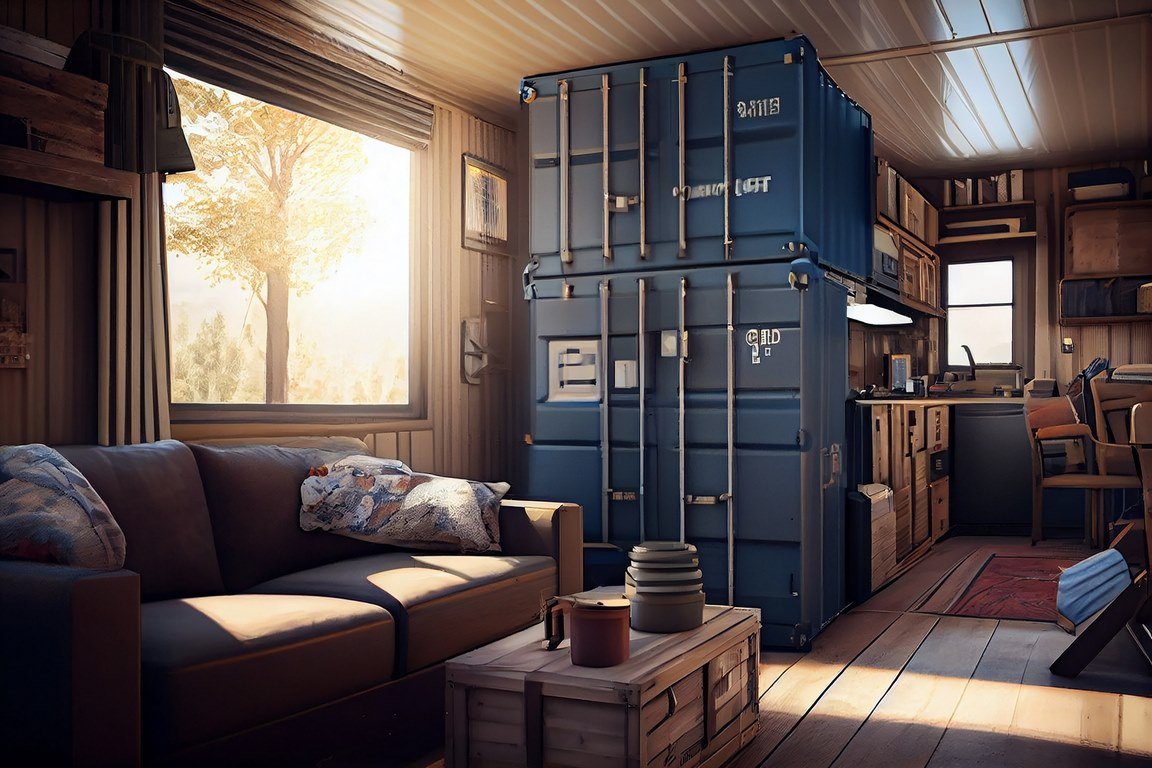 More and more people are adopting the minimalist mindset and selecting shipping containers as the medium for their living quarters. But why is this such a popular option?
In this article, you'll learn the ins and outs of converting a shipping container into a tiny home: from why it's an attractive alternative to traditional housing to how it can be done. With some helpful tips, you'll soon be well on your way to downsizing your own abode.
Why Shipping Containers?
For starters, they're extremely durable and cost-effective. Shipping containers can easily be insulated, making them ideal for creating comfortable living spaces built to last. You can talk to shipping container experts about which containers are the best to use as tiny homes.
Since they're made with long-lasting materials such as corrugated steel and aluminum, they're really easy to maintain and don't require much upkeep over time. Most also come in standard sizes, like 20 or 40 feet in length, which makes them easier to transport and modify into your custom design.
This allows you the freedom to create a space that feels like home within a fraction of the cost of traditional housing options. They also make excellent foundations for off-grid homes.
---
Read Also:
---
What To Consider Before Starting the Conversion Process
Now that you've decided to convert a shipping container into your tiny home, you must first consider the following things:
The structural integrity of the shipping container should be a main concern. Look for any rust or damage that may have occurred in transit or in storage. Ensure the container is structurally sound enough to support your conversion plans. Hire an inspector to help you with this.
The second thing to consider is the HVAC system. Depending on the local climate and the size of your space, you must determine the size and layout of your air conditioning, ventilation, and insulation for maximum energy efficiency and comfort.
Finally, make sure you choose materials that can withstand wear and tear for your project. You can get aluminum or steel frames for your windows and doors and tile or laminate flooring. These easy-to-maintain materials offer a high level of adaptability in case you need to make changes down the line.
Steps To Turn a Shipping Container into a Tiny Home
Every project will have its own steps. But these are the general ones you take to complete a tiny home using a shipping container:
Step 1: Prepare for Installation
Secure the container on level ground, preferably somewhere safe from landslides or flooding. You want to ensure that your container won't move or shift during conversion and after completion.
Step 2: Frame Up Your Container Home
Frame up your home by adding two layers of plywood flooring and some wall framing, assuming you plan on restructuring the interior walls. Also, start adding insulation at this point to avoid excess moisture buildup and control temperatures.
Step 3: Install Electricals & Plumbing
Depending on how complex you want the grid and plumbing in your tiny home to be, you may have to work with a professional to get this step done. This saves you a lot of trouble from botched plumbing and wiring.
Step 4: Add Finishing Touches
Finally, put up all the decorations and furnishings to make it feel like home. These include lighting fixtures, window shutters, and furniture pieces.
Tips For Maintaining Your Shipping Container/Tiny Home
Maintaining your shipping container home is important to avoid any problems down the road. Start with these steps:
Make sure your container is well-ventilated. Tiny homes are known for getting hot on sunny days, so make sure your container has windows and vents with screens to allow air to flow naturally.
Avoid drastic temperature changes. This could cause the metal panels in the shipping container to expand or contract, leading to cracking or warping over time. Keep an eye on the weather and use insulated curtains or shades to prevent extreme temperature swings inside your home.
Conduct an annual inspection of the outside of the container for rust and other damage. If you spot anything, address it quickly before it gets worse by sanding down and cleaning any rusty spots. Then, apply a waterproof sealant to protect against further corrosion.
Check inside for signs of moisture buildup in bathroom walls, ceilings, and the kitchen. This can lead to mold growth if not taken care of promptly. Ensure all pipes are properly sealed by inspecting them once a year and replacing any cracked seals with a waterproof sealant or silicone caulk.
Finally, have all electrical wiring checked every few years to ensure everything is safe and compliant with local codes, especially if you've changed the layout of the tiny home since installation.
Doing these tips can help you enjoy your tiny home for years to come.
Ready To Downsize?
Building a tiny home out of a shipping container offers many benefits. It's a great way to create a living space that is both affordable and sustainable while also allowing you to express your creativity.
Not only are shipping containers already designed to be durable and resistant to the elements, but they can also be converted into spaces you can use for years on end.