Wouldn't it be great to have a home that looks like the one on your favorite TV show or in an issue of Architectural Digest? Do you feel the need to spruce things up but can't afford to spend thousands of dollars? Look no further than a fresh coat of paint to breathe new life into your living spaces with a budget-friendly trick.
The psychology of colors reveals that the colors of our walls have a profound impact on our emotional wellbeing and life quality.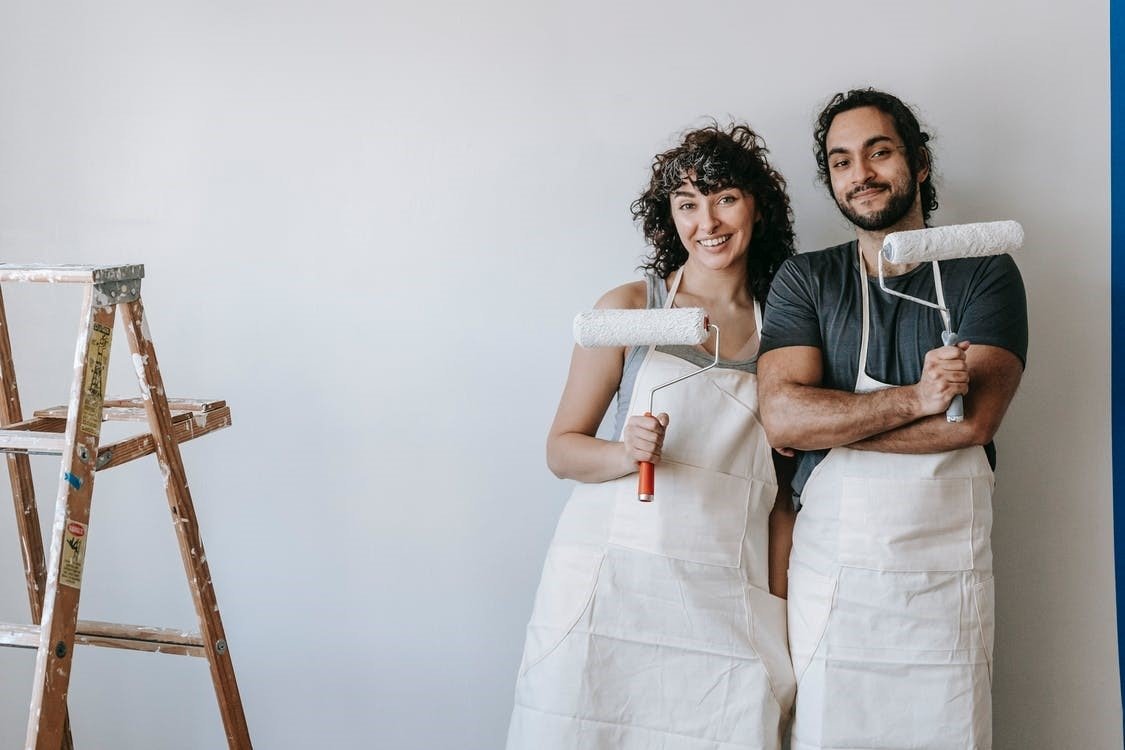 Suppose you want to transform the personality of your home with a striking new theme. In that case, a fresh lick of paint can work wonders at endowing each room with a unique character and theme.
Keep reading to explore how painting the interior and exterior walls will impact the aesthetic personality of your home.
The Illusion of Spaciousness
Did you know that colors manipulate our perceptions of space? That's right. Some colors create the illusion of spaciousness, while others make tight spaces seem overly confined and restricted.
Homeowners struggling with small and compact living spaces can use paint as the ultimate trick to create the illusion of spaciousness.
We advise avoiding dark and neutral colors, like black, gray, and blue, as they make small spaces appear more cramped.
In contrast, lighter hues work their magic to make tight and enclosed spaces appear more expansive and large. So, to work with this strategy, you need to select light color palettes for small and tight spaces.
But how does this strategy work? It's simple: light colors attract more sunlight to create a well-lit space and the illusion of spaciousness.
If you live in New England, look up the term New England home paintings on Google to get different options for service providers who can spruce up your home with a fresh coat of paint.
You may have to fight the urge to pick rich and dark shades like maroon, grey, plum, and mahogany. While dark colors add a sumptuous texture and finish, they also make rooms appear dim, shrouding their best features.
If your goal is to make your living spaces appear more extensive and spacious, we advise working with a paint specialist. Instead of choosing the colors yourself, work closely with an expert to make the most impactful color choices.
Transforming the Aesthetic Personality
Are you tired of staring at the dust and debris-stained walls of your lawn? Or perhaps, you feel that your room lacks that zing factor that would make the décor pop with glamour? Either way, a fresh coat of paint is the most affordable and practical solution to transform the aesthetic personality of your home.
Repainting your entire house may seem a challenging hassle that will disrupt your life quality for a few days. But once it's complete, it will give your home a delightful touch of newness by transforming its aesthetic character.
Suppose you want to create an accent wall to dominate the interior of your living room. In that case, you can explore contrasting color palettes to create a bold transformation to add depth to the layout. We advise selecting colors that complement your décor, furniture, and fixtures without demanding major changes.
Homeowners must consider interior research and find color combinations to use paint to add more character and depth to their living spaces.
---
Read Also:
---
Well-Lit & Bright Living Spaces
Did you know that the colors on your wall interfere with the amount of light that enters your living spaces? Colors manipulate the reflection of light, brightening or dimming it, depending on the color palette. Light color contrasts can work wonders at brightening and opening up the room.
Light colors make a living space well-lit and more inviting by brightening it up. We strongly advise choosing light colors, like bright orange, blush pink, and lavender, to brighten up your room. These colors increase the amount of light reflecting off the walls, accentuating all spaces shrouded in the dark.
Fortifying the Walls
It may come as a surprise to some, but a fresh coat of paint can protect your walls against moisture. You see, a new layer adds protection between the wall cavities and moisture and pests.
If you've invested in premium quality paint, the coating will protect your walls against various moisture-related issues.
Many homeowners invest in waterproof paint to prevent moisture, mold, dust, grime, and debris. Walls are exposed to the full force and intensity of the elements, and a layer of paint fortifies their defenses.
Repainting your walls will protect and strengthen them for several years, sealing out moisture and repelling dirt.
Sprucing up the Curb Appeal
Your home's curb appeal sets the first impression of your property in the neighborhood and market. Debris-smeared and dirt-ridden walls hardly make a good first impression.
Dirty walls with chipped paint create a dingy and unkempt appeal that often attracts the ire of the Homeowner's Association (HOA).
A fresh coat of paint is the ultimate solution to spruce up the curb appeal without overspending. Good quality paint lasts more than a decade, fortifying the exterior walls against debris, dust, pests, and weather damages.
Final Thoughts
Did you know that a fresh coat of paint can boost the market value of your home by a whopping $5000? We deliberately saved this fact for the end to motivate you to drive off to Home Depot right away! But don't rush into the process.
Take your time to research and consult interior specialists on finding the most functional and space-enhancing color palettes.