Designing your home is a resolved skill set that comes from years of watching how other homes are designed, shuffling through catalogs, getting inspired by celebrity homes and designs, etc.
This necessarily does not make you an expert on design as there are so many technical things involved in bridging out a design feature in your home, that it requires a trained professional such as some of the best home interior designers in Bangalore.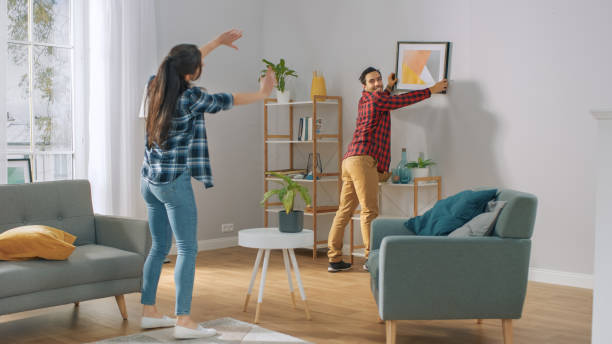 An Interior designer can help you establish your ground by setting out what can be done and what cannot be done.
You can then share your ideas and inspirations on this groundwork and work out a mutual design plan as to how you can design your 2BHK compact home under a small budget.
Tips to Make your 2BHK Home Larger and Luxurious
There are some simple tips that can make your small and compact home look bigger with some optical illusion.
This is a common technique most designers use to enhance smaller spaces. And the best thing is that they are not even expensive, so you do not have to worry about eating out of your budget.
Below are some of the tips to design your compact 2 BHK home within a budget:
1. Wall and Under-Stair Shelves
One of the most effective ways to enhance the use of your area is to create shelves for decors where it does not eat into your square feet area.
Shelves designed artistically on the walls are effective not just for decors but also to create a luxurious touch.
Create a bookshelf or a decor shelf under the stairs to save storage space and to effectively use your flooring.
---
Read Also:
---
2. Use of Mirrors
The use of large-sized mirrors has often been some of the best-kept secrets from the best home interior designers in Bangalore.
Mirrors create an illusion of a larger space with lots of light being reflected around.
A large-sized mirror in the bedroom, decorative mirrors in the living room or dining room can make the room much larger than it originally is without costing you much.
3. The Right use of Lighting
Lighting is one of the most complicated and detailed subjects of interior design. The proper use of light to enhance the features in your home can help achieve luxury and a touch of elegance to even the simplest of homes.
Add a splash of lighting to your picture frames, spotlight on your stairs, focus lights in your decorative shelves to create an expensive effect.
4. Easy DIY Art
Hanging art pieces is one of the biggest trends in interior designing but affording large paintings is a whole other subject.
Instead of buying portraits, you can create DIY art and portray them as inexpensive frames with plenty of lighting.
5. Going Green
Instead of spending a bomb on decoratives, try to invest in the greenery around the house, not just outside but also inside.
Choose small shrubs, house plants, creepers, and other decorative plants that are easy to maintain and keep them in all your rooms wherever you need to liven up space.
They look much more natural and elegant than lifeless decors. You can even invest in vertical gardens or just choose a wall and let your creepers grow on a net for a Nature wall inside the house.
These are some of the best tips to design your home.